Bullpen could key LSU-Georgia showdown
April, 29, 2010
04/29/10
11:17
AM ET
If the revolution is coming, expect to be notified by bullpen phone.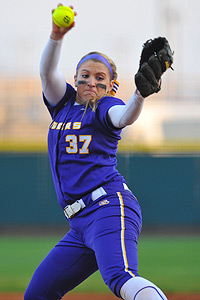 Courtesy of Steve FranzFreshman Rachele Fico is LSU's secret weapon.
When No. 8 Georgia visits No. 12 LSU Thursday (ESPN, 8 p.m. ET) and Friday (ESPNU, 9 p.m. ET) in a key SEC showdown in advance of the conference tournament two weeks hence, it will be a contrast of styles. The Bulldogs enter the game ranked fifth nationally in slugging percentage; the Tigers enter ranked fourth nationally in ERA. It's a Georgia lineup with its five hitters slugging better than .600 against an LSU pitching staff and its three pitchers with ERAs under 1.56 -- and a fourth option available with a 2.33 ERA. 
But beyond those differences, it's also a meeting of teams that share an affinity for a part of softball that doesn't always get a lot of attention or respect: the bullpen. 
LSU freshman Rachele Fico earned the most recent SEC pitcher-of-the-week honors on the strength of her work in a three-game weekend sweep at Kentucky. With teammate Cody Trahan on the bench for the series because of disciplinary infraction, Fico started twice and went the distance both times (one a rain-shortened five-inning game). She also added a save in the other game, her fifth of the season. Five saves might not sound like much, but it was good enough to establish a program record at LSU.
In fact, in the history of the SEC, only four pitchers have saved double-digit games in a season. 
One of the nation's mostly highly touted freshmen after throwing 26 perfect games in high school, Fico has made 33 appearances this season, 21 of them as a reliever. 
"I'm trying to change the mentality a little bit," LSU coach Yvette Girouard said. "You see a lot of arm injuries today, more than I've seen in 30 years of my career. And you know, what we all have to understand is [a pitcher's arm] is a rubber band and it only can stretch so much. 
"And maybe we need to be like baseball and bring in closers and relievers and everything else, but these kids have grown up their whole lives trying to complete the game, and they feel like they're a failure if they don't complete the game. I keep trying to reiterate that the bottom line is we just need to win, and if it takes all four of them going two innings, then that's what we're going to do. And maybe by the time Fico and [sophomore Brittany] Mack are seniors, their arms will be far healthier."
Fico leads the Tigers in innings pitched despite the fact she's started fewer games in the circle than Trahan and Mack. If that sounds intuitively strange, it should. It's the only case in the SEC in which a pitcher with the third-most starts leads a team in innings pitched. And there's only one case where a pitcher with the second-most starts for a team leads in innings pitched -- Mississippi's Brittany Barnhill. 
[+] Enlarge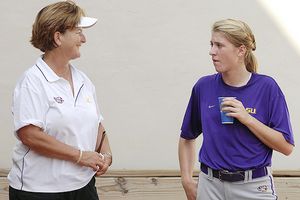 Steve FranzLSU coach Yvette Girouard, left, here with Rachele Fico, uses her bullpen to win games.
Beyond protecting a pitcher's arm, there's a strategic side to going to the bullpen. Sure, if you have a Danielle Lawrie or a Cat Osterman, you can rest easy knowing you have the advantage in the first inning, seventh inning and any other inning. But for the 99.9 percent of the population that constitutes the rest of the softball world, it's potentially advantageous to be able to change what hitters see at just about the same time they might be locking in their timing against the starter. 
"Rachele is just perfect for that scenario, where she comes in and throws strikes right away and throws hard," Girouard said of bullpen duty. "That's kind of what the baseball mentality is with the reliever or the closer, just go in there and throw gas as long as you can and throw as hard as you can for as long as you can."
And while Fico may well start either Thursday or Friday's game, there's a true relief specialist on the other side. Georgia freshman Alison Owens has thrown 58.2 innings for the Bulldogs this season and has yet to make her first start. Not only is she the only pitcher in the league with more than 50 innings who hasn't started a game, she's the only pitcher to throw even 10 innings without making a start. A season after getting 33 complete games from its pitchers in 59 total games, Georgia has just 17. And rather than a sign of vulnerability, it may be evidence of why the team has the pitching to complement its ridiculously good offense as it looks to return to the Women's College World Series.
Player to watch: If you like defense, and if you appreciate offensive value beyond traditional counting stats like batting average and RBIs, keep an eye on LSU third baseman Jessica Mouse. I've had dozens of opportunities to watch Mouse play the hot corner during her time with the Stratford Brakettes amateur team the last few summers (where she teamed with Fico the last two seasons and Georgia shortstop Laura Trout two summers ago), and she's worth the price of admission for her glove alone. 
She's made just three errors in 49 games this season, and no third baseman in the SEC has more assists than Mouse with 89. 
"She just goes out there and -- she's Pete Rose," Girouard said. "She just puts her nose down and she catches everything in sight. I've coached her now three years and I can tell you, I think maybe she's thrown away three balls in practice in three years. So you think of all the reps she's had and how consistent she is."
Graham Hays covers women's college softball for ESPN.com. E-mail him at Graham.Hays@espn3.com. Follow him on Twitter: @grahamhays.