New territory for Wake Forest, Duke
November, 29, 2011
11/29/11
11:53
AM ET
Every good rivalry needs a winner and a loser, and No. 1 seed Duke and No. 1 seed Wake Forest will settle bragging rights along with a spot in the NCAA tournament championship game when they meet for a third time this season in Friday's second national semifinal in Kennesaw, Ga. Duke beat Wake Forest 2-0 on the road in the regular season, helping propel the Blue Devils to the ACC regular-season title, but the Demon Deacons evened the series on a neutral field in the semifinals of the conference tournament. This is Duke's first appearance in the College Cup since 1992 and the first appearance for Wake Forest, but perhaps the sight of a familiar foe will minimize any nerves from the surroundings.
How No. 1 Duke (21-3-1) got to Kennesaw
(NCAA tournament wins: Radford, Georgia, Ohio State, Long Beach State)
Duke's season began in August, but getting back to the College Cup for the first time in nearly two decades began well before that. A year ago, the Blue Devils welcomed a recruiting class that included the likes of Mollie Pathman, Laura Weinberg, Kaitlyn Kerr, Natasha Anasi and Gilda Doria, all names you'll hear again this weekend. The final piece of the puzzle arrived this season in the form of Kelly Cobb, meaning the Blue Devils had the personnel, particularly on offense, to dictate play against the best the ACC had to offer.
Duke players to watch
Kelly Cobb: The highly touted Alaskan who chose Duke over North Carolina lived up to her advance billing. Her strike-rate slowed as the season progressed, a function both of attention from opponents and the grind of a first college season, but she remains an imposing 5-foot-9 target who also has the ability to create her own chances. Whether or not she's scoring, she commands attention at all times from defenses and opens space for teammates.
Kaitlyn Kerr: It's not a coincidence that each team in the College Cup has a dynamic midfield presence behind a star forward or forwards who claim much of the spotlight. Kerr's 10 goals this season mean she's getting more and more of that attention, but she retains a scrapper's soul.
Natasha Anasi: Coach Robbie Church's teams always play organized, composed defense (it doesn't hurt having former United States national team standout Carla Overbeck as an assistant overseeing the back line), but this group exceeds even those standards. The Blue Devils still own a two-goal cushion in chasing the program record for fewest goals allowed in a season (and have played more games than either of the teams that allowed just 13 goals). Part of that aforementioned loaded sophomore class, Anasi anchors the defense in front of keeper Tara Campbell.
Question for the Blue Devils to answer: Will the goals be there?
Name recognition notwithstanding, Duke won the ACC regular-season title with defense more than offense. And in both the third and fourth rounds, the Blue Devils left things until very late before eliminating unseeded Ohio State and Long Beach State. A year ago, Boston College and Ohio State failed to score in their College Cup debuts, as did Florida State and Princeton in their first appearances in the past decade. The Duke program has been here before, but these players haven't, and the College Cup is a different stage. Duke possesses the lowest-scoring offense among the semifinalists and only USC in 2007 won the championship in the past decade with that distinction. The challenge is there for the Blue Devils to prove they can turn talent into tallies.
How No. 1 Wake Forest (18-3-4) got to Kennesaw
(NCAA tournament wins: Oakland, Boston University, No. 4 Penn State, Central Florida)
[+] Enlarge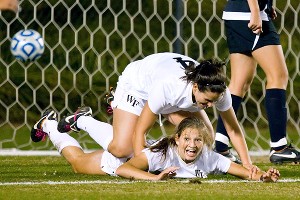 Brian Westerholt/Sports On FilmWake Forest will make its College Cup debut on Friday, meeting Duke for the third time this season.
Not unlike its semifinal opponent, Wake Forest laid the groundwork for its current success last season, winning the ACC tournament for the first time in program history in 2010. It did so by following the lead of a sensational freshman in Katie Stengel, who hardly succumbed to any sophomore slump with 19 goals this season. With Rachel Nuzzolese, Stengel's classmate and partner up top, healthy after injuries derailed a similarly splendid freshman campaign, the Demon Deacons broke the 50-goal plateau for the first time since 1998.
Wake Forest players to watch Katie Stengel: The sophomore has 35 goals in 47 career games for a team that plays in the nation's toughest conference. But it isn't just the production, even if the production is more than enough. Stengel is the kind of physical presence that tests the resolve of an opponent over 90 minutes. You aren't going to knock her off the ball easily, and she's going to keep moving toward the goal until you do.
Rachel Nuzzolese: As good as Stengel is, she's even better alongside a healthy Nuzzolese, who totaled nine goals in 11 games during an injury-shortened freshman season a year ago. This time around, only Florida State's Tiffany McCarty and Virginia's Caroline Miller scored more goals in ACC competition than Nuzzolese, another big, athletic forward at 5-8 who is a handful for defenders anywhere in the attacking third.
Aubrey Bledsoe: It's not all about the strikers. Wake Forest has a second-year player with All-America potential at the other end of the field, too. As is often the case, there aren't any weak links in net in this quartet of teams. But Bledsoe may be the best shot-stopper of the bunch, a skill set she showed off with 11 saves in a 4-2 win against Penn State in the Sweet 16. That wasn't her first clutch showing on the postseason stage; she was the MVP of the 2010 ACC tournament, in large part for her effort in a penalty shootout against Maryland in the final.
Question for the Demon Deacons to answer: Who steps up?
All the same questions of inexperience for Duke apply to a Wake Forest team that is making its first College Cup appearance and didn't start a senior in its quarterfinal win against Central Florida. But there's another question this team would surely love to put to rest. Wake Forest has 22 goals this season from players other than Stengel and Nuzzolese. Duke has 30 from players other than its two leading scorers (on the other side of the bracket, Florida State has 30 and Stanford has 40). So the question, in two parts, remains how much can Stengel and Nuzzolese provide, and can their teammates keep being opportunistic? To the latter end, the concentration of scoring aside, 14 Wake Forest players have scored this season, tying Stanford for the lead among the four semifinalists.
Graham Hays covers women's college soccer and softball for ESPN.com. Email him at Graham.Hays@espn.com. Follow him on Twitter: @grahamhays.
Follow ESPN.com's college sports coverage on Twitter @ESPN_College and on Facebook.