Category archive:

TCU Horned Frogs
June, 5, 2011
06/05/11
7:21
PM ET
FORT WORTH, Texas -- TCU's badge for reaching the 2010 College World Series sits conspicuously a few feet from the foul pole in left field.
A tweak of a tricep and a swing of a bat kept the Frogs from adding a second in 2011.
Kyle Winkler, one of two aces on the TCU staff, didn't make it out of the first inning Sunday after further injuring an existing stress reaction in his tricep and Oral Roberts' Chris Elder hit a sixth-inning grand slam off Teddy Nowell to help the Golden Eagles eliminate the Horned Frogs from the Fort Worth Regional of the NCAA tournament with an 8-4 win.
"He's special. He has really good stuff," ORU manager Rob Walton said of Winkler. "He's a go-to guy and he could have shut us down if he was going good. From an emotional standpoint, that might have deflated them a little bit. It was unfortunate, and then we took advantage."
Oral Roberts, having eliminated Oklahoma on Saturday, knocked out its second 2010 College World Series participant in as many games.
Once Winkler left, his next three replacements each gave up at least one run, none more costly than the grand slam off Nowell that turned a tight 4-3 game into a decisive 8-3 Golden Eagles lead.
Elder was the first batter the lefty faced on the night, and the ORU slugger, who led the team with 10 home runs entering the game, hit .358 against left-handed pitchers versus just more than .300 against right-handers.
"I wish Coach Walton would have told me that," said TCU manager Jim Schlossnagle, who added that the slam "took the wind out of our sails."
Winkler, who missed two of his previous three starts and didn't play in the Mountain West Conference tournament, wasn't expected to be at 100 percent, but in his perfect world, the game would have ended in the bottom of the ninth with him mowing down three more ORU batters.
Instead, after the top of the ninth, Winkler stood outside the dugout, wearing a sling and a towel draped across his neck to soften the sling's strap. He waited before being joined by his teammates, who took to the infield and congratulated ORU for the win on the Horned Frogs' home field.
As the Golden Eagles sought air conditioning on the near triple-digit temperature day before the nightcap against Dallas Baptist, Winkler and his teammates sang the alma mater for the fans at home plate for the last time until next spring.
"It's interesting. You go 43-19 and set a school record for attendance, host a regional and ranked in the top 12 for most of the year, and everybody's really disappointed," Schlossnagle said. "That's fine, and we've always wanted to create a high expectation here, and if you fall short of Omaha, everybody is upset about it, but 43-19 is pretty good, and there's a lot of clubs that might want to be where we are, but that's not what we want to think about at this time."
February, 16, 2011
02/16/11
8:25
AM ET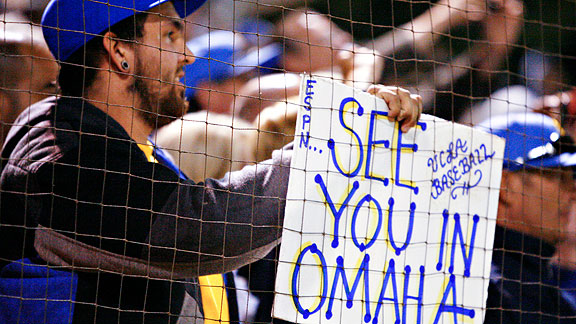 AP Photo/Jason RedmondUCLA earned the No. 1 national seed in our first attempt at predicting the NCAA tournament.
Are you ready for some baseball? Division I college baseball gets under way at 10 a.m. ET on Friday with the first two games of the Big East-Big Ten Baseball Challenge. If everything goes according to plan, one of the final games of opening weekend will feature Florida International's Garrett Wittels attempting to break Robin Ventura's 58-game hitting streak on ESPNU/ESPN3.com (Sunday, 7:30 p.m. ET).
While the first pitch of the season has yet to be thrown, it's never too early to start looking forward to June and the first College World Series at TD Ameritrade Park. Defending champion South Carolina lost its top two starting pitchers from last year's squad but returns a talented offensive core and has one of the best bullpens in the country. Last year's CWS field included several programs on the upswing. Arizona State was the only team from the 2009 field to return to Omaha in 2010; this year, the Sun Devils could be the only team not to earn a return trip to Nebraska. The talent level isn't down in Tempe, but unless the NCAA sanctions are reversed, ASU is barred from the postseason.
[+] Enlarge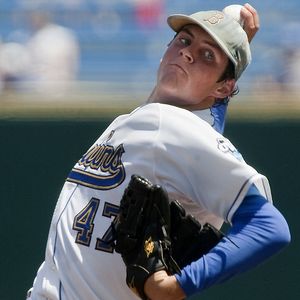 AP Photo/Nati HarnikESPN Preseason All-American Trevor Bauer leads a talented Bruins staff.
The 2011 season will see another change that could have an even bigger effect than the CWS' move three miles up 13th Street. College baseball is changing the specifications for aluminum bats from measuring the ball exit speed (BESR) to the coefficient of restitution (BBCOR). Early indications from fall practices are that power numbers will be down -- a lot. Small ball could become an even bigger part of the college game, which would favor several West Coast teams in a year when that region already appears to be extremely strong. Combined with the flipped orientation from Rosenblatt Stadium to TD Ameritrade Park -- where the wind is more likely to blow in than out -- pitching and clutch hitting could share the spotlight in late June.
Predicting the field, and especially the teams with the best chances at reaching Omaha, is tricky in mid-February. Using the 2010 preseason coaches' poll, only three of the top eight teams earned national seeds, and just two finished their season at Rosenblatt. Eventual national champion South Carolina and runner-up UCLA both started just outside the Top 25. High early-season expectations are usually enough to get into the tournament, as only East Carolina and Ohio State failed to make the field after appearing in the preseason Top 25.
This is the first time I've attempted to pick the field before the season started. My results at the end of last season were good but not great, but in some cases I favor my bracket to the official NCAA field. I was within one seed on six of the eight national seeds, overseeding Virginia by three spots and picking South Carolina over Georgia Tech for the final top-eight spot (with the way things played out, that looks like a good decision). Of the 34 at-large bids, I had 32 in my final bracket, and the two I omitted topped my "first nine out" section. California was my first team out (and most egregious miss, since it was the No. 2 seed in Norman) but went 0-2; Louisiana-Lafayette was my second team out and went 1-2 in the Austin Regional. The two teams from my bracket that missed regional play were Kentucky and Florida Gulf Coast; Kentucky had a solid RPI but missed the SEC tournament, while FGCU won the Atlantic Sun regular-season title in its first year of tournament eligibility behind ace Chris Sale but fell in the conference tournament. Of the 16 regional sites, I got two exactly right (Atlanta and Norwich) and three of four teams for three more (Auburn, Gainesville, Louisville).
Now that I've dispensed with the caveats, here's my initial projection:
Los Angeles Regional
No. 1 UCLA
San Diego
UC Irvine
Army

Conway Regional
Coastal Carolina
North Carolina
Ole Miss
Monmouth


Austin Regional
No. 8 Texas
Louisiana-Lafayette
Southern Miss
Wright State


Houston Regional
Rice
LSU
Texas State
Dartmouth


Fullerton Regional
No. 5 Cal State Fullerton
California
San Diego State
South Dakota State


Stanford Regional
Stanford
Fresno State
UC Riverside
Minnesota


Norman Regional
No. 4 Oklahoma
Arkansas
St. John's
Wichita State


New Britain Regional
Connecticut
Washington State
Auburn
Stony Brook


Fort Worth Regional
No. 3 TCU
Texas A&M
Arizona
Jackson State


Eugene Regional
Oregon
Georgia Tech
Kansas State
Rider


Nashville Regional
No. 6 Vanderbilt
Louisville
Nebraska
Kent State


Clemson Regional
Clemson
Baylor
Western Carolina
Charlotte


Charlottesville Regional
No. 7 Virginia
East Carolina
Liberty
James Madison


Columbia Regional
South Carolina
College of Charleston
Oregon State
Jacksonville State


Gainesville Regional
No. 2 Florida
Miami
Florida International
Florida Gulf Coast


Tallahassee Regional
Florida State
Alabama
Florida Atlantic
Bethune-Cookman
Last five in: Florida International, Nebraska, Western Carolina, San Diego State, Liberty
First nine out: Kentucky, Elon, NC State, Pittsburgh, Tulane, Oklahoma State, Cal Poly, Southeastern Louisiana, USC
With the exception of Arizona State, which is banned from the postseason, all the teams that played in the final CWS in Rosenblatt earn regional hosting assignments and No. 1 seeds, with the top four national seeds all gunning for a return to Omaha. The other four national seeds all fell 2-1 in super regionals last year, so this bracket is biased toward last year's elite teams. The road from opening day to Selection Monday is bumpy enough that the final field probably won't look like this, but there's a lot of returning talent from last year, and the top squads have reloaded quickly.
Eleven of the 30 conferences with automatic bids send more than one team to a regional. The usual suspects lead the charge, with the SEC (eight), Pac-10 (seven), ACC (six) and Big 12 (six) each in the running to send at least a half-dozen teams to the postseason. The Big East and Sun Belt seem poised to send three teams to a regional for the second straight year, while Conference USA and the Big West should pick up a third bid after only nabbing two last season. For the three conferences slated for two bids, there's one clear leader and one bubble team: Coastal Carolina (Big South), TCU (Mountain West) and College of Charleston (Southern) should be locks to make the field, but Liberty, San Diego State and Western Carolina could be on the wrong side of the bubble if they don't secure automatic bids.
[+] Enlarge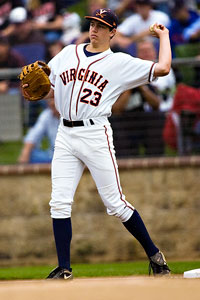 Darryl Dennis/Icon SMIDanny Hultzen and the Cavs are focused on getting to Omaha this season.
Connecticut has the talent to earn a national seed, but the Huskies are in uncharted territory. Last year's great northern hope was Ohio State, and the Buckeyes failed to qualify for the Big Ten tournament after starting the year in the Top 25. UConn needs to overcome a tough early-season trip to California and a bull's-eye on its back during Big East play; that will make the Huskies stronger for postseason play but could cost them some wins and a top spot.
The order of finish for the SEC is always tough to determine, especially considering how quickly a strong recruiting class can pay dividends. Odds are that the eight teams that reach the SEC tournament in Hoover, Ala., will still be playing in June, but at this point it's hard to count any of the 12 teams out. The top three teams coming into the season are all in the Eastern Division, and it's unlikely that three teams from the same division would all earn national seeds -- much like the early part of the season last year, South Carolina draws the short straw.
The top half of the ACC seems more clear-cut, with Virginia, Florida State and Clemson jockeying for a national seed. Danny Hultzen and six returning hitters give Virginia an early advantage, but the Seminoles and Tigers aren't far behind. At least one of those teams should earn a top-eight spot, with the other two battling for the final spot with the SEC third-place team, the Big 12 second-place team and Connecticut.
The biggest issues for the Pac-10 could be the depth of the conference and Arizona State's postseason ban. The Sun Devils should still pile up wins this year, and every conference win is a lost opportunity for the other Pac-10 schools. The conference won't match its eight bids from last season; seven bids seems most likely, but if ASU sweeps any of the middle-of-the-pack teams, six bids is a possibility.
Three and a half months of action on the field before the NCAA tournament field is announced. Let the games begin!
Jeremy Mills is a researcher for ESPN and is a contributor to ESPN.com's college baseball coverage.
Follow ESPN.com's college sports coverage on Twitter: @ESPN_College and on Facebook.
June, 8, 2009
06/08/09
9:55
PM ET
AUSTIN, Texas -- Chance Ruffin nailed down the final two outs of the game to boost Texas to a 5-2 victory over TCU in the deciding game of the Austin Super Regional.
Ruffin, who earned his second save of the season, rescued Texas relief ace Austin Wood, who failed in a save situation in the ninth inning.
TCU bunched a one-out triple by Matt Vern and an RBI single from Bryan Holaday to pull within 5-2 with one out in the ninth. But Ruffin, who won the first game of the series Saturday night, coaxed Chris Ellington to pop out and got Jason Coats to strike out for the final out in the game.
The victory boosts the Longhorns (46-14-1) into the College World Series in Omaha for a record 33rd time and their first trip since winning the national championship in 2005.
TCU (40-18) saw its season end after its first super regional appearance in school history.
The Longhorns set the tone early with three runs in the first inning against losing pitcher Tyler Lockwood (4-2).
That offensive binge was enough for unflappable Texas freshman right-hander Taylor Jungmann (8-3), who scattered two hits in a strong six-inning start to claim the victory.
Check back later as I'll check in with both teams for their comments after the game.
June, 8, 2009
06/08/09
9:35
PM ET
AUSTIN, Texas -- TCU bunched three two-out hits for its first run of the game in the eighth inning.
But the rally might have come too late as Texas still holds a 5-1 lead over the Horned Frogs.
Texas ace reliever Austin Wood hasn't looked sharp tonight, allowing a double to Hunt Woodruff and back-to-back singles by Brance Rivera and Corey Steglich that accounted for TCU's first run in the game.
Earlier in the inning, Wood escaped more damage when he coaxed Jason Coats to ground into a double play after leadoff hitter Chris Ellington had reached on an error by Texas first baseman Brandon Belt.
That double play was Texas' third of the past four innings.
June, 8, 2009
06/08/09
9:06
PM ET
AUSTIN, Texas -- Texas has a 5-0 lead over TCU after six innings, but Texas coach Augie Garrido has elected to make a pitching change.
Starter Taylor Jungmann had his strongest start of the season, scattering two hits in six innings with one walk and five strikeouts. Of Jungmann's 95 pitches, 57 were strikes, and he went to a full count for seven batters.
Garrido has entrusted the lead to senior left-handed relief ace Austin Wood. The Longhorns are nine outs from making their 34th trip to the College World Series if Wood can finish it off.
June, 8, 2009
06/08/09
8:36
PM ET
AUSTIN, Texas -- There again is a sellout crowd of more than 7,000 people watching the game at UFCU Disch-Falk Field.
So far, the partisan fans have been happy after Texas scored three runs in the first inning and has cruised to a 5-0 lead after five innings.
To give you an idea of how in demand tickets are, scalpers were out more than a mile from the stadium trying to accost fans as they left Interstate 35.
Some fans had a creative way to witness the game, watching the action from the concourse of adjacent McCombs Field. Those fans have craned around to watch the action over the right-center fence at the stadium.
Fans also have packed the berms behind the left-field fence, watching the game as they sit in lawn chairs and on blankets over the TCU bullpen.
The weather is cooperating -- a little. The temperature has dropped to "only" 91 degrees.
June, 8, 2009
06/08/09
8:31
PM ET
AUSTIN, Texas -- Texas extended its lead to 5-0 after four innings by adding two more runs against TCU in the bottom of the fourth.
The Longhorns scored on a leadoff double by Kevin Keyes, a passed ball, and two-out RBI hits by Cameron Rupp and Connor Rowe. Rupp ripped a double that bounced over the head of TCU left fielder Jason Coats. And he scored when Rowe singled up the middle.
The Horned Frogs pulled starting pitcher Tyler Lockwood, who went 3 1/3 innings before he was knocked out after 61 pitches. Both RBI hits came against TCU relief ace Eric Marshall.
Texas pitcher Taylor Jungmann has been superb in the first four innings and should have much more confidence with the offensive lift his team has provided.
June, 8, 2009
06/08/09
8:04
PM ET
AUSTIN, Texas -- Both starting pitchers have settled down as Texas holds a 3-0 lead after three innings.
Texas pitcher Taylor Jungmann has been brilliant so far, holding TCU without a hit through three innings. Jungmann has pitched to one batter over the minimum as he has walked one and struck out four.
The Longhorns cuffed TCU starter Tyler Lockwood for three runs and three hits in the first inning in a scoring binge capped by Kevin Keyes' long solo homer.
But after that, Texas has not had a hit or advanced a runner past first base.
June, 8, 2009
06/08/09
7:31
PM ET
AUSTIN, Texas -- Texas wasted little time jumping on TCU starter Tyler Lockwood for a quick 3-0 lead after one inning in the deciding game of the Austin Super Regional.
Texas coach Augie Garrido was able to use a binge of extra-base hits and some "small ball" to help account for the runs -- something the Longhorns couldn't do in their loss to the Horned Frogs on Sunday.
Michael Torres led off the inning with an infield hit and advanced on Travis Tucker's sacrifice. Torres scored when Brandon Belt tripled off the center-field wall.
Belt scored when Russell Moldenhauer grounded out.
Kevin Keyes capped off the inning with a long homer over the left-field wall to extend the lead to 3-0. Keyes ripped a fat 2-2 changeup for his seventh homer of the season.
The Longhorns have given freshman pitcher Taylor Jungmann a cushion to start the game. That offensive binge should help his confidence.
June, 8, 2009
06/08/09
5:55
PM ET
AUSTIN, Texas -- Despite the stakes involved in preparing for the biggest game of the season, Texas coach Augie Garrido isn't hesitating with his pitching decision for the deciding game of the Austin Super Regional.
Gangly 6-foot-6 freshman pitcher Taylor Jungmann will start for the Longhorns, hoping to turn around a bad outing in the Longhorns' regional victory over Army.
[+] Enlarge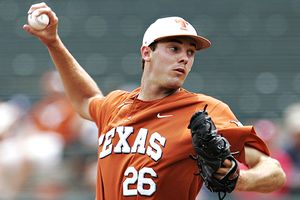 AP PhotoFreshman Taylor Jungmann will start for Texas in the Longhorns' decisive Game 3 with TCU.
"Every day is a new opportunity," Garrido said.
Jungmann will be contested by junior TCU pitcher Tyler Lockwood, an All-Mountain West Conference selection last season who has fallen a little from that level in 2009.
Jungmann (7-3, 2.45 ERA) had been masterful since joining the rotation before he was rocked for six earned runs on six hits and three walks in 3 1/3 innings against Army.
Before that start, Jungmann had posted a 1.90 ERA in his four previous starts with 25 strikeouts in 23 2/3 innings.
That strong finish provides him confidence for his outing on Monday night.
"I don't feel any pressure," Jungmann told the Austin American-Statesman after TCU's 3-2 victory on Sunday forced the deciding game. "When I get on the mound, I don't hear anybody but [Texas catcher] Cameron [Rupp] and [Texas pitching coach] Skip [Johnson]. Nerves? I don't get nervous, man."
That bravado will have been tested after watching the power-hitting Horned Frogs hammer five home runs to account for all of their scoring in the first two games against the Longhorns.
Lockwood hasn't been as effective this year as he was last year, but he's still notched a 5-1 record with a 4.41 ERA.
"He pitched in long relief and was very effective for us last year," TCU coach Jim Schlossnagle said. "This year, he started out in the rotation, didn't do so well, so we put him in long relief and he's been basically a spot starter for us."
His recent starts have been strong; he limited San Diego State to three earned runs in 7 1/3 innings on April 25 and allowed four runs in seven innings in the Horned Frogs' regional clinching victory against Oregon State on May 31.
"We asked him to start the Sunday game at San Diego State and he was lights out," Schlossnagle said. "We asked him to start against Oregon State in the regional final last week and he was very good. He's a strike thrower and he'll give us a great chance to play defense because he usually doesn't beat himself with walks."
The Horned Frogs (40-17) will be gunning for their first College World Series appearance in school history. Texas (45-14-1) hopes to earn its record 33rd appearance at the CWS, but first trip since winning the title in 2005.
It's a blistering day with the temperature currently at 95 degrees and well into triple digits on the steaming field turf playing surface at UFCU Disch Falk Field. The wind again is blowing out at about 12 mph, cutting some of the pitching-friendly tendencies of the mammoth ballpark.
Here are the starting lineups. Texas is the home team.
TCU (40-17)
2B Corey Steglich
SS Taylor Featherston
3B Matt Carpenter
1B Matt Vern
C Bryan Holaday
RF Chris Ellington
LF Jason Coats
DH Matt Curry
CF Aaron Schultz
RHP Tyler Lockwood (4-1, 4.41 ERA)

Texas (45-14-1)
3B Michael Torres
2B Travis Tucker
1B Brandon Belt
DH Russell Moldenhauer
RF Kevin Keyes
SS Brandon Loy
LF Preston Clark
C Cameron Rupp
CF Connor Rowe
RHP Taylor Jungmann (7-3, 2.45 ERA)

Umpires:
HP: David Savage
1B: Fred Cannon
2B: Steve Manders
3B: Randy Harvey