Category archive:

Arkansas Razorbacks
June, 6, 2011
06/06/11
1:23
AM ET
TEMPE, Ariz. -- It sure would be interesting if the glacial pace of the NCAA appeals process ended up allowing Arizona State to win its first baseball national championship since 1981.
With the appeal of its one-year postseason ban handed down in mid-December still undecided at the end of the regular season, top-seeded Arizona State earned a postseason berth with its play and then made things look easy this weekend in Tempe, winning its final two games by a combined count of 29-5, including a 13-4 win over second-seeded Arkansas on Sunday night that will send the Sun Devils to an NCAA tournament super regional.
"This journey is not easy," ASU coach Tim Esmay said, "but we are embracing it."
The No. 2 Razorbacks yielded a seven-run sixth inning, which mostly ended any potential intrigue. The evening before, ASU rolled over Charlotte 16-1.
After needing a walk-off home run to dispatch New Mexico on Friday, the Sun Devils simply opened a can of whoop-butt, at the plate and on the hill. They belted 32 hits versus 10 from their final two opponents, including a 13-2 advantage in extra-base hits.
The pitching was as good as the hitting. Mitchell Lambson, the Sun Devils' closer, who was making his 100th career appearance, allowed four runs and seven hits in 6.1 innings, with nine strikeouts and three walks.The night before, Kramer Champlin allowed no runs and one hit over seven innings with nine strikeouts
Oh, by the way, Arizona State has won 21 regional games in a row at Packard Stadium. It will head to the super regional looking for its third consecutive appearance in the College World Series.
The Sun Devils spent all season in limbo, not knowing whether they'd be able to play in the postseason. That could have been a distraction. But they were able to focus enough to finish tied for second in the Pac-10 with Oregon State, which also has advanced to a super regional.
"We were hoping all season but we really didn't know until the last weekend," Lambson said.
Arkansas (40-22) had little trouble with Charlotte, winning 11-3 in the early-afternoon elimination game, but it's likely that playing a double-header in 105-degree temperature affected the Razorbacks' play, even though they rallied from a 13-1 seventh-inning deficit to make the score more respectable.
"We're not going to use that as an excuse," Arkansas coach Dave Van Horn said of playing two games. "We were a little bit sluggish. ... I think Arizona State was just a little bit better."
Arkansas starter Barrett Astin lasted just three innings. The Razorbacks struck out 10 times and didn't play well in the field, although they were charged with only one error.
The Sun Devils (42-16) jumped on the Razorbacks early. Pac-10 batting champ Joey DeMichele, the regional MVP, who belted the game-winning dinger Friday, ripped a two-run home run in the first, and it was 3-0 after two. Things settled down until the sixth, when 12 Sun Devils batted, using six hits and a walk to score seven.
DeMichele finished with four RBIs. Johnny Ruettiger, Riccio Torrez and Andrew Aplin had two apiece.
It's hard to imagine too many teams will emerge from their regionals playing much better than Arizona State. The team that didn't think it would be here because of off-field issues is taking care of business on the field.
June, 4, 2011
06/04/11
8:35
PM ET
TEMPE, Ariz. -- Arkansas survived to play again Sunday because New Mexico couldn't do anything against Razorbacks ace D.J. Baxendale.
Baxendale allowed just four hits in eight scoreless innings as the second-seeded Razorbacks, an upset loser in the opening game to Charlotte, pushed past the Lobos, 3-0.
"We couldn't put together a big inning, but our pitching held it for us," Arkansas coach Dave Van Horn said.
Arkansas, now 39-21, will play the loser of the Saturday nightcap between Charlotte and Arizona State at 4 p.m. ET on Sunday in another elimination game. Freshman Ryne Stanek (3-2, 4.25), who beat Alabama in the SEC tournament, will get the start.
The Razorbacks scored twice in the second and added a ninth-inning insurance run. Trent Daniels got the save, striking out the side in the final frame.
Jarrod McKinney led the offense. He went 3-for-4 -- two doubles -- with an RBI and scored two runs. Bo Bigham and Matt Reynolds drove home the Razorbacks other two runs.
New Mexico was eliminated. The Lobos, who were surprise winners of the Mountain West Conference tournament, finish their season at 20-41.
They got 7.1 strong innings from Richard Olson, who allowed two runs and seven hits, but were off-balance at the plate against Baxendale, a semifinalist for the Golden Spikes Award.
"[Baxendale] hit his spots really well," Lobos third baseman D.J. Peterson said. "He kept it in and kept it out well."
If the Razorbacks prevail Sunday, they would play a second game against the ASU-Charlotte winner at 9 p.m., trying to force a winner-take-all game on Monday at 9:30 p.m. Baxendale's eight innings means there are fresh arms available, though emerging from a first-round loss is never easy in a regional.
"We do have a lot of pitching left," Van Horn said. "It's just young."
June, 3, 2011
06/03/11
8:29
PM ET
TEMPE, Ariz. -- Dominant work from pitcher Andrew Smith wasn't surprising for third-seeded Charlotte in its 3-2 victory over No. 2 Arkansas in the first game of the Tempe Regional of the NCAA baseball tournament. Smith is the ace of a staff that ranked third in the nation in ERA this season.
And it wasn't surprising that the 49ers, the Atlantic 10 champions, prevailed in a tight game against a "BCS" conference foe. Twenty-two of their games have been decided by two or fewer runs, and along the way they've beaten Wake Forest and North Carolina as well as winning three of four against Missouri.
No, the surprise was how Charlotte notched its most critical blow: a two-run home run from designated hitter Corbin Shive in the second inning. It was the sophomore's first home run of the season. Beyond that, the 49ers had only hit 18 homers as a team this season. Ten individual players hit 18 or more dingers this season.
"[Arkansas pitcher Randall Fant] left a ball up and in to me," Shive said. "It kind of surprised me."
Shive, by the way, is a part-time player, who's started just 12 games.
"Corbin? I'm stupid," Charlotte coach Loren Hibbs said with a Cheshire cat grin. "We haven't given him nearly enough at-bats."
Charlotte, now 43-14, advances to play the winner of the Arizona State-New Mexico game Saturday at 10 p.m. (ET).
The 49ers picked up another run -- unearned -- in the second to take a 3-0 lead. Then Smith (10-4), who entered the game with a 1.85 ERA, took over, keeping the Razorbacks off-balance with fast balls away and changeups.
"We tried to umpire too much instead of swinging," said Razorbacks coach Dave Van Horn, whose team fell to 38-21.
Smith allowed one run and five hits in 7.1 innings, with four strikeouts and one walk. Corey Roberts finished things up, though he surrendered a solo home run to Kyle Robinson in the bottom of the ninth.
While Smith baffled the Razorbacks, Fant (3-5) only lasted two innings. Brandon Moore and Barrett Astin didn't yield any more damage, but the offense couldn't get in sync.
"Offense has been our problem all year," said a grumpy Van Horn, who didn't take kindly to a reporter asking him if he regretted going with Fant instead of staff ace D.J. Baxendale (9-2, 1.75).
Baxendale will get the call Saturday (5 p.m. ET) against the loser of the ASU-New Mexico game, with no more margin for error in the double-elimination tournament.
February, 16, 2011
02/16/11
8:25
AM ET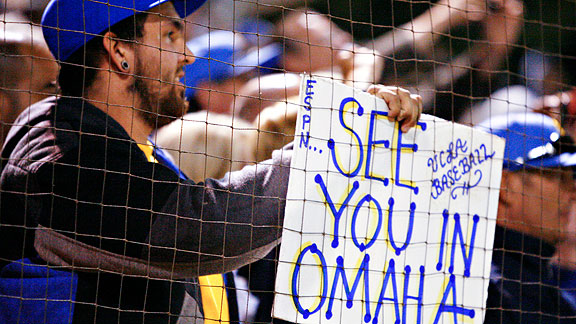 AP Photo/Jason RedmondUCLA earned the No. 1 national seed in our first attempt at predicting the NCAA tournament.
Are you ready for some baseball? Division I college baseball gets under way at 10 a.m. ET on Friday with the first two games of the Big East-Big Ten Baseball Challenge. If everything goes according to plan, one of the final games of opening weekend will feature Florida International's Garrett Wittels attempting to break Robin Ventura's 58-game hitting streak on ESPNU/ESPN3.com (Sunday, 7:30 p.m. ET).
While the first pitch of the season has yet to be thrown, it's never too early to start looking forward to June and the first College World Series at TD Ameritrade Park. Defending champion South Carolina lost its top two starting pitchers from last year's squad but returns a talented offensive core and has one of the best bullpens in the country. Last year's CWS field included several programs on the upswing. Arizona State was the only team from the 2009 field to return to Omaha in 2010; this year, the Sun Devils could be the only team not to earn a return trip to Nebraska. The talent level isn't down in Tempe, but unless the NCAA sanctions are reversed, ASU is barred from the postseason.
[+] Enlarge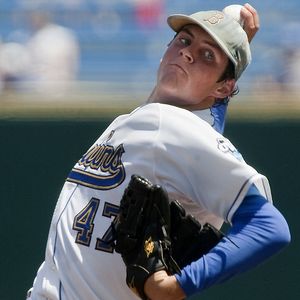 AP Photo/Nati HarnikESPN Preseason All-American Trevor Bauer leads a talented Bruins staff.
The 2011 season will see another change that could have an even bigger effect than the CWS' move three miles up 13th Street. College baseball is changing the specifications for aluminum bats from measuring the ball exit speed (BESR) to the coefficient of restitution (BBCOR). Early indications from fall practices are that power numbers will be down -- a lot. Small ball could become an even bigger part of the college game, which would favor several West Coast teams in a year when that region already appears to be extremely strong. Combined with the flipped orientation from Rosenblatt Stadium to TD Ameritrade Park -- where the wind is more likely to blow in than out -- pitching and clutch hitting could share the spotlight in late June.
Predicting the field, and especially the teams with the best chances at reaching Omaha, is tricky in mid-February. Using the 2010 preseason coaches' poll, only three of the top eight teams earned national seeds, and just two finished their season at Rosenblatt. Eventual national champion South Carolina and runner-up UCLA both started just outside the Top 25. High early-season expectations are usually enough to get into the tournament, as only East Carolina and Ohio State failed to make the field after appearing in the preseason Top 25.
This is the first time I've attempted to pick the field before the season started. My results at the end of last season were good but not great, but in some cases I favor my bracket to the official NCAA field. I was within one seed on six of the eight national seeds, overseeding Virginia by three spots and picking South Carolina over Georgia Tech for the final top-eight spot (with the way things played out, that looks like a good decision). Of the 34 at-large bids, I had 32 in my final bracket, and the two I omitted topped my "first nine out" section. California was my first team out (and most egregious miss, since it was the No. 2 seed in Norman) but went 0-2; Louisiana-Lafayette was my second team out and went 1-2 in the Austin Regional. The two teams from my bracket that missed regional play were Kentucky and Florida Gulf Coast; Kentucky had a solid RPI but missed the SEC tournament, while FGCU won the Atlantic Sun regular-season title in its first year of tournament eligibility behind ace Chris Sale but fell in the conference tournament. Of the 16 regional sites, I got two exactly right (Atlanta and Norwich) and three of four teams for three more (Auburn, Gainesville, Louisville).
Now that I've dispensed with the caveats, here's my initial projection:
Los Angeles Regional
No. 1 UCLA
San Diego
UC Irvine
Army

Conway Regional
Coastal Carolina
North Carolina
Ole Miss
Monmouth


Austin Regional
No. 8 Texas
Louisiana-Lafayette
Southern Miss
Wright State


Houston Regional
Rice
LSU
Texas State
Dartmouth


Fullerton Regional
No. 5 Cal State Fullerton
California
San Diego State
South Dakota State


Stanford Regional
Stanford
Fresno State
UC Riverside
Minnesota


Norman Regional
No. 4 Oklahoma
Arkansas
St. John's
Wichita State


New Britain Regional
Connecticut
Washington State
Auburn
Stony Brook


Fort Worth Regional
No. 3 TCU
Texas A&M
Arizona
Jackson State


Eugene Regional
Oregon
Georgia Tech
Kansas State
Rider


Nashville Regional
No. 6 Vanderbilt
Louisville
Nebraska
Kent State


Clemson Regional
Clemson
Baylor
Western Carolina
Charlotte


Charlottesville Regional
No. 7 Virginia
East Carolina
Liberty
James Madison


Columbia Regional
South Carolina
College of Charleston
Oregon State
Jacksonville State


Gainesville Regional
No. 2 Florida
Miami
Florida International
Florida Gulf Coast


Tallahassee Regional
Florida State
Alabama
Florida Atlantic
Bethune-Cookman
Last five in: Florida International, Nebraska, Western Carolina, San Diego State, Liberty
First nine out: Kentucky, Elon, NC State, Pittsburgh, Tulane, Oklahoma State, Cal Poly, Southeastern Louisiana, USC
With the exception of Arizona State, which is banned from the postseason, all the teams that played in the final CWS in Rosenblatt earn regional hosting assignments and No. 1 seeds, with the top four national seeds all gunning for a return to Omaha. The other four national seeds all fell 2-1 in super regionals last year, so this bracket is biased toward last year's elite teams. The road from opening day to Selection Monday is bumpy enough that the final field probably won't look like this, but there's a lot of returning talent from last year, and the top squads have reloaded quickly.
Eleven of the 30 conferences with automatic bids send more than one team to a regional. The usual suspects lead the charge, with the SEC (eight), Pac-10 (seven), ACC (six) and Big 12 (six) each in the running to send at least a half-dozen teams to the postseason. The Big East and Sun Belt seem poised to send three teams to a regional for the second straight year, while Conference USA and the Big West should pick up a third bid after only nabbing two last season. For the three conferences slated for two bids, there's one clear leader and one bubble team: Coastal Carolina (Big South), TCU (Mountain West) and College of Charleston (Southern) should be locks to make the field, but Liberty, San Diego State and Western Carolina could be on the wrong side of the bubble if they don't secure automatic bids.
[+] Enlarge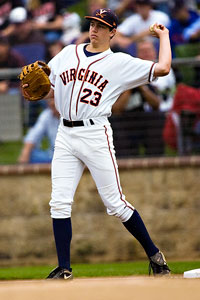 Darryl Dennis/Icon SMIDanny Hultzen and the Cavs are focused on getting to Omaha this season.
Connecticut has the talent to earn a national seed, but the Huskies are in uncharted territory. Last year's great northern hope was Ohio State, and the Buckeyes failed to qualify for the Big Ten tournament after starting the year in the Top 25. UConn needs to overcome a tough early-season trip to California and a bull's-eye on its back during Big East play; that will make the Huskies stronger for postseason play but could cost them some wins and a top spot.
The order of finish for the SEC is always tough to determine, especially considering how quickly a strong recruiting class can pay dividends. Odds are that the eight teams that reach the SEC tournament in Hoover, Ala., will still be playing in June, but at this point it's hard to count any of the 12 teams out. The top three teams coming into the season are all in the Eastern Division, and it's unlikely that three teams from the same division would all earn national seeds -- much like the early part of the season last year, South Carolina draws the short straw.
The top half of the ACC seems more clear-cut, with Virginia, Florida State and Clemson jockeying for a national seed. Danny Hultzen and six returning hitters give Virginia an early advantage, but the Seminoles and Tigers aren't far behind. At least one of those teams should earn a top-eight spot, with the other two battling for the final spot with the SEC third-place team, the Big 12 second-place team and Connecticut.
The biggest issues for the Pac-10 could be the depth of the conference and Arizona State's postseason ban. The Sun Devils should still pile up wins this year, and every conference win is a lost opportunity for the other Pac-10 schools. The conference won't match its eight bids from last season; seven bids seems most likely, but if ASU sweeps any of the middle-of-the-pack teams, six bids is a possibility.
Three and a half months of action on the field before the NCAA tournament field is announced. Let the games begin!
Jeremy Mills is a researcher for ESPN and is a contributor to ESPN.com's college baseball coverage.
Follow ESPN.com's college sports coverage on Twitter: @ESPN_College and on Facebook.
April, 20, 2010
04/20/10
3:22
PM ET
We're two-thirds of the way through the college baseball regular season, and this year has been crazier than ever. Outside the top 10, the disparity between rankings and RPI is quite extreme, and several schools with solid rankings are struggling in conference play. There are still six weeks left to play out the season, which is good -- at this point I wouldn't want to make any final decisions.
After struggling last year and receiving only three postseason bids, the Pac-10 is back in top form this year. Nine of the 10 schools are in position to make a run at the NCAA tournament, including Oregon in the second year since the program was reintroduced. The SEC is as strong as ever -- it's likely that all eight teams that make it to Hoover will play into June, and nine or 10 bids for the league aren't outside the realm of possibility.
If these two conferences eat up a quarter of the slots in the tournament, it's likely to come at the expense of the Big West and Conference USA. Both perennial power conferences are having down years, to the extent that each could be a one-bid league.
Outside the "Big Six" baseball conferences, the Sun Belt and Big East are having great years. Louisville has put itself into the running for a national seed, but is in a dogfight for the top spot in the Big East with Connecticut, Rutgers and Pittsburgh. The Sun Belt has passed both C-USA and the Big West in RPI, and could get as many as four invitations to the postseason.
For this initial projection, there are 12 conferences with more than one bid:
9 teams: SEC
7 teams: ACC, Pac-10
6 teams: Big 12
3 teams: Big East
2 teams: Big South, Big West, Conference USA, Mountain West, Southern, Southland, Sun Belt

Shaking out the top 16 teams from a list of 20 candidates proved harder than normal at this point, as this is where the disparity between conference standing, polls and RPI reared its head. There are seven teams in the SEC that could lay claim to No. 1 regional seeds, but based on past history that number is more likely to settle at four. There are also more teams than slots in the ACC, where five teams are vying for top slots. At this point, conference standings rule the day -- that leaves Clemson on the wrong side of the divide in the ACC, with Vanderbilt, Auburn and (especially) Alabama out in the SEC.
Eliminating those four teams from contention for a No. 1 seed leaves three spots open once you get past the "secure" teams from other conferences (Arizona State, Coastal Carolina, Louisville, Texas, UCLA). Cal State Fullerton and TCU claim two of those bids with their first-place conference standings and strong overall résumés. The overall strength of the conference nets the Pac-10 a third bid, with California edging out Arizona by winning the head-to-head series.
All but one of the No. 1 seeds will host a regional. The lack of lights at California is likely to force the NCAA to look elsewhere, so the excluded ACC and SEC schools come back into play. Clemson is unlikely to get the nod as a third host in South Carolina, while Alabama's low conference standing makes it an unlikely host. Vandy wins the race against Auburn based on higher standing in both the RPI and human polls.
Here's the breakdown by conference for the 16 host sites through April 19:
ACC (4): Florida State, Georgia Tech, Miami, Virginia
Big 12 (1): Texas
Big East (1): Louisville
Big South (1): Coastal Carolina
Big West (1): Cal State Fullerton
MWC (1): TCU
Pac-10 (2): Arizona State, UCLA
SEC (5): Arkansas, Florida, LSU, South Carolina, Vanderbilt

It's time to unveil the 16 regionals. National seeds are listed, and the regional following the national seed is paired against it in the super regionals.

Tempe Regional
No. 1 Arizona State
Connecticut
New Mexico
Maine
Louisville Regional
Louisville
Western Kentucky
Kentucky
Wright State
Fayetteville Regional
No. 2 Arkansas
Kansas State
Ohio State
Wichita State
Tallahassee Regional
Florida State
Auburn
Texas Tech
Marist
Austin Regional
No. 3 Texas
Rice
Texas State
Texas Southern
Fort Worth Regional
TCU
Oklahoma
Ole Miss
Oral Roberts
Atlanta Regional
No. 4 Georgia Tech
Oregon
Alabama
Jacksonville State
Gainesville Regional
Florida
Virginia Tech
East Carolina
Bethune-Cookman
Baton Rouge Regional
No. 5 LSU
Southeastern Louisiana
Texas A&M
Wagner
Coral Gables Regional
Miami
Florida Atlantic
Oregon State
Florida Gulf Coast
Charlottesville Regional
No. 6 Virginia
Stanford
Liberty
James Madison
Nashville Regional
California
Vanderbilt
Kansas
Dartmouth
Conway Regional
No. 7 Coastal Carolina
Clemson
College of Charleston
Central Michigan
Columbia Regional
South Carolina
The Citadel
North Carolina
Charlotte
Los Angeles Regional
No. 8 UCLA
San Diego
UC Irvine
Fresno State
Fullerton Regional
Cal State Fullerton
Arizona
Rutgers
Army
Last five in:
UC Irvine, Kentucky, Ole Miss, College of Charleston, North Carolina
First nine out:
VMI, Georgia Southern, Louisiana-Lafayette, Michigan, Baylor, Boston College, Pittsburgh, Mississippi State, Tulane
Louisville fans have a legitimate gripe with this bracket. The Cardinals were under consideration for a national seed, losing out narrowly to Coastal Carolina and UCLA. The NCAA doesn't seed the other eight No. 1 seeds, and most of the other regionals paired off well geographically, so Louisville draws the short straw and is paired up with Arizona State. If Louisville captures the Big East crown (and especially if UCLA continues to struggle in conference play), the Cardinals can lay claim to a national seed and force the committee to pair someone else with the Sun Devils.
UC Irvine narrowly makes the field, sparing the Big West from earning just one bid in 2010. East Carolina also falls on the right side of the bubble to join first-place Rice from Conference USA.
Three SEC teams sit squarely on the bubble, with one or two bids at stake. Until the conference race plays out, Kentucky and Ole Miss look like better bets to make the field than Mississippi State.
VMI (Big South), Georgia Southern (SoCon) and Louisiana-Lafayette (Sun Belt) narrowly miss earning a third bid for their respective conferences. Their fate likely rests in the hands of regular-season champions from one-bid leagues winning their conference tournaments.
And the very last team in the field is North Carolina. The Tar Heels have ended their season in Omaha each of the past four years, but a 6-12 start to ACC play (and a tough finishing schedule) puts the team in a perilous position. The pollsters and RPI still like the Heels, so for now UNC gets the final invite.
That does it for this week's aluminum-bat version of bracketology. This will be a weekly feature heading up to the selection show on Memorial Day, and your comments are welcome.
Jeremy Mills is a researcher for ESPN and is a contributor to ESPN.com's college baseball coverage.
June, 19, 2009
06/19/09
9:07
PM ET
Here are a few notes off LSU's 14-5 win over Arkansas in their College World Series matchup (compiled by the NCAA).
• With LSU's win today, it guarantees that there will be a first top-eight national seed to win an NCAA title since Rice in 2003 (No. 1 Texas and No. 5 Arizona State are in the Bracket 2 championship). LSU was the No. 3 national seed.
• LSU will bid to become the first Bracket One winner to win a CWS since Miami (Fla.) in 1999. The last team from the SEC to win a national title was LSU's 2000 team. It is also the third time in five years that a SEC team has advanced to the CWS Championship series.
• The 13 pitchers used (eight by Arkansas, five by LSU) ties the CWS single game record. Nebraska (seven) and Clemson (six) also combined to throw 13 pitchers on June 14, 2002.
With today's win, LSU advances to the CWS Championship series finals for the first time since the CWS Championship series began in 2003. The Tigers are 5-0 when playing for a national title in program history. LSU has never played either Arizona State or Texas for a national title.
• LSU (8-0) remains perfect in this year's NCAA tournament. No team has gone undefeated in the NCAA tournament since the CWS Championship series was established in 2003. The last team to go undefeated in the NCAA tournament was Miami in 2001.
• LSU went 3-0 in four of its previous five national title seasons (2000, 1997, 1996, and 1991).
• Anthony Ranaudo now has an SEC-leading 154 strikeouts on the season to rank sixth on LSU's single-season list. It is the most strikeouts by a Tiger since Kurt Ainsworth fanned 157 hitters in 1999. That also marked the last time a Tiger pitcher led the SEC in strikeouts.
• LSU is hitting .351 and averaging nine runs per game in eight NCAA tournament games and is hitting .368 and averaging 10.7 runs per game in the CWS.
June, 19, 2009
06/19/09
7:56
PM ET
OMAHA, Neb. -- LSU is in the championship series thanks to a 14-5 win over Arkansas, eliminating the Razorbacks from the College World Series.
LSU used a three-run eighth inning -- powered by a Tyler Hanover two-run homer -- to extend its lead to 14-2. And then Arkansas answered with a three-run shot by Chase Leavitt in the ninth to get the final runs of the Razorbacks' stint in Omaha.
Arkansas used a total of eight pitchers, and combined there were 13 pitchers in the game. Both marks tied a College World Series record for pitchers used in a game.
Arkansas finished the season at 41-24 while LSU (54-16) claimed Bracket One to advance to the championship series (beginning Monday at 7 p.m. ET, ESPN/ESPN360.com) against the winner of Bracket Two -- either Arizona State or Texas, who are scheduled to face off at 8:43 p.m. ET (ESPN2, ESPN360.com).
This afternoon's attendance was announced at 19,734, bringing the 11-session total to 247,943.
Lineups for tonight's game to follow when they become available.
June, 19, 2009
06/19/09
7:05
PM ET
OMAHA, Neb. -- Arkansas got the deficit back to less than double digits.
A two-run home run by Brett Eibner off LSU reliever Austin Ross trimmed the Tigers' lead to 11-2 through seven innings.
The final line for LSU starter Anthony Ranaudo: 6 IP, 4 H, 0 BB, 5 K on 77 pitches (58 strikes).
June, 19, 2009
06/19/09
6:58
PM ET
OMAHA, Neb. -- Touchdown LSU. And that was just the start of things in the seventh.
The Tigers now lead Arkansas 11-0.
Razorbacks reliever T.J. Forrest continued to struggle against his former team to start the inning. Ryan Schimpf made it 7-0 Tigers with a big home run to right. Three batters later Mikie Mahtook singled to right to score Blake Dean, who had reached earlier on a walk. That was all for Forrest but not for LSU.
Justin Wells came in and promptly surrendered a double to Sean Ochinko, which scored Micah Gibbs (reached on error) to make it 9-0.
Next, coach Dave Van Horn went to Scott Limbocker, who walked Jared Mitchell and then threw a wild pitch to score Mahtook.
Sam Murphy was the next reliever for Arkansas. He gave up a double to pinch hitter Tyler Hanover, which scored Ochinko from third.
The total damage was five runs against four pitchers. But the ultimate damage looks like the end of the season for Arkansas and a slot in Monday's CWS championship series for LSU.
June, 19, 2009
06/19/09
6:29
PM ET
OMAHA, Neb. -- LSU continues to find offense against Arkansas, as the Tigers now lead 6-0 after six innings at sunny Rosenblatt Stadium.
Jared Mitchell, a first-round pick of the Chicago White Sox, drove a 1-0 pitch from reliever T.J. Forrest over the 375-foot section in left-center.
It was Mitchell's 10th home run of the season, and it came off a former LSU pitcher. Forrest spent the 2007 season with the Tigers before transferring to Bossier Parish CC last season. The junior was drafted by the Pittsburgh Pirates in 2008 (32nd round) but chose to return to college baseball and found a home at Arkansas.
And Mitchell found a home for Forrest's pitch, the third time an LSU player has homered off Forrest here in Omaha. In Monday's game, Austin Nola and Blake Dean each sent a Forrest offering over the wall.