ASU hopes to avoid last season's mistake
June, 7, 2009
06/07/09
1:43
AM ET
TEMPE, Ariz. -- Arizona State skipper Pat Murphy often says cryptic things that perhaps only he understands. After his Sun Devils took Game 1 of their NCAA Super Regional with a 7-4 win over Clemson, he compared a player to an orange Life Saver candy.
[+] Enlarge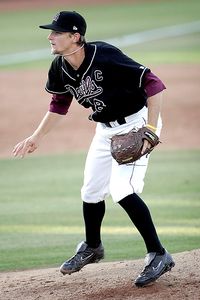 AP Photo/Matt York Arizona State's Mike Leake earned his nation-leading 16th win in the Sun Devils' 7-4 win over Clemson in the Tempe Super Regional.
We're not going to explain that one to you. You'll just have to suck on it yourself.
But we will linger on this bit of analysis because it makes sense.
When asked how he felt about his team scoring six of its seven runs with two outs against the Tigers, he noted, "You get three [outs]. You might as well use them."
True.
And Murphy also pointed out that you have to win two super regional games to advance to the College World Series. Not one. Two.
Last year, his then-third-ranked team won Game 1 of a best-of-three series against Fresno State here in Packard Stadium, and the Sun Devils ended up watching the fun of the College World Series inside Omaha's Rosenblatt Stadium from their living rooms.
But those two-out hits and an ability to shake off what Murphy repeatedly called "boneheaded" plays suggested the Sun Devils, who have finished ranked in the final top 12 seven times in the past 12 years but haven't won a national title since 1981, might be more resilient -- if not as talented -- than past vintages.
"We're pretty relentless," Murphy said.
Oh, but there's plenty of talent on the roster of the NCAA tournament's overall No. 5 seed. Take pitcher Mike Leake. He got the win and improved to 16-1 on the season. He leads the nation in wins and has 40 career victories. The junior right-hander tied Eddie Bane for the most wins at ASU by a three-year pitcher. He went eight innings and gave up eight hits and four runs -- three earned -- with seven strikeouts and one walk.
And he wasn't really happy with his performance. He's only given up as many as three earned runs two other times this season.
Leake said he was too amped and emotional early in the game. "It was [like] my sophomore year pitching," he explained.
Clemson kept things tight until Carlos Ramirez belted a two-run single to left in the bottom of the eighth that gave the Sun Devils a 7-4 lead. While Murphy said he planned to send out freshman Mitchell Lambson to pitch the ninth no matter the situation, the insurance runs surely made it easier to sit Leake down.
Every Sun Devil got a hit, and five players supplied RBIs. Ramirez went 3-for-5 with three RBIs.
Clemson seemed to gain momentum in the seventh when it tied the count 4-4 on a two-run single from designated hitter Chris Epps. Epps went 2-for-5 with three RBIs.
But Graham Stoneburner, who replaced Casey Harman after 5 2/3 innings, couldn't hold the lead, giving up three earned runs in two innings of relief.
"They got big hits when they had to," Clemson coach Jack Leggett said.
Particularly with two outs.
"Two-out runs are never good -- that's something we preach," said Harman, who was Leake's equal in the early going before faltering in the middle innings. "It's frustrating but we've got to move on."
Clemson, now 1-8 versus Pac-10 teams in the NCAA tournament, will need to win Sunday to survive. The Tigers fought their way back after losing Game 2 of the regional last week, so being in a hole isn't new for them.
"Hopefully, we can scratch our way into a game on Monday," Leggett said. "We have to make the momentum swing our way [Sunday]."
The Tigers will send left-handed freshman Chris Dwyer (5-5, 4.85) against Sun Devils junior left-hander Josh Spence (8-1, 2.37).