UNC has the weapons for Omaha arms race
June, 7, 2009
06/07/09
5:46
PM ET
CHAPEL HILL, N.C. -- Armed and dangerous.
Make no mistake about it, because it was the theme of the Chapel Hill Super Regional at Boshamer Stadium as North Carolina finished off East Carolina 9-3 on Sunday to sweep the best-of-three series and advance to the College World Series for the fourth consecutive season -- a first-ever accomplishment for an ACC team.
[+] Enlarge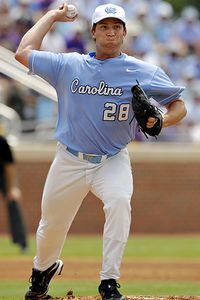 AP Photo/Sara D. DavisAdam Warren had eight strikeouts and allowed only one walk in North Carolina's 9-3 win over East Carolina.
Yes, MLB star-in-waiting Dustin Ackley hit a three-run homer to give the Tar Heels a 7-0 lead in the sixth inning. And yes, UNC pounded out 13 hits to mark the sixth straight game with double-digit hits for a team that's offense was questioned coming into the season.
But it was the pitching performances from starters Alex White on Saturday and Adam Warren on Sunday -- against a power-hitting ECU lineup -- that allowed UNC to coast its way back to Rosenblatt Stadium by a combined score of 19-4.
White recorded a career-high 12 strikeouts in Game 1 and Warren followed it up with an eight strikeout performance on Sunday. For the two-game set, the entire UNC staff posted 23 strikeouts to just four walks.
In his last three starts -- all wins -- Warren has combined for 23 strikeouts and just two walks in beating Duke, Kansas and East Carolina.
So Sunday was really just another day at the office for the senior from New Bern, N.C.
"I just tried to go out there and throw strikes," Warren said. "I tried not to let it get in my head that this was my last start in the stadium, but obviously that big inning we had in the sixth allowed me to pound the zone and let our defense help me out."
OK, sure.
If Warren won't pump his own tires, let his teammates lend a hand.
"It was unbelievable," Ackley said. "Both of those guys threw [late into the game]. When you take that kind of pressure off your bullpen it's just fun and everybody is able to relax and hit more and play defense.
"Especially with pitching, when guys like that have confidence it just makes everyone else more confident."
And let's not forget this was against a Pirates lineup that had six players with at least 13 home runs and a team batting average of .340.
"Those guys are really good hitters," UNC third baseman Kyle Seager said of the ECU lineup. "Their numbers are gaudy and yet both of our pitchers were absolutely dominant. Adam was sensational today, and you can't say enough about Alex because they both give you a chance to win every single time."
With the win Warren improved to 9-2 on the season with a 3.23 ERA and 97 strikeouts against just 34 walks. And opponents are hitting just .239 against him in his 92 innings of work.
White's numbers are nearly as impressive. He's 8-4 with a 4.13 ERA and 109 strikeouts against just 41 walks -- with an opponents' batting average of .234 in 98 innings of work.
"They can pitch away with their fastball in the low 90s as good as anybody you'll see," East Carolina coach Billy Godwin said. "We've seen guys that throw hard all year but not with that type of command. That's a good one-two punch."
And out of the bullpen, coach Mike Fox has a pair of go-to guys as well. Brian Moran is 7-1 with a 1.95 ERA, four saves and a .184 OBA, while Colin Bates is 4-2 with a 2.84 ERA, six saves and a .238 OBA.
"They've got the pitching to go out there and play very well," ECU first baseman Brandon Henderson said. "They've got some very good arms. They're going to be able to compete out there."
Just another way of saying UNC is armed and dangerous heading to Omaha.