Werman, Virginia embrace the CWS
June, 15, 2009
06/15/09
7:03
PM ET
OMAHA, Neb. -- At Ole Miss, the wise guys in the stands asked if Keith Werman had his driver's license yet. He is 5-foot-7 and 140 pounds on a very good day, if the cameras add an inch or so to his height, and has been the butt of a joke or two.
But guess who's winning over the hearts of Omaha?
[+] Enlarge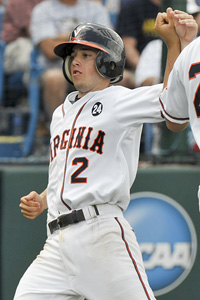 AP Photo/Ted KirkWith 6 hits, 3 runs and 3 RBIs in two games, Keith Werman is making the most the CWS.
Werman used another huge day at the plate Monday to lift Virginia to a 7-5 win over Cal State Fullerton, eliminating the No. 2 national seed from the College World Series. The freshman, who hits in the 9 hole and was inserted in the lineup just a month ago, tied the game with an RBI single in the second inning, and has six hits in two games in Omaha.
"To be completely honest, I love it," Werman said. "I love it when fans get on me about being small and saying I can't do it. Well, look who's out there. I'm the one out there doing what I can for the team."
Werman is the poster boy for a Cavaliers team that had never been to the CWS before 2009, and hasn't backed down to college baseball's elite. Less than 48 hours after the Cavs' near-miss against LSU, coach Brian O'Connor's team eliminated the Titans, who were favored by some gurus to win the national championship.
The Cavaliers chased Fullerton ace Daniel Renken in the sixth, rattling him for six runs on a tweaked lineup. O'Connor sat up late Sunday night drawing up at least six different lineups for Monday's win-or-go-home game, and inevitably settled with a different one from those he agonized over.
"I don't know if it had a whole lot of effect," O'Connor said, "because I'm not that smart.
"I'm very, very proud of our club. This team has shown me time and time again to be a very resilient group."
While the Cavaliers plotted for Wednesday, Fullerton coach Dave Serrano shook his head over the confounding two-game stretch of disappointments. Just like Saturday, when the Titans lost 10-6 to Arkansas, Serrano said his team was overthinking and was wound too tight.
He took full responsibility for the collapse, and the fact that Fullerton had been pointed toward a national championship since February and was the first team sent home from Omaha. The Titans jumped to an early 2-0 lead Monday, but blew a big opportunity for some breathing room in the second when they had two runners on with no outs and didn't capitalize. That was a momentum killer, Serrano said.
In the opposite dugout, the Cavaliers were calmly playing, as if it were a February tuneup game. O'Connor, who grew up just outside of Omaha and played in the 1991 CWS with the hometown Creighton Bluejays, held a 45-minute team meeting last week in which he explained the atmosphere and the mindset Virginia had to take.
"It would be nothing like they ever experienced," O'Connor said. "… I just told them [about] everything from the bomb-sniffing dogs, from everybody asking for autographs. … If you try to push them away and act like they're not there, you're making a big mistake. I think you have to embrace everything."
For two days, the Cavaliers have.