Hershiser scouting report: Mike Leake
June, 19, 2009
06/19/09
5:32
PM ET
Even though Mike Leake had a terrible performance in the game I saw Tuesday, I could tell that the Arizona State pitcher has a lot of good tools.
One of the reasons for his bad outing against Texas (3.1 IP, 8 H, 6 R, 1 HR, 2 BB) could be the extended delay between starts. It had been almost a week and a half since his last start, and he also had about a 30-minute wait in the dugout before he came in and surrendered six runs to the Longhorns in the top of the fourth inning because the Sun Devils had a long bottom of the third.
[+] Enlarge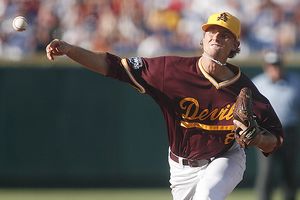 Crystal LoGiudice/US PresswireMike Leake will need to have a better showing against Texas on Friday night.
What may have hurt him further was that even though he hadn't allowed any runs in the first three innings, Leake didn't seem to have his rhythm early on. All three of those factors could have added up to a bad outing.
I've written before about the difference between control and command. Leake had control but did not have command in his latest start. He was falling behind hitters 2-0 and 3-1 by trying to make quality pitches that he wasn't quite able to execute.
Leake has enough ability and hand-eye coordination to come back in those counts and throw a fastball for a strike. But those fastballs were elevated and flat, and that led to trouble. His mind's eye was trying to execute the kind of pitches that he had all year but couldn't that day because of the reasons I listed.
Looking at his tools against Texas, I didn't see any fastballs at 94 mph, which was listed as the top of his range on his scouting report. He pitched the first two innings at about 88-90 mph and did touch 92 mph a few times. I suspect that when coaches put together his scouting reports, they may be a little more liberal with the top-end range.
Leake may have touched 94 mph on six to 10 pitches during the season and that might become the top end of his range all of a sudden. I've heard that he throws his two-seamer at about 86-87 mph, so that'd be the low end of his fastball. From what I saw, he was pretty much around 88-91 mph throughout the game.
To me, his arm looked a little tired, but it could have been some cobwebs from all that rest. It might not have been quite as stretched out and elastic as he'd like.
Leake has pitched so well that he led the nation and the Pac-10 in innings pitched this year (132.2); he also led the Pac-10 last year (121.1). But the first adjustment I'd suggest for him, based on his latest outing, would be to change the angle on his fastball. He's almost throwing sidearm, and I kept thinking there is no way that he pitched with this lack of movement all year.
I spoke to my son, who goes to Pac-10 rival USC, about Leake, and he told me Leake has tremendous sink on his ball. I didn't get to see it Tuesday. In fact, his ball was really level. Despite not getting to see the sink myself, I can't imagine that Leake would be drafted eighth overall if the bottom didn't drop out of his pitches. So I think his lack of sink on Tuesday could have been due to the fact that he was a little low with his arm, which needs to go up at least six inches.
Leake has a tremendous hand for pitching. That means he can spin the ball at release and put tremendous touch and finish on the ball to get that late movement on his pitches that is so effective on hitters. He reminds me a bit of David Cone. I remember seeing Cone's arm whipping through at that low three-quarter angle with his hand, really finishing off his split-finger, slider and curveball. It also put movement on his fastball.
Leake needs to remember to get his hand on top of the ball and come through it, rather than coming around it. These are things that can be fixed fairly easily, and I wouldn't be surprised to see him have it figured out on his own by his next start.