UT left to second-guess after falling short to LSU
June, 22, 2009
06/22/09
11:42
PM ET
OMAHA, Neb. -- During its remarkable run to the College World Series championship series, Texas seemingly could do nothing wrong when the game was on the line.
The Longhorns, the national No. 1 seed in the NCAA tournament, survived a 25-inning marathon against Boston College in the second game of the Austin Regional, the longest game in college baseball history.
[+] Enlarge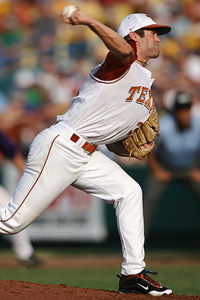 Elsa/Getty ImagesTexas starter Chance Ruffin pitched 5 2/3 innings, striking out 10 batters before he was replaced by Austin Wood.
Texas then survived a deciding game against TCU in the Austin Super Regional, before coming from behind to win its first three CWS games.
But the Longhorns' late-game heroics finally ran out against LSU in the first game of the CWS championship series Monday night.
Texas squandered a 6-4 lead in the top of the ninth inning and then lost 7-6 when the Tigers scored the go-ahead run with two outs in the top of the 11th.
"We've played with the spirit of a champion for a long time now and we don't have to give that up because we lost a most difficult game," Texas coach Augie Garrido said. "If we can't put that loss out of our minds, we'll be losers before we even take the field tomorrow."
Garrido, who is seeking his sixth national championship, was even second-guessing himself after some of his late-game decisions backfired.
Texas ace Chance Ruffin was brilliant through the first five innings, allowing only a solo homer in the first and striking out 10 batters in the first 5 2/3 innings. But with two LSU runners on base with two outs in the sixth, Garrido pulled Ruffin from the mound.
Ruffin, a sophomore from Austin, had been hampered by cramps during his second start in Omaha. He threw 87 pitches, allowing five hits and one walk.
But Ruffin said he felt fine when Garrido took him out of the game with the Longhorns leading 3-1.
"That's not what took me out of the game," Ruffin said. "I was feeling fine, and I was going to fight through it. I never was asked how I felt. I was fine."
After pulling Ruffin, Garrido turned to Texas closer Austin Wood, who promptly gave up a two-run triple to LSU right fielder Jared Mitchell that made the score 3-3.
[+] Enlarge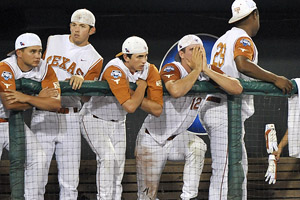 AP Photo/Ted KirkTexas won't have long to think about what went wrong against LSU in its Game 1 loss. The Longhorns face elimination Tuesday.
The Longhorns went back in front 6-4 in the seventh and held onto that lead heading into the top of the ninth. Mitchell led off the inning by grounding out to short, and then first baseman Sean Ochinko singled to left.
That was when Garrido pulled Wood from the game, replacing him with freshman phenom Taylor Jungmann. He threw six consecutive balls, walking third baseman Derek Helenihi to put runners at first and second with one out. Garrido pulled Jungmann with a 2-0 count on pinch hitter Tyler Hanover.
Reliever Austin Dicharry struck out Hanover with a 3-2 breaking ball, but then second baseman D.J. LeMahieu doubled into the left-field corner with two outs. Pinch runner Leon Landry scored from second, and Helenihi scored from first to tie the score at 6-6.
"The decisions I made in managing [the pitchers] did not work out," Garrido said. "But the two runs they scored in the ninth came with two outs, and the go-ahead run in the 11th came with two outs. That's where experience and talent and will to win all come together."
The good news for Texas: Jungmann threw only six pitches. Garrido said the freshman from Temple, Texas, will return to start Tuesday's must-win game in the best-of-three series.
Garrido is confident Jungmann will be more comfortable when he takes the mound Tuesday.
"I felt confident that what happened would not happen," Garrido said. "I put him in a position where he was uncomfortable and that was more my fault than his."