Recruiting value of neutral site games
Much of the attention in college football's opening weekend will be focused on Houston and Arlington, Texas, and Atlanta and Athens, Georgia. Only one of those spots will host its home team, but they're home still to what have become marquee events of the opening weekend. Even before the College Football Playoff committee talked a lot about the importance of playing marquee nonconference matchups to boost a school's résume&eacute, these games were prime-time programming.
Matchups like Wisconsin-LSU, Clemson-Georgia, West Virginia-Alabama and Florida State-Oklahoma State are great for TV and fans, but another major reason for the early meaningful matchups is recruiting.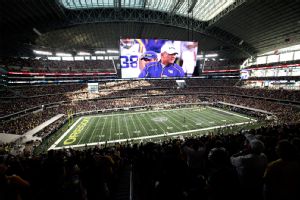 AP Photo/Tony GutierrezLes Miles is familiar with starting his season in big, neutral site, nonconference games.
Recruiting is a lot like advertising. Coaches know if you get your brand out in front of enough people, it'll resonate or stick in the back of recruits' minds. So while many teams are playing cupcakes this weekend, Clemson, Florida State, Georgia, LSU, Oklahoma State and Wisconsin will be grabbing the lion's share of headlines on "GameDay."
LSU recruiting coordinator Frank Wilson said he can't buy that type of exposure, and no amount of mail or social media messages will match the type of brand recognition playing a nationally respected program like Wisconsin early in the season can provide. It's a recruiting tool with no equal.
"I think it makes a big difference," LSU coach Les Miles said. "Our team, our logo will be flashed across millions of television sets across the country."
Another reason why these early nonconference games matter in recruiting is because many are played in neutral stadiums in the heart of prime recruiting territories. Whether it's Alabama getting a weekend in the hotly contested Atlanta area, Oklahoma State in familiar territory or Florida State returning to a former pipeline area, coaches have learned there's no better way to spread your program's brand than to play in a game where you already recruit heavily or where you want to increase your recruiting footprint.
And nobody is better at using the impact nonconference matchup for recruiting victories than Miles.
Saturday's game against Wisconsin at NRG Stadium in Houston is just one example of "The Mad Hatter" finding a way to get in front of more impact prospects. Miles has also taken his teams into Arlington twice to play TCU and Oregon, and to Atlanta once to face North Carolina. But Texas is one of the most important recruiting territories in the country -- maybe the most important outside of the state of Louisiana for the Tigers -- and Miles knows many prospects will be watching the game in person or on ESPN.
"We like the opportunity to be in Texas," Miles said. "It's a nice drive from Baton Rouge to Houston, and it's a quality stadium, great venue, big-time opponent -- a challenge to us. We also like the idea that it will allow us to recruit in Texas, and getting that exposure in front of the recruits is priceless. We're going to use this opportunity to every advantage we can on the recruiting trail."
And the numbers reflect Miles' point. From 2010 to 2014, LSU signed 16 Texas prospects, including seven in the 2014 class alone. LSU also has three Texas pledges in the 2015 class and one each in the 2016 and 2018 classes. Many of those Texans in the 2014 class, including No. 2 safety Jamal Adams, said seeing LSU play those two games in Dallas were big influences in their decision to eventually sign with the Tigers.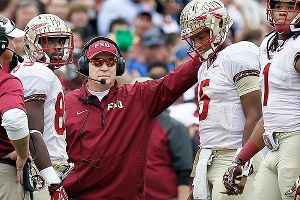 Don Juan Moore/Getty ImagesJimbo Fisher likes the chance to showcase his team to potential recruits in a different area.
"Those games were my first real true exposure to LSU," Adams said. "Seeing the fans, the band and everybody around the program, made me fall in love with it."
The most important objective of Florida State's game Saturday night against Oklahoma State at AT&T Stadium in Arlington is obviously to win. But Seminoles coach Jimbo Fisher admits the game against the Cowboys is a great opportunity to do some damage on the recruiting trail.
Coming off a national championship, FSU has the eye of many of the nation's top prospects, and Fisher would like to dip into the fertile Texas talent pool more than he has done in the past. Recruiting in Florida certainly will remain priority No. 1, but with all of the talent the Lone Star State produces each year, Fisher knows a big victory over Oklahoma State in Jerry World in front of a national television audience could help win recruiting battles down the road.
"We're in Texas and in on some players," Fisher said. "Anytime with Florida State and with our national brand and the things we do, it helps to get a lot of recognition. If you go play in a Kickoff Classic in Dallas and go play in a national championship game and in all of these different venues, it helps recruiting not just in Texas but in general. Recruits know they will get an opportunity to get on that national stage and in national games. It does nothing but help you when you try to recruit. These types of games are big for recruiting."
From the recruit's point of view, these nonconference games won't be the ultimate factor when it comes time to make a decision, but they certainly don't hurt, either. As Fisher points out, recruits want opportunities to play on the biggest stages in college football, and until conference play starts, nothing can beat the excitement some of these games will generate.
"I would be fired up to play in game like that, and as a recruit it catches my attention and makes me think more about that school," Oregon quarterback commitment Travis Waller said. "You get to see how the team you're looking at competes in a top game. The environment would be crazy. What recruit wouldn't want to be a part of that?"
RecruitingNation
Jeremy Crabtree is a senior coordinator
Spent 12 years with Rivals.com/Yahoo! Sports
Graduated from Kansas State
The Week That Was
Miss something on RecruitingNation this week? We've got you covered.

• Prince Sammons' amazing journey »

• 2016s to watch: Skill players

| Line, D

• 10 bold recruiting predictions

• Preseason recruiting rankings

Big news
ESPN 300 OT Milo picks Canes


Vols land Venzell Boulware


Van Jefferson pick Georgia

RecruitingNation Vine Line