Lesser-known QBs shine at Elite 11
BEAVERTON, Ore. -- The Elite 11 features a who's who of the college football recruiting world. There are high-profile quarterbacks such as Texas A&M commitment Kyler Murray, UCLA-bound Josh Rosen and recent Oregon pledge Travis Waller. But the first three days of event have been dominated by lesser-known names such as Missouri commit Drew Lock, uncommitted Ross Bowers and three-star Air Force recruit Ryan Brand.
Locking it down

Drew Lock had plenty of suitors before he committed to Missouri, but the ESPN 300 prospect hardly gets mentioned when talking about the best quarterbacks in the 2015 class. But he's quickly changing the conversation.
ELITE 11 & OPENING COVERAGE

ESPNU and ESPN RecruitingNation has the Elite 11 and Opening covered. Watch on ESPNU/WatchESPN on Tuesday, Wednesday and Thursday at 8 p.m. ET.
• Rosters: Elite 11 | Opening
• Full Opening coverage
Through the first two days of practices, Lock was ranked second on the Elite 11's big board of rankings, ahead of Murray, Rosen and Waller.
"It was a kind of a surprise to people, but I don't think anything is really going to change for me," Lock said. "I'm going to go out here and throw the ball like I know I can and should. It blows my mind a little bit. People are like, 'What the heck? This guy is from Missouri?' Yes, yes, we play good football in Missouri. I could say I'm from California, I could say I'm from Texas, but it feels good to show folks that I can compete with the best of the best from all of the states."
Much of the first two days of practice were focused on throwing routes to receivers running on air, chalk talk and playbook study, but Monday's session shifted to throwing routes against actual defenders. Lock said he felt he did well and doesn't plan on giving up his spot near the top of the rankings.
"One of the big things the coaches focus on is doing all of the little things right, and I've really worked hard at that," Lock said. "Another thing they look for is taking coaching advice and executing it on the field, and I think I do that pretty well. I'm also a quarterback that likes to outsmart people and make them frustrated. It's like a pride thing for me. It's really all come together well so far, and I hope to carry it through the rest of the week."
Precision matters

Monday at the Elite 11 finals, the 19 quarterbacks worked against defenders for the first time in Oregon -- a novel concept. Accuracy suffered, as expected, in comparison to the Sunday workout, especially early in the two-hour morning practice.
The play improved later as several finalists showed an ability to thread the needle on deep throws. One such throw by USC commit and No. 6-rated pocket passer QB Ricky Town earned a running, celebratory high-five from Trent Dilfer.
Jarrett Stidham, a Texas Tech pledge rated as the No. 2 dual-threat prospect, connected on several pinpoint throws.
As the quarterbacks continue to install an offensive system in preparation for the 7-on-7 play later this week, Dilfer and the other coaches are stressing the importance of accuracy over big plays and touchdowns.
Completion percentage, more than any other statistic, will likely correlate closely to the list of quarterbacks picked for the final Elite 11 on Thursday. And if any quarterback can connect on 70 percent of his throws -- it didn't happen last year -- expect him to contend for MVP honors.
Bowers belongs

His offer list won't blow you away and he's the nation's No. 12 pocket passer, but Ross Bowers has been very impressive through the first three days at the Elite 11. Bowers came in at No. 6 on the Elite 11's big board, and coaches loved his accuracy, timing and knowledge of the play book.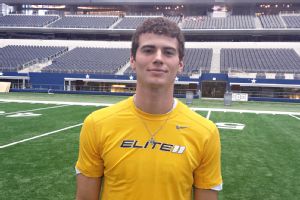 Damon Sayles for ESPNTexas Tech commit Jarrett Stidham found himself atop the first Elite 11 big board.
After a receiver ran a wrong route, Bowers, who plans to announce his commitment to either Colorado State or Cal on Tuesday, immediately went over and corrected him. On the next play, the receiver did it perfectly, and Bowers delivered a touchdown strike. Dilfer quietly walked over to Bowers, gave him a high-five and told him, "That's how you show you're a leader."
Stidham leads the way

Stidham, the Tech commit out of Stephenville, Texas, sat atop the first rankings released by the Elite 11 staff on Monday.
"I really don't want to think about it, to be honest," Stidham said. "The past two days, I haven't thought about it and it's worked out for me. I'm just going to keep having fun and keep competing."
The 6-foot-3, 180-pounder committed to the Red Raiders in March over Alabama, Auburn, Baylor, Clemson, Florida, Ohio State, Oregon, Texas and Texas A&M. He sits among several dual-threat prospects who have shed the stereotype as run-first prospects. Stidham said he believes the dual-threat and pocket-passer labels are no longer required.
"Some guys are faster than others," Stidham said. "That's just the reality. But I consider myself a pass-first guy. I'd rather pass it than run it. Whoever gets the job done will win ball games."
RecruitingNation
Jeremy Crabtree is a senior coordinator
Spent 12 years with Rivals.com/Yahoo! Sports
Graduated from Kansas State
ESPN Staff Writer
Nebraska/Big Ten/Recruiting reporter.
Joined ESPN in 2011.
Graduated from the University of Nebraska.
Snoop's son stays steady
LAKE OSWEGO, Ore. -- Cordell Broadus isn't your average recruit.
Sure, as the No. 123 recruit in the ESPN 300, he's more talented than most. But that's not all that sets him apart. Instead, it's because of his father, Snoop Lion -- formerly Snoop Dogg -- that Broadus has a recruitment unlike any other prospect.
With cameras and recorders in his face as he checked in for The Opening, Broadus acted like it's a normal part of his life. Being in the spotlight is something he's used to, but are college coaches ready to embrace it as well?
"Sometimes this can be a lot to deal with [for coaches], all the publicity already coming in," he said. "There are a lot of distractions, but I don't let that get to me. I just focus on football, school and being positive."
He understands that his lifestyle is a part of the process and it might not be for every school. That's OK by him because he wouldn't have it any other way.
His father is a big part of that lifestyle and has been a big influence on his life. In fact, Snoop is the reason Broadus plays football at all.
"I give [my dad] a lot of credit; without him I probably wouldn't be sitting at this table. He's the one that made me play football," he said. "I didn't even want to play football, but he's the one who shaped me into this character. I see what he's seeing at the moment. I didn't see what he was pushing me for, but just the doors that this can open and getting an education for free."
The father and son discuss recruiting often and are in no rush to make a decision.
Broadus has sought out advice from family friends who have gone through the process, such as former Oregon standout De'Anthony Thomas.
"We had dinner a couple nights ago just talking about the process. He was telling me if I decide on going somewhere, go somewhere that fits my personality, because I have two lifestyles," he said. "He was saying that I'm basically a celebrity, so go somewhere I can feel comfortable and I don't feel awkward. Just be able to focus on me and get the job done."
ESPN Staff Writer
Big Ten recruiting reporter
Joined ESPN in 2011
Graduated from Central Michigan
Latest Recruiting News
As the nation's top high school football players descended on Oregon for The Opening, there's one question on everyone's mind: What's the latest on their recruitment? Here's what some of the most sought-after prospects had to say:
• California trio ready to announce

• No. 76 recruit Ulu-Perry gains offers

• ESPN 300 OL James set for decision

• More updates

THE OPENING TV SCHEDULE
All times ET
All events on ESPNU & WatchESPN
Wednesday
8-10:30 p.m.: 7-on-7 pool play

Thursday
8-11 p.m.: 7-on-7 championship, Lineman Challenge finals

Tweet Of The Day
When conducting interviews on air today when I asked #Elite11 kids who they were curious 2 see the most, almost all said @josh3rosen

— Tom Luginbill (@TomLuginbill) July 7, 2014
Brand Awareness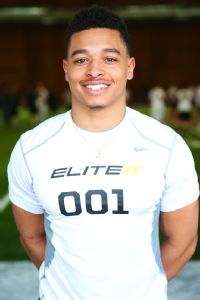 Ryan Brand
Ryan Brand, an Air Force commit, is one of the lowest-ranked prospects at the Elite 11.
At 5-foot-10, he's also one of the shortest.
But he's proven he can stand toe-to-toe against higher-ranked prospects. Brand was fifth on the Elite 11's rankings after the first two days, and he kept it up Monday.
"I know I'm not the biggest name here, and I don't have all the schools coming after me, but that doesn't make me less of a competitor," Brand said. "I came out here to show everybody that I'm a good quarterback and prove a lot of people wrong. I think I'm on the way to doing that."-- Jeremy Crabtree