Recruiting adds more stress for college coaches
By Mitch Sherman
ESPN RecruitingNation
The image alone was jarring, frightening even -- Nebraska coach Bo Pelini on a stretcher, placed in an ambulance outside Memorial Stadium, and hospitalized at halftime Saturday as the Huskers played Arkansas State.
He didn't coach the final two quarters of Nebraska's 42-13 win.
Pelini addressed the situation at length on Monday. Eighteen times in his regular press conference, which lasted 31 minutes, he said he was in good health or declared something similar.
"I haven't had any health issues," he said, "and I'm not going to have any going forward."
A bold statement -- but no surprise, considering the environment in which he works.
[+] Enlarge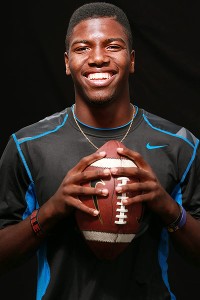 Tom Hauck for ESPN.comNotre Dame QB commit Malik Zaire frequently talks with the Irish's coaching staff.
With today's escalating salaries in college football, pressure and nonstop media coverage, we hold our coaches to unrealistic expectations. It seems they can go for months without a break, marching to the beat of never-ending demands within the game and in recruiting.
Which is why that image outside the stadium Saturday at halftime served as a poignant reminder: If Pelini broke down, anyone could.
His scare opens the door to an important discussion.
In the Big Ten alongside Pelini stand Urban Meyer, Jerry Kill and Mark Dantonio, each of whom endured a health issue over the past two years that compromised his ability to coach. Meyer returned to the sideline this year at Ohio State after stress at Florida forced him out of the business following the 2010 season. Kill endured a seizure on the sideline last year at Minnesota. Dantonio withstood a mild heart attack after Michigan State's 2010 win over Notre Dame.
The message? These guys are human.
Recruiting is the hidden monster in this issue. When the game planning and practice sessions stop, coaches hit their phones or the road. And the grind takes a toll.
"It's unbelievable. I don't know how they do it," said Oklahoma State quarterback commit Luke Del Rio of Valor Christian (Highlands Ranch, Colo.). "How do they have that much energy? How are they staying awake to call all these recruits and still put together a great game plan? It's insane. I guess it takes a special breed."
Del Rio's father, Jack, defensive coordinator of the Denver Broncos and former head coach of the Jacksonville Jaguars, affords Luke a unique perspective. The high school QB said he won't take for granted the work of coaches in recruiting.
Oklahoma State coach Mike Gundy planned to fly to Colorado to watch Del Rio play on Thursday night.
"

How do they have that much energy? How are they staying awake to call all these recruits and still put together a great game plan? It's insane. I guess it takes a special breed.

"

-- Oklahoma State commit Luke Del Rio
"He's moving practice to come see me play," Del Rio said. "It makes you take a step back and appreciate things."
You probably don't want to hear about how Gundy, who will earn $3.275 million this year, Pelini ($2.875 million) and $4 million man Meyer face stress and work long hours.
But the fact is, they represent only the high-profile end of a burnout business.
"I've seen guys go down the wrong path," said Ohio University offensive coordinator Tim Albin, a coaching veteran of more than two decades at levels from NAIA to FCS and the Big 12. "They just can't do it. They can't find the balance. I'm not perfect. I know my heart rate gets up; I just don't think it gets up quite as high as it used to."
Notre Dame QB pledge Malik Zaire, committed to the Irish since March, talks often with recruiting coordinator Tony Alford and offensive coordinator Chuck Martin. Zaire, in fact, said he exchanged messages on Facebook with Notre Dame coach Brian Kelly after each of the Irish's three victories this month.
"I know if it's happening for me, it's happening for a lot of the other guys, too," Zaire said.
Recent proposals and suggestions, initiated at the conference level, have pushed for more contact time between coaches and recruits.
Some administrators and coaches would prefer a change to the rule that prohibits official recruiting visits before Sept. 1 of a prospect's senior year.
In June, the NCAA changed the rules for Division I basketball coaches, deregulating text-messages and phone calls to prospects who have completed their sophomore years of high school.
Such a rule in football would stoke the competitive fires in recruiting to an unprecedented level.
"Most every coach would like the opportunity to do a more thorough job of recruiting," said Nebraska athletic director Tom Osborne, who retired in 1997 after 25 years in the chair Pelini now occupies, "because that's a coach's lifeblood."
But at what expense?
"I like where it's at right now," Albin said. "The recruiting part of things for a coach, especially, gets tough. During the season, you're at home. You can eat well and take care of yourself. But in December and January, you're rolling. You're in a different hotel room every time you turn around."
Early in his career, Albin said he, too, was "headed down the wrong path in the profession." He worked 20-hour days, slept in the office and lost weight during the season. His mother warned him it was a problem.
Then Albin listened to Oklahoma coach Bob Stoops deliver a speech at the American Football Coaches Association convention. Stoops told the story of his father, Ron Stoops, stricken by a fatal heart attack on the field at age 54 in 1988 as a high school coach in Youngstown, Ohio.
"That stuck in my mind," Albin said. "That was a big thing for me. He said, 'Look fellas, you've gotta be healthy.' And he said it in a way that stuck with me."
For many coaches, it's especially difficult to stay healthy while they're out recruiting.
"You're up early, and you're going to bed late," said first-year Washington defensive line coach Tosh Lupoi, who developed a reputation as perhaps the nation's top recruiting assistant during four years as a defensive line coach at Cal. "That's just the way it is. You're working every day of the week.
"It's a full commitment, a total devotion. I wouldn't want it any other way. But it's certainly not for everybody."
[+] Enlarge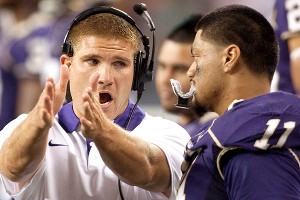 Jesse Beals/Icon SMIWashington assistant Tosh Lupoi is one of the nation's top recruiters but admits it's a full commitment.
Lupoi, 31, is young. Still, he's smart, and that's part of what makes him so good. He keeps a seven-day to-do list. If it's on his computer screen, it gets done. If that means he's got to work out at 10 p.m. after a 17-hour day, he does it.
"You make time in recruiting," Lupoi said. "There's never a great time. You've just got to make it happen."
Steve Lineweaver, coach of nationally recognized Trinity High School (Euless, Texas), watches coaches parade into his office regularly in search of recruitable talent.
"I marvel at their ability to do it, to stay positive," Lineweaver said. "But some of them just wear it on their sleeves. You know their minds are elsewhere."
Pelini's episode bore no connection to recruiting, though lessons apply that impact coaches in every facet of their jobs.
The fifth-year Nebraska coach said he experienced dizziness and heartburn on Saturday. Doctors ran a battery of tests and paid close attention to his heart. Pelini, who exercises regularly, received a clean bill of health and returned to work on Sunday.
He was candid and unusually humorous two days later.
"You guys are going to be stuck with me for a while," he said at his weekly press conference.
Pelini said he was not "overstressed," despite the timing of the incident, after a rough week that followed a 36-30 loss to UCLA in which the Bruins totaled 653 yards.
"I'm not a really stressed-out person," he said.
That much is debatable, if you've seen Pelini coach. He is the picture of intensity, drawing notoriety for his sideline vigor. But through it, the 44-year-old Ohio native has never wavered publicly in the face of adversity amid the fishbowl environment of Lincoln, Neb.
"The hours are very long, and your business is very public," Osborne said. "There's quite a bit of criticism. And as tough-minded as you try to be, it affects you in some way."
The great ones make it work. They find balance. They feed their programs through recruiting. But eventually, none are immune to the demands of the profession.
Osborne underwent double-bypass heart surgery at age 47 in 1985. And weeks before he retired, he was hospitalized for an irregular heartbeat and diagnosed with atrial fibrillation.
Still, stress and pressure didn't drive him out.
"Coaching had never been easier for me," he said this week.
The coaching legend won or shared the national title in three of his final four seasons.
Osborne stepped aside to fulfill a promise -- not a promise made to his wife, Nancy, or someone else who cared deeply about his health. A professional promise, he said. Presumably, it was to Frank Solich, Osborne's handpicked successor and longtime Nebraska assistant who lasted six years on the job before he was fired.
Osborne served three terms in Congress and returned to Nebraska as athletic director in 2007.
Asked how the pressures of a head coach measure against those of a congressman or athletic director, Osborne said it's really no contest. Coaching is a tougher gig, he said.
The difference? Well, among everything else, of the three jobs, only a coach has to recruit.