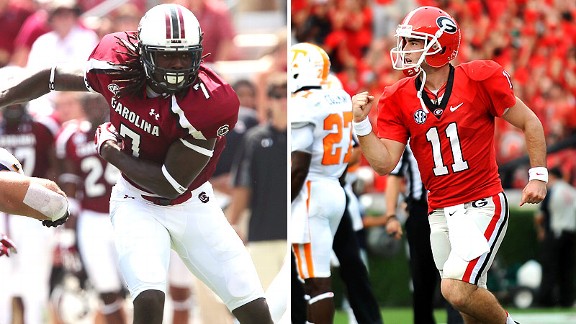 Icon SMI, ESPN.comJadeveon Clowney (left) and Aaron Murray are two big reasons South Carolina and Georgia find themselves in the game of the week this Saturday.
Georgia, South Carolina take different paths
By Mitch Sherman
ESPN RecruitingNation
Georgia State Route 10 and Interstate 20 cut a historic, 160-mile path through the Old South. Blazed by soldiers of wars from centuries past and adorned by plantation sites and palmettos, the trail connects Athens, Ga., and Columbia, S.C.
A battle wages today in this corner of the country, radiating in every direction from the roads that link the University of Georgia and the University of South Carolina.
The region is an epicenter of recruiting, representative of the rise in power of the Southeastern Conference over the past decade. Programs nationwide visit to lure top prospects.
[+] Enlarge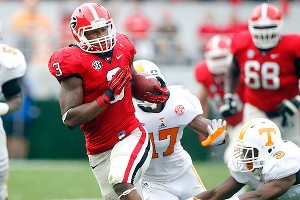 AP Photo/John BazemoreTodd Gurley shows Georgia's success at snagging top out-of-state talent.
But Georgia and South Carolina, while employing different strategies to successfully protect their home ground, have emerged as big winners in this recruiting sweepstakes.
Both schools use coaching stability to deliver a message to the high school stars of their region: Sign with us, and you know what you'll get -- and where you'll go. Saturday night at 7 ET on ESPN, it will be the biggest stage in college football when the No. 5 Bulldogs and No. 6 Gamecocks meet at Williams-Brice Stadium in Columbia.
The winner may stand as the biggest obstacle between No. 1 Alabama and a repeat national title.
So just how did these programs build through recruiting to arrive here and supersede Florida and Tennessee as the best of the SEC East recently?
Their stories start with Mark Richt, in his 12th year at Georgia -- the dean of SEC coaches -- and Steve Spurrier, in his eighth year at South Carolina. Only Missouri's Gary Pinkel, with all but five games in the Big 12, and LSU's Les Miles match their longevity among league coaches.
From there, it's a matter of finding the methods of identification and evaluation that work for each program. Georgia and South Carolina do it well.
---
Georgia signed 26 prospects in a 2011 recruiting class that was rated No. 6 nationally. Analysts heralded it for the inclusion of the top three prospects in the state of Georgia, headlined by five-star running back Isaiah Crowell.
Less than two years later, seven members of that class are gone. Academics stymied some. Four were dismissed by Richt, including Crowell, who was arrested in July and charged with two felonies -- possession of a weapon in a school zone and possession of a firearm with an altered identification. He's now at Alabama State.
The 2011 failures only reinforced Georgia's edict in recruiting: Take your time. Find the right players.
"We try to be selective," said Georgia recruiting coordinator and defensive line coach Rodney Garner, in his 15th year at the school. "We recognize that we have a very good state with a great talent base. So we start here and work our way out.
"But sometimes we're judged unfairly, because we may not be as quick to offer as some schools who come in here and throw [scholarship offers] out on every stop."
Historically, Georgia has lost prospects from its home state to Alabama, Auburn, Tennessee and others. South Carolina's Class of 2013 commitment list, ranked 14th, includes seven Georgia high school seniors.
"

I think Georgia players should go to their home-state school and ball out for their college.

"

-- Georgia commit Shaq Wiggins
Remember Calvin Johnson? Megatron attended high school near Atlanta and picked Georgia Tech over UGA.
This year, defensive end Robert Nkemdiche of Loganville (Ga.) Grayson, No. 1 in the ESPN 150, is committed to Clemson; No. 5 overall prospect Carl Lawson, a defensive end from Milton (Ga.) High School, is pledged to Auburn, as is No. 2 prospect Reuben Foster of Auburn (Ala.) High School, who before this year attended high school in Georgia.
Corey Johnson, who coordinates recruiting at Stone Mountain (Ga.) Stephenson, said he's talked to college assistants who view Georgia as a second home state -- like an open hunting ground.
Stephenson regularly produces a dozen or more FBS-level signees per cycle. And if UGA waits to extend its offers, Johnson said, more players are likely to leave the state. Approximately 50 former Stephenson players dot the rosters of major college programs nationally, Johnson said. Just one plays at Georgia.
"Early offers turn kids' heads," Johnson said.
Garner recruits primarily in the hotbed of Atlanta.
"Other schools are offering based on the number of offers a guy has," he said. "That's backwards. Let's see the kid in person. We've seen his film. But he may be better, or he may not be quite as good as what you thought."
Georgia won't make sacrifices to nab early commits from players it has yet to evaluate.
"It's the kind of person Coach Richt is," Garner said. "He wants to be a man of honor. If we offer a young man, we want it to be a committable offer. Too many schools will offer you, but you can't commit."
Georgia's system isn't foolproof. See the case of defensive tackle Kelsey Griffin of Hoschston (Ga.) Mill Creek, who planned to commit to UGA two weeks ago -- months after receiving an offer -- but was effectively turned away, in part because the Bulldogs had three commitments at his position.
It's a situation Georgia tries to avoid -- and one that would likely arise more often if UGA bowed to the pressures created by mounting early offers in its talent-rich backyard.
The Bulldogs' selective ways, though costly at times, service them well in the long run. Of the 24 players who top Georgia's depth chart this week on offense, defense and as kicking specialists, 16 attended high school in Georgia.
Georgia does well, too, in supplementing the homegrown talent with the likes of Florida-bred quarterback Aaron Murray. North Carolina freshman tailback tandem Todd Gurley and Keith Marshall, incidentally, replaced Crowell this year to rush for 964 yards and 14 touchdowns in Georgia's unbeaten, five-game start.
Cornerback Shaq Wiggins of Tyrone (Ga.) Sandy Creek, the state's No. 4 prospect this year and No. 36 in the ESPN 150, rates as the Bulldogs' highest-rated pledge. Wiggins said he appreciates Georgia's selective ways.
He considered South Carolina, visiting Columbia twice, and others, but ultimately, state pride played a big role.
"I think Georgia players should go to their home-state school and ball out for their college," Wiggins said. "Nothing against other states, but just knowing you have your state's letter on your helmet and the name on the front of your jersey, you've got to wear that like it's the name on the back of your jersey."
The Georgia coaches never played the loyalty card with Wiggins, he said.
Regardless, it's a contributing factor in Richt's success. The coach has led Georgia to 10 or more wins in seven of his 11 seasons, including a 65-30 mark in SEC play.
---
The second page of South Carolina's weekly game notes, a primary source of publicizing the program to media and the public, features a large photo of three Gamecocks.
Senior defensive end Devin Taylor, junior tailback Marcus Lattimore and sophomore defensive end Jadeveon Clowney represent today's brand of South Carolina football. Taylor is from Beaufort, S.C., Lattimore from Duncan, S.C., and Clowney from Rock Hill, S.C.
Spurrier, with a key assist from former defensive coordinator Ellis Johnson -- now the head coach at Southern Miss -- effectively closed the doors of the Palmetto State to rival recruiters.
The Gamecocks have signed four consecutive players regarded as the No. 1 prospect in South Carolina, starting with cornerback Stephon Gilmore, then Lattimore, Clowney, who was the No. 1 prospect nationally in 2011, and receiver Shaq Roland.
[+] Enlarge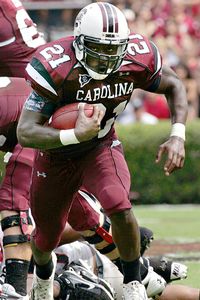 AP Photo/Mary Ann ChastainMarcus Lattimore is an example of South Carolina's focus on keeping the top talents from leaving the state.
The recruiting victories coincided with success on Saturday. Spurrier, after four seasons without a winning record in SEC play, is 14-5 over the past three years. The Gamecocks won the SEC East in 2010 and won 11 games last year.
Really, this is all you need to know about the improvement: South Carolina is 6-0 against Georgia, Tennessee and Florida the past two years. From 1992 to 2003, it won five of 39 games against the same trio.
Kids in South Carolina always wanted to play in the SEC, said defensive line coach Brad Lawing, who has coached 17 years over two stints in Columbia.
"We just had to give them a reason to want to come here," Lawing said. "Familiarity with coaches and trust that you build, it means something. We know what we're looking for as far as athletes when we go recruiting."
High school players pay attention to the success of players like Gilmore, a first-round NFL draft pick of Buffalo last April.
"That's a huge recruiting tool," said Bobby Carroll of York (S.C.) High School.
Carroll coached Gilmore and Clowney, a likely future first-rounder, at Rock Hill (S.C.) South Pointe. The coach watched South Carolina's transformation from the front row.
"South Carolina football, win or lose, is a big attraction in the center of our state," Carroll said. "What's happened there has got a lot to do with the reputation of the conference. But when you can win an SEC East championship, that's more than a mouthful.
"That's pretty strong right there."
But before it landed All-America candidates Lattimore and Clowney, South Carolina lost the likes of A.J. Green and Richard Seymour to Georgia.
This year, top South Carolina prospect Tramel Terry, the No. 3 athlete nationally and No. 42 in the ESPN 150 out of Goose Creek (S.C.) High School, is committed to Georgia. Defensive end Ben Boulware of Anderson (S.C.) T.L. Hanna and receiver Mike Williams of Santee (S.C.) Lake Marion are committed to Clemson and defensive tackle Michael Hill of Pendleton (S.C.) High School is pledged to Ohio State.
So even with the recent success, apparently, recruiting battles don't get much easier. Expect Spurrier and his staff to keep fighting, especially for Terry. A win Saturday might help.
The Gamecocks' expected starting lineup against Georgia includes 13 players from South Carolina, four from Florida, three from North Carolina, two from Georgia and one apiece from Kentucky and Maryland.
Interesting that under Spurrier, the most recognizable SEC coach alongside Nick Saban, South Carolina is content to stay primarily near home.
The message? He found a system that works. Don't mess with it.
It's a far cry from the Gamecocks' situation two decades ago, when they gave up Division I independence to join the expanding SEC. Lawing, the defensive assistant, was a part of that transition.
"We were an afterthought," he said. "Kids didn't look at us. We recruited really hard, but we weren't viewed the same way we are now. It was frustrating."
Frustrations gave way to a vision and now a spot on the big stage. In that sense, it's no different at Georgia.
As usual, when the Bulldogs and Gamecocks meet, plenty of recruiting storylines will hover in the background. And on Saturday night, all eyes will shift to their corner of the country.