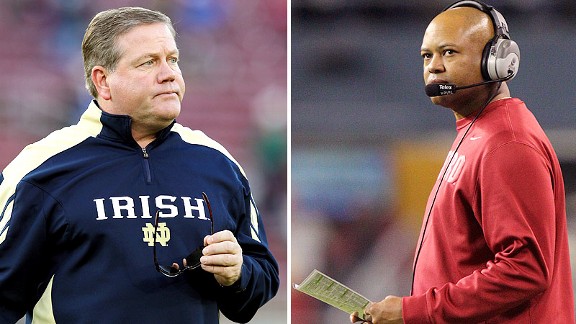 Cal Sport Media via AP Images, AP PhotoBrian Kelly (left) and Notre Dame take on David Shaw and Stanford on Saturday at 3:30 p.m. ET.
Notre Dame, Stanford take brand nationwide
By Mitch Sherman
ESPN RecruitingNation
Ryan Burns, tall and talented but inexperienced as a quarterback, carried a wish across the country when he traveled to Stanford for a football camp in June 2011.
Burns hoped the coaches he'd meet would like him as much as he liked the Cardinal.
Before the trip, with scholarship offers already secured from Boston College and Virginia, Burns described Stanford to his father as a dream destination. He knew of the university's reputation and had seen enough of Andrew Luck in two years to envision himself in control of the same offense.
Phrased differently, Burns -- now a senior at Ashburn (Va.) Stone Bridge and the nation's No. 3 pocket passer in the ESPN 150 -- was hooked.
"

It was one of those decisions that I felt I would have regretted for the rest of my life if I hadn't said yes.

"

-- ESPN 150 QB Ryan Burns on Stanford
He got the coveted offer from coach David Shaw on that visit and waited nearly nine months to accept. But Burns never agonized over his college choice.
The 6-foot-5 gunslinger understood on that early-summer day in Palo Alto, Calif., the same truths he knew last March, when Burns traveled back to California to accept Shaw's invitation.
"It was one of those decisions," Burns said this week, "that I felt I would have regretted for the rest of my life if I hadn't said yes."
Behold the recruiting power of a worldwide brand.
Stanford and Notre Dame, which renew their rivalry Saturday at 3:30 p.m. ET at Notre Dame Stadium, retain advantages in attracting prospects that even the most dominant programs can't match.
In this era of Southeastern Conference supremacy, realistic options to unseat the undisputed No. 1 league are in short supply. Recruiting powers USC and Florida State have already faltered this year.
There's the Oregon model -- devise a scheme, as difficult to duplicate as to defend, and place it in the hands of a visionary who's totally in tune with the players needed to succeed in his system. Easier said than done.
Or there's the truly national operation. Hope the best from coast to coast is strong enough to compete with the best of SEC country. Translation: Forget about that fence around your home state. If the lockdown corner 2,000 miles from campus fits better than the kid from a high school down the street, you get on a plane to recruit.
This is Stanford and Notre Dame. And it may just work, said Shaw, who's in his second year as coach of the Cardinal.
Until a school from outside the SEC wins a title -- that 2005 season when Texas was the national champ seems distant -- the conversation rages. How do you build a team to beat the best?
"We have kids on our team from SEC country and a lot of kids who were recruited by SEC schools," Shaw said. "They seem to think we'll be able to compete at the top of college football. But that'll be the debate until somebody else wins a national championship."
Shaw talks with excitement about the four-team playoff, still two years away, and about how to position the Cardinal to participate in it. He's a believer that Stanford's mode of constructing a roster, in a similar fashion to Notre Dame, offers a viable path to the top.
If the stars literally align for Shaw or third-year Irish coach Brian Kelly, perhaps they're best set to field a lineup that challenges the bullies of the SEC.
Notre Dame, 5-0 for the first time since 2002, is ranked No. 7 by the Associated Press. The climb marks its first appearance in the top 10 since 2006. No. 17 Stanford, meanwhile, has been ranked for 38 consecutive weeks, matching South Carolina for the fifth longest active streak behind Alabama, LSU, Oregon and Oklahoma.
Among the upper echelon of the sport, Notre Dame and Stanford remain unique in their approach to recruiting.
"You can walk into any high school in America, and they'll say, 'Oh, Notre Dame,' or 'Oh, Stanford,'" said Texas A&M assistant Brian Polian, who coached at Notre Dame from 2005 to 2009 and at Stanford for the next two years. "There's immediate name recognition, brand recognition. People understand what the two schools stand for."
Ohio State and Michigan can -- and do -- recruit anywhere, but the base stays near home. Texas makes its living in Texas. Others recruit nationally, but none with the same fervor and focus as Stanford or Notre Dame.
"I think from the outside looking in," Kelly said Tuesday at his weekly news conference, "you would say that there are a lot of similarities."
When the Irish recruited Manti Te'o out of Honolulu, Polian flew weekly in December 2008 and January 2009 to see the touted linebacker, arguably the top defender in college football this fall.
Te'o picked the Irish on signing day. Polian recalls that period as the most difficult recruiting stretch of his career.
"I didn't know which way was up," he said.
But he always put on a good face for Te'o and his coach at the Punahou School, Kale Ane. From his home in the middle of the Pacific, Ane has come to expect such professionalism from Stanford and Notre Dame.
"Their coaches are comfortable wherever they go, doing whatever they have to do," said Ane, who played at Michigan State and played seven years as a center in the NFL. "You can see it here, and we're as far from home as any place for most coaches to recruit."
Ane sent tight end Luke Kaumatule to Stanford this year. Punahou linebacker Isaac Savaiinaea, No. 140 in the ESPN 150, is committed to Stanford but continues to look at other options, including the Irish. He's set to see Notre Dame this weekend, in fact, on an official visit.
"It's a great privilege to hear from both of those schools," Savaiinaea said.
The selective recruiting for Stanford is a product of academic necessity. California fits in the recruiting assignments for six Cardinal assistants, but Stanford can't afford to focus too much even on the nation's most populous state because it doesn't provide enough Stanford-caliber academic prospects.
Among Stanford's 22-player class last February, one which ranked atop the Pac-12 and 12th nationally, it signed no more than three from a single state. This fall, since coaches hit the road to see prospects last month, Stanford coaches have visited 14 states and Washington, D.C.
Still, its Class of 2013, headlined by Burns and Savaiinaea, includes only six commits, equal to Kansas State for the fewest among schools in this week's AP Top 25.
That's by design, said Stanford running backs coach and recruiting coordinator Mike Sanford.
"Academically, for our admissions people, your senior year is your most important year," he said. "It's when you generate the momentum for your ride into college. We feel the same way about football."
Stanford studies recruiting targets so thoroughly that its coaches have developed a sense of the personality required to fit the school's cultural fabric.
When Shaw's staff identifies a "Stanford Man," football almost takes a backseat. The process, often painstaking, pays dividends when the Cardinal coaches discover they've recruited a locker room of like-minded players.
"Our biggest moment of the recruiting process is to convince a prospect to visit Stanford," Sanford said. "Once we get them here, it happens organically."
For Notre Dame, the academic standards, though stringent, don't match those at Stanford. But it can't field a roster of Indiana and Chicago-area players and attempt to catch the SEC schools.
Its 2013 group ranks No. 6, topped by outside linebacker Jaylon Smith of Fort Wayne (Ind.) Bishop Luers. He's the only Indiana prospect among the 21 pledges. The Irish went to Pennsylvania for three players, including linebacker Alex Anzalone. The group also includes players from Illinois, Kentucky, Georgia, Florida, Massachusetts, Michigan, New Jersey, Ohio, Minnesota, Texas, Virginia and Washington.
Last year, Kelly got third-rated QB Gunner Kiel from Columbus (Ind.) East, in addition to No. 1 athlete Davonte' Neal out of Scottsdale, Ariz., and tapped big-time programs Ramsey (N.J.) Don Bosco Prep for safety Elijah Shumate and Las Vegas Bishop Gorman for offensive lineman Ronnie Staley.
One of Notre Dame's big victories this year came when Prosper (Texas) High School receiver Torii Hunter Jr., No. 50 in the ESPN 150 and the son of the MLB outfielder, picked the Irish in September.
When he heard from Notre Dame assistant Kerry Cooks in March that Notre Dame wanted him, Hunter experienced much the same feeling as Burns did after his pivotal conversation with Shaw. Hunter got the news on the phone while attending a basketball game with his mother and aunt. And he couldn't wipe the smile off his face.
"I told everybody who would listen," Hunter said. "I looked at football. I looked at my future, life without football, and Notre Dame was still out front."
Yes, the Irish brand still resonates.
But as Stanford and Notre Dame excel, don't expect others to replicate their styles.
Last week in discussing his program's rise, South Carolina defensive line coach Brad Lawing said he's learned, over the years in recruiting, that the farther a school ventures from campus, the less it knows about a prospect.
"And the less you know about a kid," Lawing said, "the more you tend to make mistakes."
A regional approach works for the Gamecocks and others. It's a foreign concept, though, to Stanford.
Shaw said Stanford prefers to get into big markets like Atlanta, Dallas and Washington, D.C., where many families moved from other states and don't feel regional allegiances.
Next on the plan? More big wins, of course. And for both programs, Saturday represents a key step in enhancing their appeal to recruits across the nation.
Podcast: Verbal Commitment
Host Dave Hooker and RecruitingNation writers offer updates on ESPN 150 players Antonio Conner and Laremy Tunsil and discuss the recruiting impact of Florida's win over LSU last Saturday.
• Click here to listen to the podcast

• Sherman talks Notre Dame, Stanford

Around the Nation
By RecruitingNation

Mitchell
OU HOPING TO BE HAPPY HOST:
Few weekends are more important than this one for the Oklahoma Sooners. OU is the home team this season for the Red River Rivalry against Texas and a number of top targets are going to be on hand. Leading that list is ESPN 150 linebacker Mike Mitchell and ESPN 150 defensive tackle Justin Manning (Dallas/Kimball). There will also be several top 2014 names like ESPN Watch List wide receiver K.D. Cannon and linebacker Cameron Hampton.
-- Bob Przybylo, SoonerNation

Cannon
OR WILL TEXAS SPOIL IT?:
Texas is winning the recruiting battle with Oklahoma right now, but will this weekend's showdown in Dallas change anything? Oklahoma is the home team, so it's the only team that can hand tickets out to recruits. So Texas will have to prove itself on the field with 2014 prospects like K.D. Cannon, Jamal Adams, Nick Watkins, Solomon Thomas and Cameron Hampton in the stands.
-- William Wilkerson, HornsNation

Treadwell
TREADWELL TO VISIT OLE MISS:
Laquon Treadwell, the nation's No. 4 receiver and the top uncommitted prospect in the Midwest, will make his first official visit this weekend when he travels south to Ole Miss. Treadwell has already visited twice -- once for a game -- and his former teammate Anthony Standifer is a freshman on the Rebels.
-- Jared Shanker, Midwest

Nkemdiche
NKEMDICHE IN OXFORD, TOO?:
Will No. 1 prospect Robert Nkemdiche take in his fourth game at Ole Miss, his fifth trip to Oxford, Miss., since he committed to Clemson? That is the top question recruitniks are wondering as the five-star defensive end continues to be pulled in different directions.
-- Kipp Adams, DawgNation

Foster
BIG NEWS ON THE BAYOU:
No. 3 South Carolina visits LSU this weekend, and the Tigers' first big-time home game of the season is drawing plenty of visitors. The biggest names are No. 1 linebacker and Auburn commit Reuben Foster, No. 1 athlete and LSU target Kendell Beckwith and No. 4 defensive end and LSU target Tim Williams. A huge chunk of LSU's current commit list will also be in attendance, including ESPN 150 tight end DeSean Smith, ESPN 300 athlete John Diarse and ESPN 300 wide receiver Chuck Baker.
-- David Helman, GeauxTigerNation

Redfield
ROAD TRIP FOR USC COMMITS:
USC commits Chris Hawkins and Max Redfield are scheduled to officially visit Notre Dame this weekend. It's the first official trip for Redfield and third for Hawkins, who visited Washington and Cal the previous two weeks. Meanwhile, quarterback commit Max Browne is expected to attend the Trojans' game against Washington at nearby CenturyLink Field.
-- Blair Angulo, WeAreSC

Collins
TRIO TO SEE FSU:
Florida State is expecting at least two official visitors for its game against 1-4 Boston College on Saturday. Miami commit Alex Collins, uncommitted safety Marcell Harris and uncommitted offensive tackle Roderick Johnson could all end up taking official visits to Tallahassee, but are expected to attend one way or another. There is also a chance that ESPN 150 wide receiver Stacy Coley will be at the game, too.
-- Corey Dowlar, NoleNation

Oliver
OLIVER EYES STATE MARK:
Longhorns wide receiver commit Jake Oliver of Dallas Jesuit has 253 career receptions, which is 12 shy of breaking the Texas state record of 264 set by former UT receiver Jordan Shipley. Jesuit plays Dallas W.T. White on Friday night.
-- Damon Sayles, Midlands

Jones
BIG SHOWING AT BIG HOUSE:
Michigan is hosting Illinois on Saturday, and there will be plenty of visiting prospects. Since Michigan only has a few spots remaining in the 2013 class, the majority of visiting recruits are in the 2014 class, including Chicago offensive linemen Jamarco Jones and Denzel Ward. Jones has an offer from the Wolverines and Ward could be in line for his own offer very soon.
-- Tom VanHaaren, WolverineNation
Scouts: Rising Star
By Tom Luginbill, RecruitingNation

Johnson
Auburn QB commit Jeremy Johnson of Montgomery (Ala.) Carver might be just what the doctor ordered for the Tigers and could also be one of the biggest risers in our next edition of the ESPN 150/300. Johnson, 6-foot-5 and 220 pounds, is a deceptively athletic pocket passer who has gained about 30 pounds since his junior campaign. He has also really honed and sharpened his delivery mechanics. He has a potentially premier arm and gets the ball out so quickly that it is difficult to rush him. Auburn needs an upgrade at QB and Johnson sure looks to have a high ceiling.
UA All-America Game Spotlight
By Tom Luginbill, RecruitingNation

Isaac
What makes USC RB commit Ty Isaac of Joliet (Ill.) Catholic so intriguing in the Under Armour All-America Game is that it will be the first time he will be truly used as a zone, one-back player. How he performs when he is not a downhill power back will tell a lot about his lateral agility, vision for the cutback lane and ability to make people miss. Isaac's ability to keep his pad level down will be a key attribute to watch. He has an Eddie George presence, and we have not had a power back of his galloping style before in the UA Game, which will be fun. His style is unique and we liked that change of pace in comparison to other backs.
Isaac receives his UA Game jersey.
Juco Spotlight: Iowa Western C.C.
By Mitch Sherman, RecruitingNation
Iowa Western is the top-ranked team in this week's NJCAA national poll after starting the season 6-0. The Reivers feature a number of top prospects, including prolific receiver and Deon Long, a Maryland pledge, and quarterback Jake Waters, who has offers from the likes of Kansas State, Penn State and NC State. Waters has thrown for 22 touchdowns this season.
For the full story, go to the Midwest blog.
Game of the Week
By Jon Mahoney, RecruitingNation

Terry
A national TV audience will get a chance to see one of the most dynamic prospects in the Class of 2013 on Friday when Tramel Terry leads No. 23 Goose Creek (S.C.) High School against Summerville (S.C.) Cane Bay at 6 p.m. ET on ESPNU and WatchESPN.com. A Georgia commit, Terry is rated the nation's No. 3 athlete and No. 42 overall prospect in the ESPN 150.
Check out the full ESPN 25 Power Rankings.