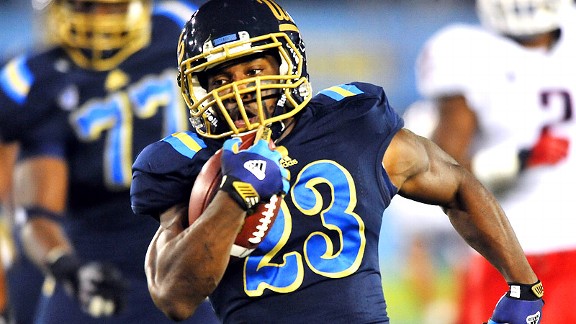 Cal Sport Media via AP ImagesThe success of Johnathan Franklin at UCLA has some Los Angeles-area prospects considering the Bruins.
UCLA has fighting chance in battle for L.A.
By Mitch Sherman
ESPN RecruitingNation
As Paul Knox readied for his 28th football season at inner-city Dorsey High School in Los Angeles, the coach received a phone call from Pamela Andrews, mother of UCLA running back and former Dorsey standout Johnathan Franklin.
Andrews invited Knox and his team to the Rose Bowl for the Bruins' home opener under first-year coach Jim Mora on Sept. 8 against Nebraska. They could receive tickets as part of UCLA's community relations program.
Sure, Knox told her, though he wondered if his players would enjoy the idea of watching UCLA, largely absent from their collective consciousness after the Bruins endured four losing seasons in the past five years. Dorsey, after all, is alma mater to USC legend Keyshawn Johnson, and the Trojans had generated all the buzz around L.A. over the summer, as usual, with talk of a national championship and the embarrassment of riches in their under-construction class of 2013 recruits.
[+] Enlarge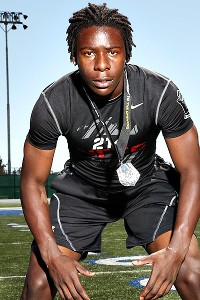 Tom Hauck for ESPN.comESPN Watch List linebacker Dwight Williams is looking at the Bruins because of their on-field success this season.
UCLA? If people considered them at all, Knox said, they expected a .500 finish this fall.
"And that would be good," the coach said. "Acceptable."
Well, a strange thing happened on the way to mediocrity: The Bruins beat nationally ranked Nebraska and 10 weeks later sit 8-2 and No. 17 in the BCS standings -- one spot ahead of 7-3 USC, by the way -- as the Pac-12 rivals meet at 3:05 p.m. ET Saturday at the Rose Bowl.
On that warm September night in Pasadena, to the surprise of Knox, his players got excited about UCLA. They cheered from their seats in the south end zone. Maybe it was the frenetic pace of the 36-30 win or that Franklin danced his way to 217 yards.
The veteran high school coach suspects something else: That passion for the Bruins, he said, lives inside the kids of Los Angeles. It just had no reason to emerge lately.
"Whether they knew it or not, they've been wanting for UCLA to be the top dogs," Knox said. "They want to show that pride."
The sentiment appears common from San Diego to Santa Barbara and across the San Gabriel Valley.
Saturday presents the Bruins' first of three chances to surpass eight wins for just the third time in 15 seasons. This year marks just the sixth winning season since 1999.
The Bruins haven't played in a marquee postseason game since losing to Wisconsin in the Rose Bowl in 1999.
No doubt, the hunger is there to harness for Mora, the former coach of the Seattle Seahawks and Atlanta Falcons.
The results in his first fall look promising. But to sustain success, according to UCLA recruiting coordinator Angus McClure, the Bruins must tap into that pride among the young, local football players.
The strategy is in place. McClure, a six-year veteran of the UCLA staff, helped design a recruiting approach that leaves no stone unturned in the Bruins' home region. Six of nine assistant coaches recruit primarily in southern California, and the others help when needed.
"That's what coach Mora wants," McClure said. "He wants to start at home and spread out around the West."
Their plan is not revolutionary. Eighteen million people live in greater Los Angeles. Every coach in Mora's position would want to recruit well near home.
McClure said he believes UCLA will make it work because of whom the Bruins placed in the key battleground areas.
Receivers coach Eric Yarber played at Crenshaw High in L.A. and recruits the city. Running backs coach Steve Broussard went to Manual Arts High School and recruits L.A. and Riverside counties. Offensive line coach Adrian Klemm, from Santa Monica, recruits that area and south to Orange County. Defensive backs coach Demetrice Martin, who went to high school in Pasadena, recruits the Inland Empire and areas to the north.
Even Mora spent part of his childhood in Los Angeles. His father coached for a year under Dick Vermeil at UCLA.
"You're talking about long-existing relationships," McClure said. "They have natural relationships with the high school coaches and great awareness of their areas. We've always recruited the city, but now we have double the amount of coaches doing it."
Mora had less than two months to recruit last year but snagged a class that included Ellis McCarthy, the No. 4-ranked defensive tackle who had an offer from USC.
Jermaine Kelly, a Class of 2013 receiver from Salesian High School in Los Angeles, bought into UCLA early. He committed in June, six months after Mora's hiring, sold on the many NFL connections of the new coaching staff.
"

I knew they were going to be great. What surprised me was how it happened so fast.

"

-- UCLA commit Jermaine Kelly
With offers from Washington, Boise State and others, Kelly heard jeers upon the announcement of his decision.
"Little jokes," he said. "People were saying, 'Why did you just ruin your life?'"
Kelly ignored it.
"I did my homework," he said. "The best part now is when everybody hops on the bandwagon. People congratulate me, tell me I made the right choice. I knew they were going to be great. What surprised me was how it happened so fast."
It surprised Mossi Johnson too. The athlete from Crenshaw High School in Los Angeles committed in October.
"From what UCLA used to be, it's a big difference now," Johnson said.
Johnson said the Bruins are getting more "tough kids."
It's no accident. Yarber, the Crenshaw grad and UCLA assistant, watched closely as Los Angeles prospects quickly grew to appreciate Mora's style.
"They've seen a change here," Yarber said. "They've seen Coach Mora's philosophy of being tough, hard, playing fast, being physical. At a lot of the schools I recruit, kids do not want to be considered soft."
The Bruins' 18-member recruiting class for 2013 ranks No. 18 nationally and second in the Pac-12.
Guess who's No. 1, in the Pac-12 and the nation? Yep, USC.
So while the Bruins still haven't matched the Trojans in recruiting, UCLA's coaches have established a foundation that should help close the gap soon.
"When word got out in Los Angeles that things had changed, it got out quickly," McClure said. "People were right away very interested. People wanted to meet the new coaches. And what I've noticed is that we're finding out about the younger kids sooner than we had in the past."
Kids like Dwight Williams, a Class of 2014 ESPN Watch List linebacker from Gardena (Calif.) Junipero Serra, who holds a UCLA offer and attends the school that sent star receivers Marqise Lee and Robert Woods to USC.
"I look at [UCLA] differently because they're winning games," Williams said. "I really like that staff. But win games. That's pretty much it."
Williams' straight talk illustrates the depths from which UCLA had to climb. Rick Neuheisel, 21-29 in four years as head coach, was fired last November, two days after the Bruins lost 50-0 to USC.
Last summer, around the time Johnathan Franklin's mother called Knox, billboards reminded drivers on the freeways of the score from last November when the city rivals met at the Coliseum.
Not sure how bad it got? Let Franklin explain.
"All the failures and doubts and hard times -- it was tough," Franklin said. "There were times where I was definitely frustrated. Being embarrassed, that's not easy."
Mora instilled a mantra, especially useful in Los Angeles: Don't listen to the noise. It applies in bad times and good, said Franklin, whose 1,270 yards this season made him the school's all-time leading rusher.
"Whatever anybody is saying doesn't matter," Franklin said. "People are always going to judge you. But I've just learned to stay focused."
In recruiting, too, focus matters. The Bruins, despite the proximity and large profile of USC, try to ignore the Trojans every week but this one.
It's a work in progress, evidenced by Mora's comment, when he talked recruiting during a radio interview in August, that UCLA doesn't have "murders one block off our campus." Two graduate students were shot to death in April near the USC campus. Mora later apologized.
Like Franklin's path at UCLA, the Bruins' journey back to prominence will include ups and downs.
The presence of USC adds intrigue. It forces the Bruins to stay on track, to keep their eyes on the target -- a target centered squarely, in recruiting, on the city of Los Angeles.