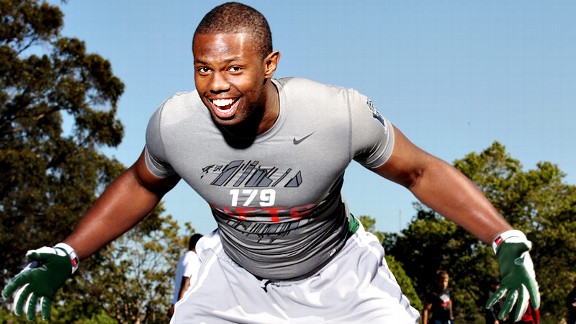 Tom Hauck for ESPN.comConcord (Calif.) De La Salle linebacker and USC commit Michael Hutchings believes the Pac-12 is one of the most exciting conferences in the country because of the different styles of offenses.
Conference title games can be a recruiting pitch
By Mitch Sherman
ESPN RecruitingNation
Can you feel it in the air?
It's the unmistakable approach of college football's postseason. It comes complete with the stench of ousted coaches and decision and indecision of recruiting. And it's a time when, in a peculiar contrast to the actions of league-hopping universities, conference pride swells.
This weekend presents an opportunity for four of the top five conferences to represent well on a national stage. Sorry, Big 12, but Kansas at West Virginia -- not to mention Kansas State's loss two weeks ago at Baylor -- invalidates your bid to get noticed among the championship games.
For two-plus years now in the era of conference realignment, we've heard from recruits that league affiliation matters.
Or wait, that it doesn't matter.
It's a case-specific decision. Some kids care, others don't.
There's no debate, though, that this week's conference championship games in the Pac-12, ACC, SEC and Big Ten loom large, as a precursor to bowl season, for the images of power leagues in recruiting.
Any discussion about conference hierarchy and image starts with the SEC.
[+] Enlarge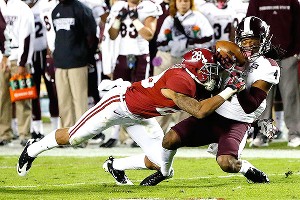 Kevin C. Cox/Getty ImagesAlabama star corner Dee Milliner believes Saturday's SEC championship will reinforce to recruits just how strong the conference is.
The SEC is so strong that Alabama coach Nick Saban can deride the system that has placed his second-ranked Crimson Tide in a one-game playoff, Saturday at 4 p.m. ET against No. 3 Georgia, for a spot in the BCS title game against Notre Dame.
"I don't feel good about it for our football team or [Georgia's] football team," Saban said Sunday in response to a question about Florida's likely spot in the Sugar Bowl while the loser of the SEC title game slides to a non-BCS bowl.
No doubt, Saban feels good about how this system created a path for SEC teams, including two of his own, to win six consecutive BCS titles. The impact of that unprecedented run on recruiting is inarguable.
Since 2009, SEC teams have signed 28 of the 80 classes ranked among the top 20 in recruiting. No other league counts more than 15. In the under-construction 2013 team rankings, SEC programs own seven of the top 15 classes. Even Vanderbilt, never a recruiting power, climbed into the top 20.
In the ESPN 150, 37 of the 111 committed players, as of Wednesday, were pledged to SEC schools. Only the Big Ten, with 19, exceeds half of that SEC figure.
Get the picture? The SEC is the gold standard. It's dominated on the field and in recruiting for half a decade. That's not news.
Worth noting, though, is that the SEC is stockpiling its resources further, getting stronger, if that's possible.
The high-stakes battle Saturday at the Georgia Dome in Atlanta only reinforces the message to recruits.
"I think it can help us in a lot of ways," Alabama cornerback Dee Milliner said, "just to show the type of physical way we play. It's probably different from the other conferences."
It is different.
The other leagues are playing catch-up, though they're not exactly out of the race.
Here's a fly-by look at the recruiting scenes in the BCS conferences set to stage championship games this week (in order of relevance).
Pac-12

Seemingly the healthiest league outside the SEC, the Pac-12 suffers from a lack of intrigue as No. 8 Stanford and No. 16 UCLA play for the second time in seven days Friday night at 8 ET. But it's a minor setback. The Pac-12 is full of diversity in its brands of football.
Game for game, it offers the most exciting and competitive option.
"You get a mixture of everything," said linebacker Michael Hutchings of Concord (Calif.) De La Salle, a USC commit rated No. 53 in the ESPN 150. "You get the pistol. You get downhill. You get pro-style. You get to see different offenses every week."
Stanford and UCLA persevered to make it to Friday night. The Cardinal play a style unique even in the Pac-12 and recruit with a purpose unlike any other top-25 program. The Bruins, reinvigorated under Jim Mora, have served notice that they're a contender for top recruits in talent-rich Los Angeles.
USC still dominates the recruiting scene, though a 7-5 finish illustrates the effects of lingering probation.
Oregon is a phenomenon, even after its championship-derailing loss to Stanford, and more than ever, prospects are intrigued by Chip Kelly's ingenuity. If he stays in Eugene, the Ducks will grow as a recruiting power.
"There's parity all over the place in our conference," Stanford coach David Shaw said. "Any week, every week, you've got a chance to win and a chance to lose."
Of course, he's omitting Colorado, non-competitive this year and now searching for a coach. But even the SEC has its share of bad teams.
Big Ten
Here's a stat to properly illustrate this odd year in the Big Ten: Wisconsin, fresh off three losses in four games -- all in overtime -- and a third-place finish in its division, enters the Big Ten championship game Saturday at 8:17 p.m. ET as only a three-point underdog to No. 12 Nebraska. With a win, the Badgers would go to Pasadena as the first five-loss team ever to play in the Rose Bowl.
Of course, point spreads are more about perception than reality. The perception today is that the league stinks.
Reality? Well, it's not great. But help is on the way, in the form of Michigan and Ohio State recruiting classes that rank in the top six nationally. And the Big Ten has a lot going for it that resonates with recruits.
"

Lots of people say they play the best football in the SEC. But you know what? I can't wait to play in the Big Ten.

"

-- Wisconsin commit Chance Stewart
"It's a great conference to play football," said 2014 Wisconsin quarterback pledge Chance Stewart, an ESPN Watch List prospect from Sturgis (Mich.) High School. "Lots of people say they play the best football in the SEC. But you know what? I can't wait to play in the Big Ten. I love everything that the Big Ten and Wisconsin football stands for."
Stewart grew up in a family with loyalties split between Michigan and Michigan State.
He understands that the Big Ten is about tradition and passionate fans. It's about huge stadiums and stability. Yeah, it's about money, too, and the Maryland-Rutgers annexation doesn't promote more pageantry. But a healthy bottom line feeds the monster.
And conference pride runs deep here, even among the newcomers.
"People can say we're having a down year, but there's a lot of great football in the Big Ten," Nebraska linebacker Will Compton said. "Teams are finding their identities. I think it's going to make for a good postseason for the Big Ten overall."
The Big Ten, which went 4-6 in bowl games last year, won't fill one of its eight slots this season because of postseason bans at OSU and Penn State. Three of its teams will face SEC opponents on New Year's Day. A test of that conference pride is near.
The ACC
Followers of ACC football, aside from Clemson fans, probably didn't lament for long the recent loss of Tigers defensive end commit and No. 1 ESPN 150 recruit Robert Nkemdiche, who almost certainly will end up at an SEC destination.
Perhaps these defeats hit closer to home: Florida 37, Florida State 26; South Carolina 27, Clemson 17; Georgia 42, Georgia Tech 10.
The ACC, which pits 6-6 Georgia Tech against No. 13 Florida State on Saturday at 8 p.m. ET on ESPN, is losing the battle with the SEC. And unlike the Big Ten or Pac-12, comforted by their geographical distance from the SEC, the ACC goes head to head with the top league too often on the recruiting trail.
The addition Wednesday of Louisville is nice. The departure of Maryland stings. Stability is a problem. Recruits notice.
Look again at those 2013 class rankings. You won't find an ACC team in the top 10. Among the top 50 prospects nationally, 14 are committed to play in the SEC. Just one is pledged to an ACC school -- cornerback Kendall Fuller to Virginia Tech, which needs help after a dismal 6-6 season, its worst mark in 20 years.
Miami and North Carolina are reeling from scandals. Meanwhile, Florida State stays focused on a 12-win season and another good recruiting class for Jimbo Fisher.
Fisher said he's not fretting over the image of the league or how others might use it in recruiting.
"It's always part of what you have to do as a coach," he said.
Yes, it's business as usual on Saturday night, said FSU quarterback EJ Manuel.
"If we go out there and win the game," he said, "we'll be able to represent our conference like we should."
'Tis the season for that all-important task.