Dallas Skyline is a recruiting destination
DALLAS -- There's a respectable buzz through the Pleasant Grove area of Dallas, particularly in the football locker rooms of one of the city's most respected high schools. Victories are measured by more than championships.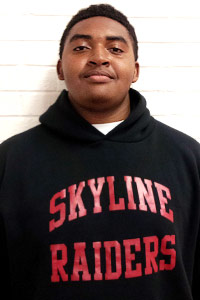 Damon Sayles/ESPNWith 17 offers already in hand, Ty Barrett looks like a sure bet to follow in the footsteps of other Dallas Skyline prospects playing elite college ball.
While some programs in Texas are able to boast multiple state titles, those at Skyline High School prefer to discuss the multiple athletes who have parlayed putting on a football uniform into playing at the next level. In the last 10 years, more than 60 players have signed national letters of intent to either FBS or FCS programs.
"A lot of those guys come back around the holidays and Christmas with their Oregon gear or their Texas A&M gear or whatever," Skyline recruiting coordinator Jason R. Garrett said. "They expect the guys here now to keep the tradition going. A lot of alumni guys who I didn't coach, they want to see if the legacy is still strong."
Seven Skyline players signed to play for FBS programs in February, including Oklahoma State wide receiver signee Ra'Shaad Samples and Ole Miss quarterback signee DeVante Kincade, two ESPN 300 athletes. The future is very bright for Skyline, as nine returning letter winners have at least one scholarship offer entering the fall.
Watch them on the football field, and it's easy to see why some of the athletes have multiple offers. Cedric Collins is an ESPN Watch List cornerback who verbally committed to Texas A&M in August. Ty Barrett, another Watch List prospect, is a 6-foot-5, 310-pound offensive tackle with 17 offers, eight of those being from either Big 12 or SEC programs.
Rising safety Derrick Dixon has five offers, three of which are from the Big 12. Defensive end Victor Evans has offers from Texas Tech, Tulsa and SMU. Even 2015s Anthony Wheeler, a linebacker/defensive end, and Jordan Stevenson, a running back, could end their recruiting processes if they wanted to.
"We have great kids who all work hard," Barrett said. "My teammates are like my brothers. Every time someone picks up an offer, it's a celebration for all of us. We're all getting [the offers] together."
Added Wheeler: "A lot of our guys are all good players and could go D-I. Around here, you've got to put in your best effort to show you're better than some of the players you play with."
Garrett, head coach Reginald Samples and the rest of the Skyline staff take pride in producing quality players. Garrett said coaching beyond a player's expectations assists in keeping Skyline a hot spot for a college coach making a recruiting stop.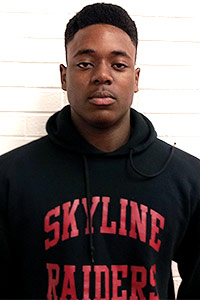 Damon Sayles/ESPNPlayers like Victor Evans benefit from Skyline's individual approach to coaching.
"A lot of people think we have talented kids, but the kids we have are a testament to the extra time we put in," Garrett said. "We don't do lot of 7-on-7 with the state or with any other schools. We try to do that stuff internally. Our work routine is weight room-oriented and position-oriented. From a coaching perspective, we just try to maintain that excellence.
"I think the biggest selling point for our guys is calling out the guys before them. A lot of guys that used to be here are starting at major programs. When you turn on the TV, they can see Skyline. When they go on a visit, they're being escorted by Skyline. We don't have to emphasize much."
Skyline will continue to be a destination for recruiters. Along with Wheeler, players such as 6-foot-5, 197-pound receiver Carlos Strickland are anticipated to be big-time 2015 targets. In the Class of 2016, expectations are high for quarterback Jacoby Williams, who will compete with Sederian Copeland for the starting job this fall.
If all goes as planned, scholarship offers will continue to pour at Skyline, and the tradition of the program producing stars will stand strong. The players are certainly on board in doing their part to keep things going.
"It's hard work and a lot of dedication," Evans said. "You pretty much have to set a good example for yourself wherever you go. You can't act out of character. You have to be a leader on and off the field."
Added Dixon: "You just have to go out and do your best. You work hard, and you go have fun, but you play and work to the best of your capabilities."
RecruitingNation
Big 12 recruiting reporter
Joined ESPN in 2011
Graduated from Texas State and Texas A&M-Commerce
NOLA stronger than ever after Katrina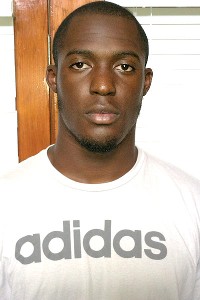 Greg Ostendorf/ESPN.comLeonard Fournette is one of several New Orleans St. Augustine prospects to be receiving heavy Division I interest.
NEW ORLEANS -- When Hurricane Katrina ripped through New Orleans in 2005, it looked like a game-changer, maybe even a game-ender, for the city's storied high school football history.
Many of the city's schools never re-opened. Others came back as shells of their former selves -- even under different names with different missions. The traditional Catholic League broke apart as some schools struggled to rebound. The future looked bleak.
Instead of falling apart, Louisiana's biggest city, perhaps spurred by changes from the aftermath of Katrina, is instead having a golden age. With a bumper crop of prospects in the 2014 recruiting class and with three state championships out of Louisiana's five enrollment classes in 2012, New Orleans looks stronger than ever.
"There's no question, football in New Orleans and the area is on the upswing," said J.T. Curtis, the coach at traditional power John Curtis Christian, a 25-time state champion that finished No. 5 in the ESPN Power Rankings in 2012. "I think that post-Katrina era is over now. We're past that. We're not just getting people back. We're having people moving in."
And playing football. The New Orleans metropolitan area, with a population of about 1.2 million people, has eight players on the ESPN Watch List. Led by Leonard Fournette, a running back who is among the nation's top players in the 2014 class, New Orleans is a football beacon less than a decade after its darkest hour.
For the full story, visit GeauxTigerNation.
Reporter, GeauxTigerNation
Reporter for GeauxTigerNation
Covers LSU Tigers sports and recruiting
Joined ESPN in 2012
On The Trail TV wrap
ESPN RecruitingNation's Jeremy Crabtree and Dave Hooker, BuckeyeNation's Brad Bournival and NoleNation's Corey Dowlar talk about our the latest in recruiting on On The Trail TV.
School: Tampa (Fla.) Catholic
Tales From the Road spotlights schools that have a strong tradition of producing elite college players and feature current elite prospects.
By Corey Dowlar, RecruitingNation

Who they have: ESPN Watch List OG Corey Martinez, ATH T.J. Harrell, OLB Tre Watson, RB Kenny Bryant.

Martinez
Where they're looking: Martinez and Harrell are fresh off visits to Georgia and Florida State, both of which have offered. Each player says he enjoyed his time on both campuses, and both programs improved their position for them. Watson, who has a USF offer, earned another one on his trip to Furman over the weekend. Bryant appears to be close to a Boise State offer.
Who they've had: QB Kenny Kelly, WR Christian Green, RB Hunter Joyer.
Where they went: Kelly, a two-sport athlete who also excelled on the baseball diamond, ended up signing with the Miami Hurricanes. Green, a relative of former FSU wide receiver E.G. Green, followed in his footsteps to Tallahassee. And Joyer signed with Will Muschamp and the Gators to bring a little smash-mouth effect to the UF offense.
For more, click here.

Midlands Players to Watch
Tales From the Road spotlights players who stand out to RecruitingNation writers at camps, combines and various events. Here is a look at a few Midlands prospects who recently performed at a high level:
By William Wilkerson, HornsNation

QB J.W. Ketchum
Vital stats: Class of 2015 | Fort Bend (Texas) Marshall | 6-1, 190

Ketchum
Considering: Offers from Baylor, Texas and Texas A&M
Where I saw him: Dallas NFTC
What impressed: Physically, Ketchum has all the traits you could want in a dual-threat quarterback. He's well-put-together and he's left-handed, which is rare. Camps like these aren't often the best place for running quarterbacks to prove their worth, but Ketchum definitely proved he could handle staying in the pocket and making spot throws just fine.
Why you should keep an eye out for him: The fact that the Bears, Longhorns and Aggies have already identified him as a top quarterback target in 2015 in a state rich in quarterback tradition speaks volumes. He has a strong arm and supplies a running threat that all three of those schools, and many more, covet at the quarterback position.
For more Midlands prospects, click here

.
School: Shaker Heights (Ohio)
By Jared Shanker, RecruitingNation


Henderson
Who They Have: DE Joe Henderson, OG Ja'Merez Bowen, RB Greg Claytor, WR Nolan Jackson-Daniel, WR Odell Spencer
Who They've Had: OT Dominic Alford, WR Perez Ashford, OG Adrien Clarke, CB Nate Clements, OT Henry Conway, S Antonio Johnson, DT Donovan Munger, OG Antonio Underwood
For more, click here.

Going Camping
Want the latest news from the camp and combine circuit? RecruitingNation has you covered. Events coverage
• All-Combine teams
• NFTC and SPARQ results
• 2013 camps and combines highlights


• Latest news in On The Trail
• Follow us on Twitter: @RecruitingESPN