Commentary
The end of a long process
Nerlens Noel's decision between Kentucky, Georgetown and 'Cuse will be a relief
Originally Published:
April 11, 2012
By
Mitch Sherman
| ESPN RecruitingNation
Nerlens Noel turned 18 Tuesday, the symbolic passage into adulthood for the top basketball prospect in the ESPNU 100. A big event, for sure.
Wednesday is bigger.
Muhammad's Mammoth Decision
It's come down to the wire for Shabazz Muhammad, as well.
Muhammad, the Naismith High School Boys' Player of the Year, had yet to make a decision between Duke, Kentucky and UCLA on the eve of the open to the spring signing period, his coach at Bishop Gorman High School in Las Vegas said Tuesday.
"I think he's still trying to weigh the options," Grant Rice said. "He's got three really good schools. He just wants to make sure he makes the right decision in the end."
Muhammad, a 6-foot-6 small forward and No. 2 in the ESPNU 100, will announce his choice as part of the RecruitingNation Signing Day Special, Wednesday at 7:30 ET on ESPNU.
Muhammad met with Kentucky coach John Calipari and Duke coach Mike Krzyzewski in the final week.
Calipari saw Muhammad last week in Portland, where Muhammad scored an event-record 35 points Saturday at the Nike Hoop Summit for Team USA in an 84-75 loss to the World Select Team.
Krzyzewski then visited with Muhammad in Las Vegas on Sunday.
The Bruins and coach Ben Howland have also remained in close contact, Rice said.
"It's definitely tough," the high school coach said. "You start second-guessing yourself and go back and forth.
"I think everyone involved is excited for the day to come, especially Shabazz and his family. It's time. It'll be a good thing to put some closure on it."
Muhammad averaged 30.2 points, 10.4 rebounds and shot 63.1 percent from the field as a senior. He added 21 points and six rebounds March 28 in the McDonald's All-American Game, earning MVP honors.
Noel (Everett, Mass/Tilton School) headlines the RecruitingNation Signing Day Special, along with No. 2-rated Shabazz Muhammad (Las Vegas/Bishop Gorman), at 7:30 p.m. ET on ESPNU as the spring signing period opens.
The 6-foot-10, 215-pound Noel plans to announce his selection between finalists Georgetown, Kentucky and Syracuse.
"I'm definitely ready for it to be done," Noel said this week, "because it's been a long process."
Therein lays a giant understatement.
Since Noel blocked 16 shots in two games at the Peach Jam's Nike Elite Youth Basketball League Finals in the summer of 2010, after his sophomore year at Everett (Mass.) High School, the recruiting process has accelerated to warp speed.
Noel transferred to Tilton, with plans to spend three years at the private academy in New Hampshire. There, Noel gained fame as a projected No. 1 pick in the NBA draft and reclassified this school year as a senior to sign with the Class of 2012. Amid reports of his many third-party influences, Noel said this decision was his own. He eliminated Connecticut and North Carolina in recent weeks and traveled home to Everett, Mass., on the north side of Boston on Tuesday to discuss the choice with his mother.
Before their visit, Noel characterized his selection of a school as "close" to complete.
"I'm feeling good about it," Noel said.
Tilton coach Marcus O'Neil said Noel handled recruiting "with about as much poise as you can."
"There's a lot of people tugging at his time and attention," O'Neil said, "which isn't an easy thing for an adult to handle. You're asking him to prioritize his life and say no to adults -- things that put him in a tough situation."
Of his finalists, Noel got a heavy dose of Kentucky while in New Orleans for the All-American Championship, which coincided with the Final Four. He was serenaded by UK fans and watched on TV as the Wildcats won the national title behind freshman center Anthony Davis.
Kansas held Davis scoreless in the first half and to six points on 1-of-10 shooting in the title game, yet he was named Most Outstanding Player at the Final Four.
With Davis likely to declare for the NBA draft, many envision Noel as the replacement -- a shot-blocking, rebounding extraordinaire with room for growth on the offensive end.
"I'm not going to look at it like that," Noel said. "He's his own person. I'm my own person."
Also in New Orleans, former Georgetown coach John Thompson, the father of the current Hoyas coach, showed up to watch Noel play at the All-American Championship.
Noel noticed.
"It was real humbling to see him there watching the game," Noel said of Thompson, who groomed the likes of Patrick Ewing, Alonzo Mourning and Dikembe Mutombo in college. "I was appreciative of him taking the time."
As for Syracuse, Noel enjoyed the atmosphere in coach Jim Boeheim's program, seemingly a good fit for a player of Noel's length and defensive acumen.
"They're a team," Noel said. "They act like they're brothers. They treat each other good, and I like the tradition they have."
O'Neil said he wished the decision had been less complicated.
"Just pick the one you want and go," the coach said. "In some ways, it should be less stressful. Unfortunately, it just doesn't work that way."
Noel said he views the passing of Wednesday's announcement as "a big relief."
New challenges await. Noel figures to enter the next chapter of his career more prepared to handle pressure because of his experience in recruiting.
Noel's immediate plans, though, do not involve his college or NBA future.
"I'll be focusing on my academics to finish the year strong," Noel said, "just getting better on the court and in the weight room."
College Football
Nebraska/Big Ten/Recruiting reporter.
Joined ESPN in 2011.
Graduated from the University of Nebraska.
2012 SIGNING PERIOD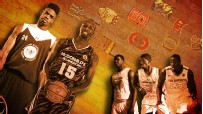 The nation's top prospects, Nerlens Noel, No. 1 in the ESPNU 100 and Shabazz Muhammad (No. 2), will make their decisions live on ESPNU. Dave Telep and Paul Biancardi will be there to break down all the decisions and breaking news of the regular signing period.
When:
Wed., April 11, 7:30 p.m.-9 p.m. ET
Where:
Signing Day Special on ESPNU
STORIES
MORE MEN'S COLLEGE BASKETBALL HEADLINES
MOST SENT STORIES ON ESPN.COM