Commentary
Columbus North vs. Columbus East
Updated:
August 26, 2011, 1:58 PM ET
By
ESPN Recruiting
| ESPN.com
Two of Indiana's top high school programs meet when the Columbus North Bull Dogs visit the Columbus East Olympians Friday (ESPNU, 7 p.m. ET).
COLUMBUS NORTH BULL DOGS
Coach: Tim Bless
Record: 0-1
Team overview: The Bull Dogs look much different than they did a year ago after losing 26 seniors from their 2010 team. Coach Tim Bless is confident in quarterback Kyle Kamman, who threw only five interceptions last year, but only one starter along the offensive line returns in front of him. Only four starters return on defense, but Bless said this defense, especially the secondary, is one of his fastest. It was a rough start to the 2011 season, though, as the Bull Dogs lost to Carmel, 58-17.
Prospect history: Not exactly a Division I pipeline, Columbus North usually has a couple of guys go on to play college football, mostly at the Division II and Division III levels. Last year, however, the Bull Dogs sent three players -- Keenan Noel, Jake Reed and Chris Shillings -- to Division I schools. Two more players from the Class of 2011 signed scholarships to play at Division II universities.
Top prospect: Even though he's only in his first year as a starter, defensive end Deonta Dismuke is getting some looks from Division I schools. Dismuke bench presses 270 pounds and, at 6-foot-4 and 260 pounds, he isn't done growing.
New face: Junior Shaquille Ash is a Division I safety, according to Bless, but because of team needs, Ash is playing strongside linebacker. Ash has great range and athleticism, and the 5-10, 180-pounder will also play some receiver and H-back.
Keep an eye on: Trace Fetterer is the Bull Dogs' "Slash." The 5-9 senior captain will line up at flanker, in the slot and is the focal point of the offense's Wild Dog package. The fastest player on the team, Fetterer has a couple of kick and punt return touchdowns in his career as well.
Other prospects: Kamman, who is also North's three-year starter at point guard on the basketball team, had a touchdown-to-interception ratio of 4-to-1 last year, and Division I coaches have contacted Bless about Kamman. Left tackle Thomas Shoaf is only a junior, but Bless expects him to see a lot of interest from FBS programs.
Bet you didn't know: Arguably the most recognizable sneakers ever, shoe designer Chuck Taylor, whose namesake is on the popular Converse shoe, attended Columbus High School prior to the school splitting into Columbus North and Columbus East. Two-time NASCAR champion Tony Stewart graduated Columbus North.
VS.
COLUMBUS EAST OLYMPIANS
Coach: Bob Gaddis
Record: 1-0
Team overview: In terms of experience, there is no middle ground for Columbus East in 2011; half of the Olympians' players have a lot of experience, while the others have little to no experience. Coach Bob Gaddis will play the most sophomores he has ever had to play in his 11 seasons at Columbus East. With an almost entirely new group of receivers, ESPNU's second-ranked quarterback, Gunner Kiel, completed only four of 17 passes in the Olympians' season-opening win, a game they could have easily lost if not for seven turnovers from their opponent. Defensively, the Olympians will rotate often, playing 15 to 16 guys.
Prospect history: It's been a mixed bag recently for East, which sent only one player to a Division I school over the past two years. In 2009, though, five players signed FBS scholarships, including Dustin Kiel, Gunner's older brother and soon-to-be Indiana teammate.
Top prospect: Without question, the Olympians' top prospect is Kiel, No. 20 in the ESPNU 150. He had offers from the likes of Oklahoma and Notre Dame but decided to stay in-state at Indiana.
New face: Playing in a spread offense and with a star like Kiel in the backfield, the Olympians expect a lot out of their left tackle. Evan Kuhn is in his first year as the team's starting tackle and has excelled so far, Gaddis said. He's taken every practice rep at tackle and has allowed Gaddis to keep his more experienced tackle on the right side.
Keep an eye on: Running back Andrew Wilson has done a good job of keeping opposing defenses honest when keying in on Kiel and the passing offense. Wilson, who had a 26-yard touchdown in the opener, ran for more than 1,000 yards last year and averaged 8.5 yards per carry.
Other prospects: Wilson has earned a good amount of interest and, with another 1,000-yard season, could earn an FCS scholarship. Receiver Luke Hampton is only 6 feet, 160 pounds, but his speed will warrant some looks from scouts, Gaddis said.
Bet you didn't know: Columbus East was left without a nickname in 1972 when Columbus High School split into North and East. At a meeting of the minds, one tossed out the idea of the Olympians because it was an Olympic year. It has remained ever since. (For the record, North and East have played every year since 1972, and North holds a 20-19 edge.)
ESPN HIGH SCHOOL KICKOFF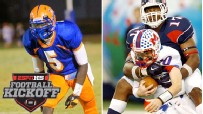 ESPN will be airing 13 games on its family of networks from across the country Friday, Saturday and Sunday.
Friday
• Columbus North vs. Columbus East
(ESPNU, 7 p.m. ET)
• Gainesville (Ga.) vs. Buford (Ga.)
(ESPN3.com, 7 p.m. ET)
• Gaffney (S.C.) vs. Dorman (S.C.)
(ESPN3.com, 7 p.m. ET)
• Armwood (Fla.) vs. Bishop Gorman (Nev.)
(ESPN2, 9 p.m. ET)
Saturday
• St. Thomas Aquinas (Fla.) vs. Prattville (Ala.)
(ESPN, noon ET)
• South Panola (Miss.) vs. Hoover (Ala.)
(ESPN, 3:30 p.m. ET)
• Indy (Ind.) Cath. vs. Indy (Ind.) Warren Cent.
(ESPNU, 4:00 p.m. ET)
• S. Springs (Texas) vs. Denton (Texas) Ryan
(ESPN, 7:00 p.m. ET)
• Springfield (Mo.) Hillcrest vs. Seneca (Mo.)
(ESPNU, 9:00 p.m. ET)
• Pleasant Grove vs. Monterey Trail
(ESPN2, 10:00 p.m. ET)
Sunday
• Coll. Acad. (D.C.) vs. Cincinnati (Ohio) Taft
(ESPNU, 11:00 a.m. ET)
• Glenbard West vs. Warrenville South
(ESPN2, noon ET)
• Cocoa (Fla.) vs. Cincinnati (Ohio) Colerain
(ESPN, 3:00 p.m. ET)
MORE COLLEGE FOOTBALL HEADLINES
MOST SENT STORIES ON ESPN.COM