Commentary
Armwood vs. Bishop Gorman
Updated:
August 26, 2011, 1:57 PM ET
By
ESPN Recruiting
| ESPN.com
Two of the nation's top high school programs meet when the Seffner (Fla.) Armwood Hawks visit the Las Vegas (Nev.) Bishop Gorman Gaels on Friday night (ESPN2, 9 p.m. ET).
ARMWOOD HAWKS
Coach: Sean Callahan
Record: 0-0
Team overview: Armwood has been one of Florida's most successful programs over the past decade. The Hawks won state championships in 2003 and 2004 and were state finalists in 2005 and 2010.
Prospect history: The Hawks have had quite a few highly-touted prospects end up at major FBS programs, including defensive lineman Ryne Giddins (South Florida), defensive back Mywon Jackson (North Carolina) and offensive lineman Matt Patchan (Florida). Former running back Eric Smith won a national championship with Auburn last season but was dismissed earlier in the year.
Top prospect: Running back Matt Jones, a Florida commit, is the team's top prospect and returning offensive leader. He will miss Friday's game, however, with a knee injury. When healthy Jones will run behind a line that features FBS prospects Cody Waldrop (South Carolina commit), Cameron Dees and Kevin McCoy. On defense the Hawks are led by linebacker Eric Striker (Oklahoma commit) and defensive lineman Sheldon Lewinson (Wake Forest).
New face: Darryl Richardson is a 6-foot-5, 210-pound signal-caller with a huge arm that transferred from nearby Tampa Bay Technical.
Keep an eye on: Running backs Wade Edwards and Greg Newton, who will be filling in for the injured Jones.
Other prospects: Defensive back Jarvis McCall has multiple FBS offers and is currently waiting on one from Tennessee. Another one of Armwood's offensive lineman, John Lightsey, is a transfer from Dr. Phillips and is expected to receive interest from FBS schools. The Hawks' top junior prospect is defensive back Leon McQuay III.
Bet you didn't know: This will be Armwood's first regular-season game played outside of Hillsborough County in nearly 10 years.
VS.
BISHOP GORMAN GAELS
Coach: Tony Sanchez
Record: 1-0
Team overview: The Gaels won their second straight state title a year ago and have lost only one game to an in-state school since 2006. They're heavily favored to three-peat this season and will be gunning for their fourth state title in the last five years. The traditional power plays their usual brutal non-league schedule but have as much talent as any of their previous teams.
Prospect history: The Gaels are a football factory and annually send multiple players to the college ranks including seven players from the class of 2010. Oklahoma has been a big beneficiary with running back Demarco Murray and linebacker Ryan Reynolds as past alums. In recent years, tight end Xavier Grimble (USC), defensive lineman Jalen Grimble (Miami) and offensive lineman Geoffrey Gibson (Cal) all played on state championship teams before moving to the next level.
Top prospect: Offensive lineman Ronnie Stanley (6-foot-6, 285 pounds) is one of the top tackle prospects in the west region as well as the top ranked player in the state. Stanley has offers from the entire Pac-12 plus national programs like Miami, Oklahoma, Auburn, LSU, Nebraska, Florida State and Notre Dame.
New face: WR Ryan Smith (5-8, 170 pounds) is just a junior but could potentially have a monster season this year. He had a solid sophomore campaign with 38 catches but could double those numbers this year and is the fastest player on the team.
Keep and eye on: RB Shaquille Powell is the top back in the state and is currently holding double digit scholarship offers. As a junior, he rushed for 1,282 yards and 17 touchdowns while sitting in the second half of over half the games due to blowouts.
Other prospects: Junior QB Jarrett Solomon is a four-year starter coming off a monster sophomore season throwing for 2,419 yards and 41 touchdowns. OL Ron Scoggins (6-6, 285 pounds) has offers from Fresno State, San Jose State and UNLV and is the captain of the OL. DB Mark Philippi (5-11, 207 pounds) is a hard hitting safety with offers from UNLV and Montana. OL Nick Strehlow (6-2, 285 pounds) is third Division I OL and is a road grader at the guard position.
Bet you didn't know: There are strong ties between UFC and Gorman as current UFC president Dana White is a former Gael, as is Lorenzo Fertitta, co-owner of UFC and a classmate of White's.
SPONSORED HEADLINES
MORE COLLEGE FOOTBALL HEADLINES
MOST SENT STORIES ON ESPN.COM
ESPN HIGH SCHOOL KICKOFF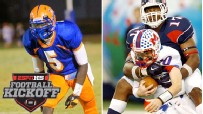 ESPN will be airing 13 games on its family of networks from across the country Friday, Saturday and Sunday.
Friday
• Columbus North vs. Columbus East
(ESPNU, 7 p.m. ET)
• Gainesville (Ga.) vs. Buford (Ga.)
(ESPN3.com, 7 p.m. ET)
• Gaffney (S.C.) vs. Dorman (S.C.)
(ESPN3.com, 7 p.m. ET)
• Armwood (Fla.) vs. Bishop Gorman (Nev.)
(ESPN2, 9 p.m. ET)
Saturday
• St. Thomas Aquinas (Fla.) vs. Prattville (Ala.)
(ESPN, noon ET)
• South Panola (Miss.) vs. Hoover (Ala.)
(ESPN, 3:30 p.m. ET)
• Indy (Ind.) Cath. vs. Indy (Ind.) Warren Cent.
(ESPNU, 4:00 p.m. ET)
• S. Springs (Texas) vs. Denton (Texas) Ryan
(ESPN, 7:00 p.m. ET)
• Springfield (Mo.) Hillcrest vs. Seneca (Mo.)
(ESPNU, 9:00 p.m. ET)
• Pleasant Grove vs. Monterey Trail
(ESPN2, 10:00 p.m. ET)
Sunday
• Coll. Acad. (D.C.) vs. Cincinnati (Ohio) Taft
(ESPNU, 11:00 a.m. ET)
• Glenbard West vs. Warrenville South
(ESPN2, noon ET)
• Cocoa (Fla.) vs. Cincinnati (Ohio) Colerain
(ESPN, 3:00 p.m. ET)