Commentary
South Panola vs. Hoover
Updated:
August 26, 2011, 1:56 PM ET
By
ESPN Recruiting
| ESPN.com
Two of the nation's top high school programs meet when the Batesville (Miss.) South Panola Tigers visit the Hoover (Ala.) Buccaneers Saturday (ESPN, 3:30 p.m. ET).
SOUTH PANOLA TIGERS
Coach: Lance Pouge
Record: 1-0
Team overview: South Panola has won eight state championships since 1993. From 2003-2008 they won 89 straight games and five consecutive titles and appeared in seven straight championship games.
Prospect history: Wide receiver Nickolas Brassell (Ole Miss, 2011), safety Kendrick Market (Mississippi State, 2011), running back Nicholas Parker (Ole Miss, 2010), running back Pigs Barksdale (Ole Miss, 2008), defensive end Chris Strong (Ole Miss, 2007), cornerback Derek Pegues (Mississippi State, 2005), offensive lineman John Jerry (Ole Miss, 2005), defensive end Peria Jerry (Ole Miss, 2004), linebacker Chris Herring (Ole Miss, 2002), linebacker Dwayne Rudd (Alabama, 1993), cornerback Deshea Townsend (Alabama, 1993).
Top prospect: Defensive tackle Isaac Gross is the No. 37 overall player in the ESPNU 150 and the No. 4 recruit at his position. Gross, who is 6-foot-2 and 265 pounds, committed to Ole Miss over Alabama, Arkansas, Mississippi State, Southern Miss, Tennessee and Texas.
New face: Antonio Conner might seem like a new face to many, though he has played for two years at South Panola. It's this junior safety prospect's time to shine. How good is he? Conner started as a freshman and sophomore. At 6-2 and 200 pounds, he plays safety, corner and returns kicks. This kid is a big hitter with a ton of ability and has a chance to be a monster recruit next year.
Other prospects: DE Temario Strong (6-1, 210) has committed to the Rebels. Hunter Lawrence is a two-year starter at H-back/fullback. He has great size at 6-2 and 250 pounds. Offensive tackle Derrick Mix (6-6, 305) will more than likely have scholarship offers from every program in the region before it's all said and done.
Bet you didn't know: South Panola's winning streak of 89 games is the third longest is history. Only Concord (Calif.) De Le Salle (151) and Charlotte Independence (109) have longer winning streaks. South Panola's streak started and ended against Meridian (Miss.) High School.
VS.
HOOVER BUCCANEERS
Coach: Josh Niblett
Record: 0-0
Team overview: The Bucs went 14-1 in 2010, losing only to Daphne, 7-6, in the 6A State Championship game, snapping a 21-game winning streak.
Prospect history: Wide receiver Jaylen Denson (Auburn, 2011), linebacker John Propst (Tennessee, 2010), Maudrecus Humphrey (Arkansas, 2010), defensive back Brian Jackson (Oregon, 2009), offensive linemen Ryan Pugh (Auburn, 2007) and Patrick Crump (Alabama, 2007), defensive tackles Kerry Murphy (Alabama, 2007) and Josh Chapman (Alabama, 2007), quarterback John Parker-Wilson (Alabama, 2004) and wide receiver Chad Jackson (Florida, 2003) are all former Bucs.
Top prospect: Daniel Aust is an offensive guard prospect who has committed to South Alabama. It was his first scholarship offer and he jumped all over it. Other teams have offered since then, but he's sticking with his decision.
New face: Outside linebacker Jamal Lucas is back with the Bucs. He played as a freshman but didn't play last season. Lucas, 6-foot-1 and 215 pounds, has a chance to be a special player and big-time prospect in the Class of 2013. He has speed and is very physical. Hoover will count on him for big plays on defense.
Other prospects: Sam Gillikin is back to run the Hoover offense this season. He missed the first half of last year with an injured back. Gillikin came back in Week 5 to punt, and he played at receiver in the 10th game before breaking a finger. One of the team's top athletes, he also is an outstanding baseball player and has committed to Auburn to play baseball. Defensive tackle Jeremy Troy and UAB are among five scholarship offers for Boyd. Wide receiver Caleb Sims, defensive tackle Trent Dunne and athlete Nigel Cribbs are three more to watch. Central Arkansas and Georgia State have offered Dunne.
Bet you didn't know: Amazingly, Hoover has played in 10 of the past 11 state championship games, winning six of them.
ESPN HIGH SCHOOL KICKOFF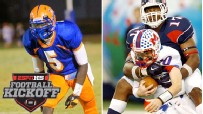 ESPN will be airing 13 games on its family of networks from across the country Friday, Saturday and Sunday.
Friday
• Columbus North vs. Columbus East
(ESPNU, 7 p.m. ET)
• Gainesville (Ga.) vs. Buford (Ga.)
(ESPN3.com, 7 p.m. ET)
• Gaffney (S.C.) vs. Dorman (S.C.)
(ESPN3.com, 7 p.m. ET)
• Armwood (Fla.) vs. Bishop Gorman (Nev.)
(ESPN2, 9 p.m. ET)
Saturday
• St. Thomas Aquinas (Fla.) vs. Prattville (Ala.)
(ESPN, noon ET)
• South Panola (Miss.) vs. Hoover (Ala.)
(ESPN, 3:30 p.m. ET)
• Indy (Ind.) Cath. vs. Indy (Ind.) Warren Cent.
(ESPNU, 4:00 p.m. ET)
• S. Springs (Texas) vs. Denton (Texas) Ryan
(ESPN, 7:00 p.m. ET)
• Springfield (Mo.) Hillcrest vs. Seneca (Mo.)
(ESPNU, 9:00 p.m. ET)
• Pleasant Grove vs. Monterey Trail
(ESPN2, 10:00 p.m. ET)
Sunday
• Coll. Acad. (D.C.) vs. Cincinnati (Ohio) Taft
(ESPNU, 11:00 a.m. ET)
• Glenbard West vs. Warrenville South
(ESPN2, noon ET)
• Cocoa (Fla.) vs. Cincinnati (Ohio) Colerain
(ESPN, 3:00 p.m. ET)
MORE COLLEGE FOOTBALL HEADLINES
MOST SENT STORIES ON ESPN.COM