Commentary
Hillcrest vs. Seneca
Updated:
August 26, 2011, 1:55 PM ET
By
ESPN Recruiting
| ESPN.com
Two of Missouri's top high school programs meet when the Springfield Hillcrest Hornets visit the Seneca Indians Saturday (ESPNU, 9:00 p.m. ET).
HILLCREST HORNETS
Coach: John Beckham
Record: 0-0
Team overview: Hillcrest does not have much of a winning tradition. In 1998, the Hornets finished 9-1 and won a conference championship, but they just won their first playoff game in 2009. In 2010, they were district champs and won another playoff game.
Prospect history: Hillcrest opened in 1958 and has had only three players sign with Div I schools, all in the last five years. Chris Earnhardt, class of 2007, is the lone player to sign with a BCS school, inking with Missouri.
Top prospect: WR Dorial Green-Beckham (6-foot-5, 220 pounds) is the No. 3 player in the ESPNU 150 and the top skill prospect in the nation. The talented receiver has been compared to NFL standout Calvin Johnson and was the state Gatorade Player of the Year last season after catching 78 passes for 1,703 receiving yards (21.8 average) and 15 touchdowns.
New face: WR Jawan Johnson (5-9, 150) is just a sophomore but is an explosive player and big things are expected. With so much attention on Beckham, Johnson should see plenty of single coverage with no safety help and could flourish this year.
Keep an eye on: LB Donovan Mathis (5-11, 190). He plays outside linebacker but will likely play safety in college. He ran the fastest 40 time (4.41) at Missouri's team camp and jumped 37 inches in the vertical. He transferred as a sophomore from Texas, where he originally started at corner.
Other prospects: DL C.J. Hubbard (6-2, 250) is a playmaking defensive end and a definite Div I prospect. He's just a sophomore, and with two years to go will likely grow into a tackle by the time he's a senior. Junior Jonah Hill (6-3, 235) is another underclassman to watch. He plays tight end and also is the team's Wildcat quarterback. He has a college body right now and is a superior athlete as well.
Bet you didn't know: Hillcrest head coach John Beckham and his wife Tracy, foster parents for more than 20 years, adopted Dorial and his younger brother Darnell in December 2009.
VS.
SENECA INDIANS
Coach: Dan Schieble
Record: 0-0
Team overview: Seneca is a tradition-rich program with three state runner-up finishes and two state titles -- 1987 and 1995. It's a small class 3A program that has always been able to compete at a high level, but the Indians are returning just two starters.
Prospect history: While it's a strong program, the school isn't known for producing next-level recruits. Seneca's most famous football alum is actually L.A. Dodgers relief pitcher Scott Elbert, who played running back in high school and led the state in rushing yards and touchdowns as a senior.
Top prospect: TE-LB Dalton Lindsey (6-foot-3, 220 pounds) is one of the team's two returning players. He's the team captain and is described by coach Dan Schieble as the program's leader on and off the field.
New face: Junior RB Marty Mailes (5-11, 190) has a chance to be great and will be the team's primary offensive weapon. He saw time at safety last season and could start both ways this year.
Keep an eye on: WR Jalen Skaggs (5-11, 180) is a junior and the fastest player on the team. He runs track as well and is one of the team's most explosive playmakers.
Other prospects: DT Montana Cooper (5-11, 310) is just a sophomore, but the strongest player on the team. He set several freshman strength records last season and is not just strong, he's aggressive.
Bet you didn't know: Schieble starts his first year as Seneca's coach after spending 13 years at Div II school Missouri Southern. In that time, he coached 11 former Seneca players, and he is quite familiar with the school and players in the program.
ESPN HIGH SCHOOL KICKOFF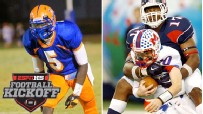 ESPN will be airing 13 games on its family of networks from across the country Friday, Saturday and Sunday.
Friday
• Columbus North vs. Columbus East
(ESPNU, 7 p.m. ET)
• Gainesville (Ga.) vs. Buford (Ga.)
(ESPN3.com, 7 p.m. ET)
• Gaffney (S.C.) vs. Dorman (S.C.)
(ESPN3.com, 7 p.m. ET)
• Armwood (Fla.) vs. Bishop Gorman (Nev.)
(ESPN2, 9 p.m. ET)
Saturday
• St. Thomas Aquinas (Fla.) vs. Prattville (Ala.)
(ESPN, noon ET)
• South Panola (Miss.) vs. Hoover (Ala.)
(ESPN, 3:30 p.m. ET)
• Indy (Ind.) Cath. vs. Indy (Ind.) Warren Cent.
(ESPNU, 4:00 p.m. ET)
• S. Springs (Texas) vs. Denton (Texas) Ryan
(ESPN, 7:00 p.m. ET)
• Springfield (Mo.) Hillcrest vs. Seneca (Mo.)
(ESPNU, 9:00 p.m. ET)
• Pleasant Grove vs. Monterey Trail
(ESPN2, 10:00 p.m. ET)
Sunday
• Coll. Acad. (D.C.) vs. Cincinnati (Ohio) Taft
(ESPNU, 11:00 a.m. ET)
• Glenbard West vs. Warrenville South
(ESPN2, noon ET)
• Cocoa (Fla.) vs. Cincinnati (Ohio) Colerain
(ESPN, 3:00 p.m. ET)