Commentary
Pleasant Grove vs. Monterey Trail
Updated:
August 26, 2011, 1:54 PM ET
By
ESPN Recruiting
| ESPN.com
Two of California's top high school programs meet when the Elk Grove (Calif.) Pleasant Grove Eagles visit the Elk Grove (Calif.) Monterey Trail Mustangs Saturday (ESPN2, 10:00 p.m. ET).
PLEASANT GROVE EAGLES
Coach: Joe Cattolico
Record: 0-0
Team overview: The Eagles return most of their key players from a team that went 13-1 and won a section championship a year ago. Their only loss was to a nationally ranked Folsom squad that went on to win a state title. The Eagles will be favored this season to make their first berth in the state championship.
Prospect history: Pleasant Grove is a relatively new school but has had some success sending players to the next level. Armond Armstead was a national prospect in 2008 and signed with USC. Two other players went on to play college ball: Deonte Williams at Northern Arizona and Jalen Saunders at Fresno State, while wideout Kyle Castro of the Class of 2011 was a third-round pick in the MLB draft, signing with the Texas Rangers.
Top prospect: Armond's younger brother, Arik Armstead (6-foot-7, 295 pounds), is one of the nation's elite linemen on both sides of the ball. He committed to USC to play defensive end but most feel he projects best at offensive tackle. He is rated the No. 2 tackle and No. 14 player overall in the ESPNU 150.
New face: Athlete Josh Adams (6-2, 185) earned all-league honors as a sophomore last year but could really blow up this season. He plays both safety and receiver and could become one of the state's top prospects as a senior.
Keep an eye on: RB Mark Jenkins (5-10, 175) had a monster season a year ago rushing for 2,739 yards and 41 touchdowns. Washington State has offered the speedy tailback, who will be gunning for his second straight section offensive player of the year honor.
Other prospects: Desmond Lewis (6-0, 170) caught 6 touchdowns and picked off 5 passes to earn all-area honors last season. Fresno State and Air Force have offered. Junior defensive lineman Nick Terry (6-3, 235) plays next to Armstead and should reap the benefits from all the attention given to his senior teammate.
Bet you didn't know: The school just opened in 2006, with the first senior class in 2008 headlined by USC starting DT Armond Armstead.
VS.
MONTEREY TRAIL MUSTANGS
Coach: T.J. Ewing
Record: 0-0
Team overview: Monterey Trail has been to the section finals for the last two years but lost each time -- last year to Pleasant Grove. The Mustangs finished 10-4 a year ago, but graduated a lot of starters. Look for them to play smash mouth with a veer offense and to run the ball about 90 percent of the time.
Prospect history: Monterey Trail is known more as a good HS program than a college feeder. The only FBS signee in the last decade was Evan Favors, who played DB and signed with Nevada in 2010.
Top prospect: OL Leonard Wood (6-foot-2, 305 pounds) is a tough, physical lineman and a three-year starter. He plays tackle and will line up against Arik Amstead, but Wood projects as a guard or center in college.
New face: RB-LB Jeffrey Mal-Annan (5-11, 180) will be the lead running back in an offense that loves to run the ball. He'll also start on defense and is expected to be the team's breakout performer this season.
Keep an eye on: LB Sterling Powell (5-11, 180) had his coming out party last season against national power Sacramento (Calif.) Grant. Powell was so impressive, the Grant coached talked to Ewing about what a great player he was. Probably too small to play at the college level, but a very solid high school player.
Other prospects: DL Viliami Umufuku (6-3, 215) is just a junior but has a lot of talent and toughness. His older brother played at Fresno State and Vili has the same upside, if not more. He'll play on the edge but is moved all over the defensive line.
Bet you didn't know: Monterey Trail got its name because of its location. The school is built on the Monterey Trail, which was used by travelers to travel to Monterey, the capital of both Spanish and Mexican California in the 19th century.
SPONSORED HEADLINES
MORE COLLEGE FOOTBALL HEADLINES
MOST SENT STORIES ON ESPN.COM
ESPN HIGH SCHOOL KICKOFF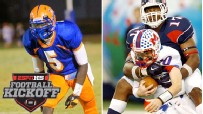 ESPN will be airing 13 games on its family of networks from across the country Friday, Saturday and Sunday.
Friday
• Columbus North vs. Columbus East
(ESPNU, 7 p.m. ET)
• Gainesville (Ga.) vs. Buford (Ga.)
(ESPN3.com, 7 p.m. ET)
• Gaffney (S.C.) vs. Dorman (S.C.)
(ESPN3.com, 7 p.m. ET)
• Armwood (Fla.) vs. Bishop Gorman (Nev.)
(ESPN2, 9 p.m. ET)
Saturday
• St. Thomas Aquinas (Fla.) vs. Prattville (Ala.)
(ESPN, noon ET)
• South Panola (Miss.) vs. Hoover (Ala.)
(ESPN, 3:30 p.m. ET)
• Indy (Ind.) Cath. vs. Indy (Ind.) Warren Cent.
(ESPNU, 4:00 p.m. ET)
• S. Springs (Texas) vs. Denton (Texas) Ryan
(ESPN, 7:00 p.m. ET)
• Springfield (Mo.) Hillcrest vs. Seneca (Mo.)
(ESPNU, 9:00 p.m. ET)
• Pleasant Grove vs. Monterey Trail
(ESPN2, 10:00 p.m. ET)
Sunday
• Coll. Acad. (D.C.) vs. Cincinnati (Ohio) Taft
(ESPNU, 11:00 a.m. ET)
• Glenbard West vs. Warrenville South
(ESPN2, noon ET)
• Cocoa (Fla.) vs. Cincinnati (Ohio) Colerain
(ESPN, 3:00 p.m. ET)