Commentary
Cocoa vs. Colerain
Updated:
August 26, 2011, 1:43 PM ET
By
ESPN Recruiting
| ESPN.com
Two of the nation's top high school programs meet when the Cocoa (Fla.) Tigers visit the Cincinnati (Ohio) Colerain Cardinals Sunday (ESPN, 3:00 p.m. ET).
COCOA TIGERS
Coach: John Wilkinson
Record: 1-0
Team overview: Cocoa has won three straight state championships and holds Florida's longest winning streak, at 38 games. The Tigers gained traction nationally in 2010 with an upset victory over Abilene (Texas).
Prospect history: With Wilkinson the Tigers have had a few FBS prospects emerge, including running back Chevelle Buie, who signed with East Carolina after rushing for more than 5,000 yards in high school. Defensive back David Rowe, part of Cocoa's 2007 team that advanced to the state semifinals, signed with Rutgers. Offensive lineman Ronald Patrick (South Carolina) and E.J. Johnson (Purdue) were part of two Cocoa championship teams.
Top prospect: Grady Redding (5-foot-9, 195 pounds) plays outside linebacker for Cocoa but is better suited for safety at the next level. Although he isn't tall, he is strong and fast and will fly around the football.
New face: Junior running backs Tarean Folston and Antwan Lee each could be a 1,000-yard rusher this season. Folston rushed for more than 1,000 yards last season as Buie's backup.
Other prospects: Cocoa's defense is undersized but it is one of the most aggressive in the state, with linebacker/defensive ends Mike Ferguson (6-0, 205), Marcus White (6-0, 220) and Tyrell Denson (5-11, 190). Maurice Pugh (6-1, 180) will move from wide receiver to quarterback. He led the Tigers to a 27-7 victory in the spring over Dr. Phillips and completed the only pass he threw.
Bet you didn't know: Wilkinson's team plays fast and practices fast; they have been known to run full practices in the hurry-up mode, shuffling players in and out as necessary, but never slowing the pace.
VS.
COLERAIN CARDINALS
Coach: Tom Bolden
Record: 0-0
Team overview: Running the triple-option for the last two decades, the offense may open up a little bit more this season with the addition of some playmakers on the outside. The defense didn't play up to par in last week's scrimmage against Moeller (Cincinnati), but Bolden said that had a lot to do with Moeller's offense and the emphasis the Cardinals have put on Sunday's game against Cocoa (Fla.).
Prospect history: Four former Cardinals were in NFL training camps this month, with two -- Dominick Goodman (Jets) and Cobrini Mixon (Lions) -- still on NFL rosters. Three Colerain players are on the Cincinnati Bearcats' roster and two are with Ohio State.
Top prospect: Linebacker Joe Bolden, the coach's nephew and son of athletic director Dan Bolden, is ranked sixth in the state and the No. 6 inside linebacker in the class of 2012. Bolden is committed to Michigan.
New face: Alfred Ramsby transferred to Colerain and won the starting quarterback job with his performance in the Moeller scrimmage. Ramsby is an athletically gifted player who was a running back at his previous school, Lakota West. Tom Bolden says Ramsby has a good arm to go along with his skills as a rusher.
Keep an eye on: Sophomore receiver Trevon Hudson (6-foot-3, 210 pounds) turned heads last year as a freshman. The physically imposing wideout brings an element the Cardinals' passing game hasn't had in a long time. With Hudson on the outside, Bolden says the team will throw out of its base formation much more often. Athleticism obviously runs in the family, as Hudson's cousin Chris Davis, a junior, tallied 23 touchdowns last year as an all-purpose back.
Other prospects: Nose tackle Trae Clark (6- 3, 335) has offers from Big Ten and SEC schools. Safety Andre Jones is a Cincinnati commitment, and tackle/linebacker Jake Blust could see some offers with a solid senior campaign.
Bet you didn't know: Colerain first offered football in 1935, but the sport was canceled after two years. A six-man football team returned in 1939 and eventually became an 11-player squad, in 1948.
ESPN HIGH SCHOOL KICKOFF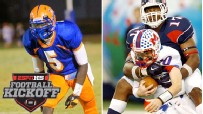 ESPN will be airing 13 games on its family of networks from across the country Friday, Saturday and Sunday.
Friday
• Columbus North vs. Columbus East
(ESPNU, 7 p.m. ET)
• Gainesville (Ga.) vs. Buford (Ga.)
(ESPN3.com, 7 p.m. ET)
• Gaffney (S.C.) vs. Dorman (S.C.)
(ESPN3.com, 7 p.m. ET)
• Armwood (Fla.) vs. Bishop Gorman (Nev.)
(ESPN2, 9 p.m. ET)
Saturday
• St. Thomas Aquinas (Fla.) vs. Prattville (Ala.)
(ESPN, noon ET)
• South Panola (Miss.) vs. Hoover (Ala.)
(ESPN, 3:30 p.m. ET)
• Indy (Ind.) Cath. vs. Indy (Ind.) Warren Cent.
(ESPNU, 4:00 p.m. ET)
• S. Springs (Texas) vs. Denton (Texas) Ryan
(ESPN, 7:00 p.m. ET)
• Springfield (Mo.) Hillcrest vs. Seneca (Mo.)
(ESPNU, 9:00 p.m. ET)
• Pleasant Grove vs. Monterey Trail
(ESPN2, 10:00 p.m. ET)
Sunday
• Coll. Acad. (D.C.) vs. Cincinnati (Ohio) Taft
(ESPNU, 11:00 a.m. ET)
• Glenbard West vs. Warrenville South
(ESPN2, noon ET)
• Cocoa (Fla.) vs. Cincinnati (Ohio) Colerain
(ESPN, 3:00 p.m. ET)