Commentary
Cherokee Trail vs. Mullen
Originally Published:
September 15, 2011
By
ESPN Recruiting
| ESPN.com
A clash of Rocky Mountain warriors will take place at Brother Bernard Kinneavy de La Salle Stadium, as Mullen (Colo.) hosts Cherokee Trail (Colo.) Thursday (ESPNU, 7:30 p.m. ET).
CHEROKEE TRAIL COUGARS
Coach: Monte Thelen
Record: 1-1
Team overview: Cherokee Trail was a play or two away from opening the season 2-0, losing to Heritage (Colo.), 21-20, on Sept. 8 in a game many called a minor upset. Last season's Cherokee Trail squad lost in the Colorado Class 5A state semifinals to Regis Jesuit by a point.
Prospect history: DE Kendall Greogry-McGhee is a sophomore at Minnesota. Junior LB Josh Martin was named second-team All-Ivy League at Columbia last season. Junior P Mark Brundage is classified as a senior at Colorado, but he joined the team as a walk-on upon graduating from Rice as an unrecruited, non-scholarship player.
Top prospect: Athletic QB Thomas Singleton gives Cherokee Trail a legitimate shot against any team. Singleton was sidelined with a shoulder injury in last week's loss to Heritage, but he has been cleared to play and has been practicing well all week. Singleton has offers from Northern Colorado and Air Force and is being courted by Colorado, Stanford and Arizona State, among others.
New face: Sophomore DB Evan White, 6-foot-3 and 180 pounds, definitely passes the eyeball test. A safety who also runs track at Cherokee Trail, White meshes 4.5 speed with an ability to deliver the big hit. Thelen expects White to be a high-major recruit.
Other prospects: RB Austin Ruff has been a leader on offense and DE Alex Thatch has emerged into a reliable two-way option. Keep an eye on DT Dillon Zacharias, an underrated presence who can be a game-changer on the defensive line. At 6-3 and 270 pounds, Zacharias is getting looks from Northern Colorado, Eastern Washington, Montana and Montana State.
Bet you didn't know: Cherokee Trail has only been in existence since 2003. This is the program's eighth varsity football season. Thelen is proud of the fact that his team will be featured on national television after only eight seasons.
VS.
MULLEN MUSTANGS
Coach: Dave Logan
Record: 1-1
Team overview: Mullen is looking to bounce back after having an impressive, 34-game winning streak come to a halt last week against Grandview (Colo.). Mullen is the three-time defending Colorado Class 5A state champion.
Prospect history: Mullen has a rich, athletic history of former college standouts who went on to have professional careers. Bengals TE Bo Scaife (Texas), former Bears and Colts DB David Tate (Colorado) and former Redskins and Browns LB Chester Burnett (Arizona) all have donned Mullen jerseys. Many former players will return to Mullen, as this is the team's homecoming game.
Top prospect: Four-star, dual-threat QB Cyler Miles possesses size, excellent speed, a great arm and a will to win. Miles also is accurate, throwing for 20 touchdowns and only two interceptions as a junior. Miles gave a verbal pledge to Washington this summer and is expected to be a solid college athlete.
New face: Rising junior LB Patrick Healy is a major contributor on an underrated Mullen defensive unit that has allowed only one touchdown this season. Healy has a nose for the ball, and he likes hitting opposing players.
Other prospects: Three-star OT Arthur Flores and three-star DT Tyler Hennington, who have committed to San Diego State and Colorado, respectively, offer senior leadership and provide a blue-collar attitude to the team.
Bet you didn't know: Mullen's last loss prior to its streak ending was in 2008. Ironically, it was to the same team that beat it last week, Grandview.
CHEROKEE CREEK VS. MULLEN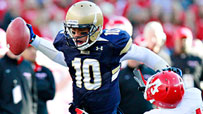 A clash of two Rocky Mountain warriors will take place as Mullen (Colo.) hosts Cherokee Trail (Colo.) Thursday (ESPNU, 7:30 p.m. ET).
Colorado Showdown
•
Preview
•
Five things to know
•
Miles honored to play on ESPNU
•
Coach Thelen excited for game