Commentary
De La Salle vs. St. Thomas Aquinas
Originally Published:
September 22, 2011
By
ESPN Recruiting
| ESPN.com
Two of the nation's top teams face off when No. 3 Concord (Calif.) De La Salle visits No. 2 Fort Lauderdale (Fla.) St. Thomas Aquinas (ESPN2, 8 p.m. ET).
DE LA SALLE SPARTANS
Coach: Bob Ladouceur
Record: 2-0
Team overview: De La Salle returns 10 starters from a team that cruised to another unbeaten season a year ago and beat a very good Anaheim (Calif.) Servite 48-8 in the state championship. The Spartans are 2-0 on the year and ranked No. 3 in the nation in the Fab 50. They struggled in their season opener, winning in double overtime against San Jose (Calif.) Bellarmine 26-23 after the Bells missed an extra point in the first overtime that could have given them the win.
Prospect history: The Spartans have produced some of the finest players to ever come out of California. Here is a list of some of the top prospects who played for DLS and where they ended up after high school.
Top prospect: Quarterback Bart Houston (6-foot-3, 200 pounds) is the No. 15 signal-caller in the nation and the No. 23 player in the state. He had a very good showing at the Elite 11 QB camp in the summer and committed to Wisconsin after also considering UCLA, Washington, Utah and Colorado.
New face: After seeing limited action as a sophomore, RB Tiapepe Vitale (5-10, 195 pounds) is poised for a breakout junior season. He's currently the team's leading rusher with 187 yards and two touchdowns, despite sharing the backfield with two other players.
Keep an eye on: LB Michael Barton (6-foot, 200 pounds) is the No. 19 OLB in the nation and the No. 27 player in the state. He committed to Cal over offers from USC, UCLA, LSU, Arizona State, Washington and a host of others. He's the top defensive player on the team and has 21 tackles and a sack on the year.
Other prospects: Junior LB Michael Hutchings (6-1, 205) is on the ESPNU Watch List and one of the most heavily recruited juniors in the nation. Offers have come in from Arizona, Cal, Colorado, Miami, Michigan, Tennessee, UCLA and USC, just to name a few. Junior WR Anthony Williams (6-0, 185 pounds) led the team in catches and yards last season and is the most explosive player on the team. He returned a punt 90 yards for a TD in Week 1. DB Josh Jenkins (5-10, 180 pounds) is a three-year starter at corner. Junior LB David Moffitt (6-2, 200 pounds) hasn't gotten the hype of fellow junior Hutchings, but he has been the team's best defensive player, according to the coaches.
Bet you didn't know: From 1992-2004, the Spartans never lost a game. Their 151-game winning streak is a national record and considered close to unbreakable.
VS.
ST. THOMAS AQUINAS RAIDERS
Coach: Rocco Casullo
Record: 2-0
Team overview: St. Thomas Aquinas has been the premier program in Florida for much of the last two decades. The Raiders have won six state championships and were state runners-up on six other occasions. Aquinas has won 58 of its last 60 games.
Prospect history: Well, start with Pro Football Hall of Famer Michael Irvin and women's tennis great Chris Evert -- both proud alums. The school's home stadium is named after Brian Piccolo, former fullback for the Chicago Bears and subject of the book and movie "Brian's Song." For more, check out this list of the top football players to come from St. Thomas Aquinas.
Top prospect: Four-star defensive lineman Jelani Hamilton committed to Miami over the spring. The 6-foot-4, 250-pounder has battled injuries so far this season but is near full health for Friday's game.
New face: Linebacker Bryan Cox shares the name of his dad, a former NFL All-Pro who moved to the area after accepting a coaching job with the Miami Dolphins. In Aquinas' 34-31 victory, Cox had a 61-yard interception return that set up a short touchdown.
Keep an eye on: Rising junior running back Fred Coppet went from relative unknown to breakout star late last season. He rushed for over 100 yards and a touchdown in Aquinas' victory over Prattville (Ala.) three weeks ago.
Other prospects: Other prospects include running back Dami Ayoola (5-8, 190), who has offers from Kentucky, Illinois, Wisconsin, South Florida, Boston College, UCF and a host of others. Cornerback Joseph McClary (5-9, 165) has an offer from Texas Tech. Junior defensive lineman Joey Bosa has offers from Alabama and Florida State already.
Bet you didn't know: Aquinas has been on the ESPN family of networks five times and won each game.
SPONSORED HEADLINES
MORE COLLEGE FOOTBALL HEADLINES
MOST SENT STORIES ON ESPN.COM
No. 3 DE LA SALLE at No. 2 ST. THOMAS AQUINAS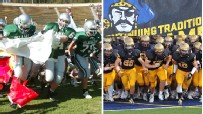 Two of the nation's top premier programs clashed when Fort Lauderdale (Fla.) St. Thomas Aquinas beat Concord (Calif.) De La Salle 30-6.

Best of the best
•
Long: Defensive stars top STA-DLS notebook
•
Long: Matchup long overdue
•
When Smith, Ladoucer talk, it's worth listening
•
De La Salle at St. Thomas Aquinas preview
•
ESPNHS: Past is prologue at STA
•
All-time top 15 players from St. Thomas Aquinas
•
All-time top 15 players from De La Salle
•
ESPNHS: DLS-STA by the numbers
•
ESPNHS: Fab 50 weekend primer
•
Recruiting Nation video: Who to watch