Shane Morris wears his emotions
The Michigan QB commit's bracelets show there's more to him than just a big arm
Originally Published:
July 6, 2012
By
Mitch Sherman
| ESPN RecruitingNation
BEAVERTON, Ore . -- Shane Morris committed to Michigan 14 months ago, before most of the Wolverines' 2012 class.
He helped lure many of the players, in fact, who will start their careers in Ann Arbor as freshmen next month.
[+] Enlarge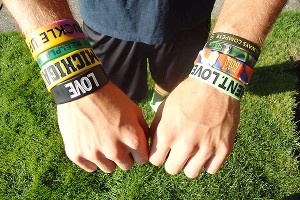 Mitch Sherman/ESPN.comShane Morris' bracelets speak volumes about the kind of person he is.
The quarterback out of Warren (Mich.) De La Salle Collegiate is a celebrity with a fast-growing audience -- more than 13,000 followers on Twitter. Morris touts his love for "Glee" and of Carly Rae Jepsen's smash-hit, teenybopper single "Call Me Maybe."
In the world of football recruiting pop culture, Morris waves the banner. And happily.
"He loves to enjoy people," said Shane's father, Bruce Morris. "He loves people. He loves being around people. He's a guy who walks in a room with 30 people he doesn't know, and he leaves knowing everyone."
He's the flagship recruit in Michigan's No. 1-rated class of 2013 pledges, seven of whom are suited up this week at The Opening.
That much, you already knew.
What you don't know about Shane Morris, though, might make you think twice about judging him.
The oldest of Bruce and Jennifer Morris' three children, Shane wears his heart on his sleeve. Well, actually, on his wrists. Morris never removes the eight bracelets that capture the essence of him.
Michigan Men

BEAVERTON, Ore. -- They wear matching T-shirts on the bus. Arrange chat sessions on their iPhones. There's a movement in place for the seven Michigan recruits in attendance at The Opening to perform a song this weekend.
"We've got to have a meeting about that," quarterback and ringleader Shane Morris said.
Song or no song, this collection of future Wolverines came together through no gimmick. Call it good, old-fashioned recruiting momentum instigated by second-year coach Brady Hoke and his staff on the heels of an 11-2 season.
"We came together because we're all similar minded," offensive guard Kyle Bosch said. "Michigan recruits a certain kind of guy."
This year, that certain kind of guy generally comes with a high ranking. Among those UM commits at The Opening, David Dawson ranks as the nation's No. 1 guard, Morris as the No. 4 pocket-passer QB, Jake Butt as the No. 5 tight end, Bosch as the No. 5 guard, Mike McCray as the No. 9 outside linebacker, Taco Charlton as the No. 10 defensive end and Jourdan Lewis as the No. 11 cornerback.
As a group, the Wolverines' 22 commitments rank No. 1.
"It's a lot of cool guys who are easy to get along with," Dawson said.
He was among the six who committed on Feb. 18, a magical day on campus as the Michigan men's basketball team defeated sixth-ranked Ohio State at the Crisler Center -- with most of the football recruits in the house.
"It was crazy," Morris said. "That day was just insane."
The first of many in Ann Arbor, perhaps, that feature this group of players.
-- Mitch Sherman
Atop the stack on his left wrist, a white band with black letters reads: "Love Is The Movement." The message represents a campaign to deter teen suicide. Morris got it a couple years ago, he said.
Ten days ago, one of Morris' best friends from Hazel Park Junior High committed suicide. They used to play basketball together. His friend was 19 years old. Morris was stunned. He heard about it from a mutual friend. Morris said he nearly dropped the phone.
Before he left home for Oregon, the quarterback attended a bowling fundraiser this week to help the young man's family.
"It's rough," Morris said. "I don't know what to say."
But Morris knows what to do. Almost always, it seems, he knows what to do. He'll support the cause. He's getting another bracelet, this one to commemorate his friend.
Morris will push forward with the relentlessly positive approach that has won over so many, including most of the Wolverines' current class of recruits.
"He's so energetic, so passionate about Michigan," said fellow pledge Kyle Bosch, an offensive guard from Wheaton, Ill. "I think he's going to be Tom Brady reincarnated."
So much for keeping expectations in check.
Morris said he knows it comes with the territory. By the time he enrolls at Michigan, he'll have been part of the program, unofficially, for more than two years.
"People expect me to do great things," Morris said. "I expect to do great things, to win championships. That comes with the position, playing quarterback at a place like Michigan. There are going to be 115,000 to 120,000 in the stadium, every weekend.
"There's an expectation that comes with that."
So far, he looks up to the challenge. The 6-foot-3 Morris sits 32nd in the ESPN 150 and fourth among pocket-passer quarterbacks. He threw for 19 touchdowns and more than 1,600 yards as a junior.
He also punts for De La Salle. On Friday during the Nike Football Training Camp portion of The Opening, Morris caught post routes from the likes of Tyrone Swoopes and Christian Hackenberg. By the end of the drill, Morris jokingly professed his desire to switch positions.
You might say he can do it all.
"That's an understatement," Bosch said. "But it's cool. Everybody knows who he is. No one really knows the lowly offensive lineman, so it's good for me to hang out with him."
When the Michigan offer arrived from newly hired coach Brady Hoke in the spring of 2011, Morris waited about two months. Really, there was little doubt.
"You could see there was something special about [Hoke]," Morris said. "I did things a little differently, committing so early, but I knew it was the right fit. It's Michigan. It's home."
His collection of bracelets includes one that pays tribute to the Wolverines, another that displays the slogan for his high school team this fall: "Buckle Up."
Beneath the suicide-prevention message on his left arm, Morris wears a bracelet that honors "Jesse's Journey," the story of a Michigan boy who is battling leukemia.
One bracelet simply reads: "Love."
Most high school kids would shy away from making such a statement. Then again, most high school kids aren't Shane Morris.
"He wears his heart on his sleeve," Bruce Morris said. "Shane's emotional. You'll see it this weekend if you watch him play.
"It's probably one of his best values. And it can be one of his worst, too."
College Football
Nebraska/Big Ten/Recruiting reporter.
Joined ESPN in 2011.
Graduated from the University of Nebraska.
SPONSORED HEADLINES
MORE COLLEGE FOOTBALL HEADLINES
MOST SENT STORIES ON ESPN.COM
THE OPENING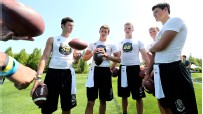 Many of the nation's top prospects battled it out at The Opening at Nike Headquarters.
Day 4
• Luginbill and Haubert: Who stood out


• Luginbill: QB, RB, WR review


• Luginbill: LB, DB review


• NFL stars teach more than just football
• Linemen get downright nasty at The Opening
• Day 4 notebook


• Lone reps from schools represent
• ESPN 150 LB Anzalone picks Notre Dame


• Four-star WR Jenkins picks Clemson


• Worst part about being recruited


• Strange things fans say


• Morris-Swoopes battle


• Hackenberg and Morris battle it out


• Browne-Hackenberg meet


• OL-DL one-on-ones: Morning session

Day 3
• How much is too much for recruits to ask for?
• Mitchell keeps low profile, but coming up big
• Day 3 notebook


• Henry, Kamara on a similar path
• Players impersonate coaches


• Hutchings groomed for success


• Day 3 one-on-ones: OL vs. DL


• WR Samples commits to Oklahoma State
• ESPN 300 OT Hunt picks Cal