What recruits really want
Ask players what they look for in a college, and the answers might surprise you
Originally Published:
July 11, 2012
By
Mitch Sherman
| ESPN RecruitingNation
BEAVERTON, Ore. -- O.J. Howard, the nation's No. 2 tight end prospect, has heard almost every pitch in recruiting.
The guarantee from one school that he would start immediately. A promise from another that he would catch a certain number of passes. Assurances that his talents would take him quickly to the NFL.
You want to know what Alabama coach Nick Saban promised Howard? Nothing. When they last talked, Saban asked Howard about his baseball team and told the rising senior at Prattville (Ala.) Autauga Academy to say hello to his parents.
Chris Hawkins (Rancho Cucamonga, Calif./Rancho Cucamonga), on a visit to Stanford, watched his high school film with coach David Shaw. In the middle of the viewing, in walked several assistant coaches. Hawkins said one tempted him with this: "Do you want that here? Do you want to start here?"
Questions And Answers
RecruitingNation surveyed players at The Opening on the factors that shaped their recruiting experiences. A sampling of the questions and answers:

Who, aside from you, does a coach need to most impress to land your commitment?

More than 75 percent of the players named their parents, with a slight advantage to mom over dad for those who named only one parent. Others included an older brother, cousin and high school coach.

"My mom and grandma. They're really good at reading people. I always trust their opinions."
-- Georgia athlete commit Tramel Terry (Goose Creek, S.C./Goose Creek).

Rank the following factors in order of importance: academics, football tradition, facilities.

An overwhelming 94 percent ranked academics first. Of those, three-quarters placed tradition second. Facilities, while important to many of the prospects, ranked a clear third.

Does the location of the school impact your decision?

Split almost down the middle. Fifty-six percent said location is not important.

"It's huge for my family to be able to come watch me."
-- Michigan quarterback commit Shane Morris (Warren, Mich./De La Salle).

Has social media and technology impacted your recruiting experience?

A decisive majority -- 69 percent -- said yes, it's an important factor.

"Even now that my decision is made, I'll receive messages every day from college coaches. And it's not just one; it's three or four. It gets crazy. It was fun at first, but it got hectic."
-- Cal offensive tackle commit Cameron Hunt, (Corona, Calif./Centennial).

If the coaches who recruited you to the college you select left, would you change your commitment?

Just 19 percent said they would bolt with departing coaches. The others, apparently, intend to pick a school for reasons other than coaching.

"That's exactly what I'm looking for -- the school I like for reasons other than the coaches. You can't rely on coaches. Coaches can get fired like that."
-- Undecided cornerback Vernon Hargreaves III, (Tampa, Fla./Wharton).

Hawkins ultimately committed to USC because of his relationship with secondary coach Marvin Sanders, who never even so much as encouraged the cornerback to pick the Trojans.
"He was acting more like a father to me," Hawkins said. "He's just like me. We listen to the same kind of music. We laugh at the same things. He just told me to find the best fit for me."
The sentiments of Howard -- a centerpiece of the Crimson Tide's third-ranked 2013 class -- and Hawkins represent the majority of recruits.
Last week as approximately 150 of the top prospects gathered at The Opening, RecruitingNation sought an answer to the age-old question in recruiting: What do kids want in a college?
Surely, in today's era of immediate communication and instant gratification, the desires of premier recruits would reflect the changing times.
Not so much, the results say. The football players interviewed largely said they seek the same reliable comforts in a college program that have served top coaches well for decades.
Highest on the list of priorities were relationships, chemistry and a family feel among the current players and coaches, in addition to strong academic support.
"I wanted a place I could feel like I'm at home," tight end Marcus Baugh said.
Baugh, of Riverside (Calif.) John W. North, committed to Ohio State, calling the Buckeyes his "dream school."
The moment in recruiting that has most impressed Prosper (Texas) High School uncommitted receiver Torii Hunter Jr.? When Iowa told him of its strong graduation rates for football players.
"If sports doesn't work out, I'm going to need a Plan B," said Hunter Jr., MVP of the seven-on-seven tournament at The Opening.
Hunter Jr., also a baseball star and the son of Los Angeles Angels outfielder Torii Hunter, is considering both sports in college. Hunter Jr. said the best advice he's heard in recruiting came from Stanford baseball assistant Dean Stotz.
"He told me picking a college is like picking your wife: You've got to stick with it your whole life," Hunter Jr. said. "So be like a lawyer and read the fine print."
OK, so perhaps that's a new twist on recruiting.
The best experience for Alabama quarterback pledge Cooper Bateman (Murray, Utah/Cottonwood), though, was simple and straightforward.
Bateman toured LSU, Auburn, Alabama and Florida during a busy spring trip.
"In no way did Alabama try to lay out the red carpet, which was great," Bateman said. "Other schools did. I'm not going to single anybody out, but some places had girls with me the whole time. I don't really see how that's going to persuade someone.
"Some of the things they said, promises they made, it's far out there."
Top-rated receiver Ricky Seals-Jones (Sealy, Texas/Sealy) committed to Texas in February, then decommitted in June. He's considering offers that include UT, Oregon, Texas A&M, Baylor, Oklahoma, Notre Dame and LSU.
Seals-Jones does not count Alabama among his favorites, but a phone conversation with Saban ranks near the top of his most memorable encounters.
In fact, Saban's name surfaced more than any in discussions with players at The Opening about the most impressive coaches they had encountered.
And let's just say he's not into sugarcoating his message.
"He told me, 'If you want to come to Alabama, you can. If not, so be it,' " Seals-Jones said. "I was like, 'Whoa, I wasn't really expecting that one.' It shows me that he doesn't beat around the bush."
Of course, not every coach can be Nick Saban. Bateman said he once spent 30 minutes on the phone with the Alabama coach.
"I didn't really get the chance to say much," Bateman said.
His most important factor in choosing the Crimson Tide involved offensive coordinator Doug Nussmeier -- not Saban. Those relationships mean so much.
It's a big part of the reason linebacker Alex Anzalone (Wyomissing, Pa./Wyomissing) committed to Notre Dame last weekend. Anzalone pledged to Ohio State in April while in Columbus for the Buckeyes' spring game. He backed out of the commitment in May and waited two months to decide on the Irish.
When Anzalone looked closely at his finalists -- Notre Dame, Penn State and Florida -- it all made sense, he said, for many of the same reasons kids picked their programs 20 years ago.
"Your first impression of a school does have an impact," Anzalone said. "But once you get down to the nitty-gritty, that stuff wears off and you see what's really important."
College Football
Nebraska/Big Ten/Recruiting reporter.
Joined ESPN in 2011.
Graduated from the University of Nebraska.
THE OPENING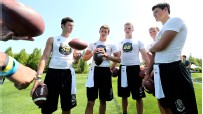 Many of the nation's top prospects battled it out at The Opening at Nike Headquarters.
Day 4
• Luginbill and Haubert: Who stood out


• Luginbill: QB, RB, WR review


• Luginbill: LB, DB review


• NFL stars teach more than just football
• Linemen get downright nasty at The Opening
• Day 4 notebook


• Lone reps from schools represent
• ESPN 150 LB Anzalone picks Notre Dame


• Four-star WR Jenkins picks Clemson


• Worst part about being recruited


• Strange things fans say


• Morris-Swoopes battle


• Hackenberg and Morris battle it out


• Browne-Hackenberg meet


• OL-DL one-on-ones: Morning session

Day 3
• How much is too much for recruits to ask for?
• Mitchell keeps low profile, but coming up big
• Day 3 notebook


• Henry, Kamara on a similar path
• Players impersonate coaches


• Hutchings groomed for success


• Day 3 one-on-ones: OL vs. DL


• WR Samples commits to Oklahoma State
• ESPN 300 OT Hunt picks Cal

MORE COLLEGE FOOTBALL HEADLINES
MOST SENT STORIES ON ESPN.COM