Clairton's "Killer T's" leading the way
Originally Published:
July 31, 2012
By
Jared Shanker
| ESPN RecruitingNation
CLAIRTON, Pa. -- This feature is brought to you by the letter "T."
The "T" is referring to Clairton (Pa.) prospects ATH Tyler Boyd, CB Titus Howard and ATH Terrish Webb. The trio was dubbed the "Killer T's" by coach Tom Nola during the preseason camp before the 2011 season and the way the three of them combine to carve up and shut down opponents, the name is fitting. However, that isn't where the nickname originates.
"We were all in at the same time and he was getting confused with our names," Webb said, "so he just started calling us the Killer T's."
[+] Enlarge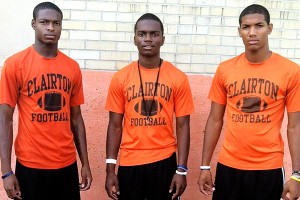 Jared Shanker/ESPN.comTitus Howard (left), Terrish Webb (center) and Tyler Boyd make up the Killer T's at Clairton High School.
The name stuck, as the three of them are always together. Whether it is going to practice, playing basketball or working out at a local gym to get in some extra work, the Killer T's more closely resemble the Three Amigos.
"We're like brothers," said Howard, who has played with Boyd and Webb since he was 8 years old.
It does not hurt that they are the three biggest pieces of Clairton's team this year as the Bears look to successfully defend their Western Pennsylvania (WPIAL) and state titles. Boyd is ranked No. 161 overall in the 2013 class, Howard is committed to Pitt and Webb has a handful of FBS offers.
The Bears will lean on those three even more heavily this year than ever before.
"We just have to come up with ways to get those three the ball. They're our three best players," Nola said. "Those three, because of their talent, make it easy for us."
Making plays is nothing new for the Killer T's. This offseason, though, Nola challenged them to be team leaders, too. All three have been receptive and were the first to show up for offseason conditioning on a Tuesday afternoon in the middle of an East Coast heat wave.
Boyd, ranked No. 7 in Pennsylvania and a West Virginia lean, said it's all worth it, especially if Clairton can win its fourth straight WPIAL championship and state title.
"That would be the greatest one because we got three states and three WPIALs," said Boyd, who has also helped Clairton set a WPIAL record with 47 straight wins. "To get all four my senior year, we would be the only class to get four in both, in Clairton history.
"The last class got three states and four WPIALs. We'd be the top class here."
The Bears' remarkable streak, especially for a program that routinely competes with fewer than 30 players on the roster, would have ended last season in the championship game against perennial power Southern Columbia if not for the Killer T's.
Boyd ran for two long touchdowns in the final quarter. He barely had time to catch his breath after the first touchdown when he was asked to go out and run for another breathtaking score. He also almost scored in the first half, but was stopped at the 1-yard line after a 55-yard gain.
"He does that all the time," Nola said. "He usually does that every game. … He did the same thing in the state championship game his sophomore year."
Boyd would not have been in position to score those game-winning touchdowns in the fourth quarter if not for Webb, who tallied the Bears' first two scores. Webb, who has a handful of FBS offers after a breakthrough junior season, caught touchdowns of 88 and 65 yards in the championship.
"He had a fantastic junior year, and he didn't do much his sophomore year," Nola said. "He was real consistent all year long, and he's got the best grades on the team."
As for Howard, Nola said he did not do much in the championship game, but that is through no fault of his own. Howard locked down Southern Columbia's top receiver and rarely saw the ball come his way.
"He's our main cover guy. They stayed away from him. The couple times they went to his side he defended it and locked it down," Nola said. "They didn't run to his side much; they didn't pass to his side much."
With another undefeated season and championship, those three will have put Clairton in the discussion for the greatest WPIAL dynasty of all time, as the Bears will have matched Braddock's five straight WPIAL titles, which it accomplished in the 1950s.
"Everybody, including themselves, coaches, fans, the school and people in the community, they all expect even bigger things this year," Nola said.
RecruitingNation
Jared Shanker covers recruiting in the Midwest.
Email him at jshankerespn@gmail.com.
SPONSORED HEADLINES
MORE COLLEGE FOOTBALL HEADLINES
MOST SENT STORIES ON ESPN.COM