Breaking down the athletes
Originally Published:
April 2, 2013
By
RecruitingNation
| ESPN.com
Here's a look at the athletes our scouts have evaluated. While grades, stars and rankings are still to be determined, after watching hours of film our scouts were able to break down these players. We highlight the players who have already committed, but also list the undecided players who have evals done below. They are listed in alphabetical order.
Our scouts' work is not done and every day they are adding more evaluations into the recruiting database, so keep checking back for more.
---
ATH Jimmy Bayes
Immokalee, Fla./Immokalee
College: South Florida
Bayes is a man without a home. He is a S/OLB tweener playing as a wide rush defensive end and he is so athletically gifted that he can function at this level in that role full time. However, he is a hybrid guy. He's tall, lean, rangy and has long arms -- looks like a high-point safety or big wide receiver. He sees action on offense, too. He is very agile and nimble. He flashes very good first-step quickness and can really explode off the ball. He displays nice upside as a pass-rusher, though he seems a bit raw at this point. With his nice burst he is able to quickly get on top of blockers and transfer that initial speed to power and knock tackles out of their cylinder. He can be violent with his hands and when he knocks the blocker off-balance he can push him aside.
Complete eval

---
ATH Byron Bullough
Traverse City, Mich./Saint Francis
College: Michigan State
Bullough has deep football bloodlines and he might be the most versatile of the group. A very solid football player with a passion for the game that shows between the white lines. He lines up just about everywhere on both sides of the ball and on special teams. He might get recruited at multiple positions and his continued physical development may dictate his ultimate position in college. Smart, aggressive and a reactive athlete. He's tall and has a leaner, muscular frame that has the shape of a strong safety.
Complete eval

---
ATH Cameron Denson
Tucson, Ariz./Salpointe Catholic
College: Arizona
Denson is a wide receiver or cornerback playing as a dual-threat Wildcat QB and is clearly head and shoulders above the rest of the competition. Played wide receiver and cornerback as a sophomore. He is a lean, dynamic playmaker with a wiry, but flexible frame. Flashes some natural strength, but needs to get into the weight room and develop both lower and upper body strength.
Complete eval

---
ATH Davion Hall
Texarkana, Texas/Liberty-Eylau
College: Baylor
This is an impressive athlete on the hoof. Hall has a solid, stoutly-built frame and is muscular. Displays good playing strength at this stage. Is a legitimate candidate to play on either side of the ball as a safety or wide receiver. Flashes long speed, especially given his size.
Complete eval

---
ATH Ja'Von Harrison
Lakeland, Fla./Kathleen
College: Virginia Tech
When you consider Harrison's size, you really gain an appreciation for his agility, speed and overall movement skills. Has great height and good bulk with very good playing strength and competitive speed. He possesses explosive reactions and quickness, especially for a tall, young athlete. Plays as a safety/corner hybrid and wide receiver, where he has more experience and a natural feel for the offensive side of the ball. Tough, hard-nosed competitor on both sides of the ball.
Complete eval

---
ATH Nick Harvey
Richmond, Texas/William B. Travis
College: Texas A&M
Harvey is a speedy and explosive weapon with positional versatility and a penchant for making big plays in all three phases of the game. He has better-than-average height and layered bulk -- looks like a safety/corner blend. Playing strength and top-end speed are very good and he shows flashes of excellent top-end speed. Shows good quickness combined with very good acceleration and the short-area burst you like to see at corner. Reacts quickly to what he sees and has a playmaker's attitude on both sides of the ball.
Complete eval

---
ATH Jalen Hurd
Hendersonville, Tenn./Beech Senior
College: Tennessee
Hurd is something of a combination of 2013 prospects Thomas Tyner, who signed with Oregon, and Ty Isaac, who signed with USC. He is a tall, straight-line runner with a lengthy, muscular frame and very good top-end speed. He perhaps has better measurables than a natural RB skill set. He lacks the compact, low center of gravity build sought after in college backs. Hurd is more of an upright slasher who is at his best when he has a vertical crease to hit and does not have to make yards on his own.
Complete eval

---
ATH J.C. Jackson
Immokalee, Fla./Immokalee
College: Florida State
This is one of the more speedy and explosive offensive perimeter players in this class. Jackson possesses above-average height on a frame that still needs to add more mass and strength. Shows the ability to get behind the defense on vertical routes and eats up cushion rapidly off the line. Shows very good initial quickness, actually flashes downfield quickness in stride and shows a second-gear burst he can hit to run under the football or split defenders.
Complete eval

---
ATH Rahshead Johnson
Long Beach, Calif./Jordan
College: Washington
Johnson is the type of player who could literally be a legit threat on both sides of the ball. Has above-average height and bulk for the wide receiver/cornerback positions, although he does look a bit shorter than his listed measurables. Is a fluid and explosive player with very good top-end speed. Recognizes run/pass quickly and reacts well as a cornerback. Catches the ball consistently as a WR, not always in his hands, and has shown the ability to attack the ball, especially at corner.
Complete eval

---
ATH Bo Scarbrough
Tuscaloosa, Ala./Northridge
College: Alabama
Big, strong, athletic and straight-line fast with impressive ball skills, Scarbrough is one of the more physically gifted and impressive athletes this class has to offer. He could get recruited at multiple positions in college, but might fit into a hybrid RB/H-back role on offense. He has a strong, powerful frame as a running back with deceptive lateral agility and quickness. He's well-built but his tall and somewhat high-cut frame draws concern from a durability standpoint as does his upright running style, but he has very good feet and can effectively pick and stab his way through traffic to avoid the direct hit.
Complete eval

| Highlights

---
ATH Jay Scheel
La Porte City, Iowa/Union
College: Iowa
Based on the offensive scheme, Scheel could remain at quarterback, especially if there is a heavy run influence from under center. Athletically he could very well get moved to wide receiver if scheme determines that is a better fit. Has adequate height, lean mass and athletic build. Shows excellent mobility. Extends plays and is productive as a passer and runner and makes good option decisions. Poised and very much in control of the game as a featured player.
Complete eval

---
ATH Jordan Thomas
Klein, Texas/Klein Collins
College: Northwestern
Thomas displays the quickness and athleticism to make big plays in all three phases of the game. A well-rounded prospect who has experience at both corner and safety in the secondary and that scheme versatility will be valued as a prospect. Productive on offense, as well. He can turn a screen or short pass into a big gain at receiver or be utilized as a punt returner to gain positive yards. Displays average height on a leaner-looking frame.
Complete eval

---
ATH Devin Voorhies
Woodville, Miss./Wilkinson County
College: LSU
Voorhies is all athlete, but very little structure as a dual-threat QB who is really dynamic as a player. He is a wide receiver in the making and has limited snaps that offer a nice glimpse into his upside as a pass-catcher. Good size and frame for either position. Quickly jumps to top speed and that is impressive for his size. Needs to add functional strength to his frame, which will come in time. He is functional as a passer, but targets have to make a lot of plays for him. Is at his best improvising and creating. An athlete who tucks it and runs. Plays with good poise and toughness.
Complete eval

---
ATH Vic Wharton III
Nashville, Tenn./Independence
College: Tennessee
Wharton is a jack-of-all-trades player as a Wildcat weapon on offense as well as spending significant time on defense at corner and on the perimeter offensively as a wideout. He is ultra-versatile and one of those players you can't help but like. Possesses a leaner, muscular frame with adequate height. Wiry frame will need to add bulk and strength, but he's a quick-twitched athlete. Possesses very good speed and acceleration.
Complete eval

---
ATH Jaleel Wadood
Bellflower, Calif./Saint John Bosco
College: Arizona State
Wadood is a versatile, quick-twitched athlete with a very high upside. He might end up being a late bloomer and a great steal for a lower BCS program. Has a taller frame with good length, but he is slight in stature and has a lot of room for continued physical development. He is tightly wound, which allows him to play bigger than his listed measurables would suggest. Runs well, with very good closing speed, but appears to be quicker than he is fast. He still covers a lot of ground on the football field -- he's a sideline-to-sideline player and brings a lot of range to the table as a defensive back.
Complete eval

| Highlights

Undecided athletes with evals
•
Myles Autry
•
Evan Berry
•
Ronnie Clark
•
Jeff Farrar
•
Quinton Flowers
•
Deionte Gaines
•
Cortavious Givens
•
Terry Googer
•
Jamoral Graham
•
Dravon Henry
•
Treon Harris
•
Kiy Hester
•
Adoree' Jackson
•
Demetrius Johnson
•
Chris Lammons
•
Marshon Lattimore
•
Johnathan Lloyd
•
Christian McCaffrey
•
E.J. Moss
•
Charles Nelson
•
Montae Nicholson
•
Speedy Noil
•
Malkom Parrish
•
Jabrill Peppers
•
Brandon Powell
•
Michiah Quick
•
Nicholas Ruffin
•
John Smith
•
Stanton Truitt
•
Troy Vincent Jr.
•
Marquis Ware
•
Tyler Whiley
•
Juwann Winfree
2014 Player Evaluations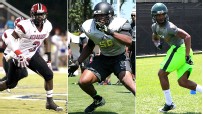 After watching countless hours of game tape, our scouts have already compiled hundreds of player evaluations, including well over 200 players who are on the ESPN Watch List.

Database | ESPN Watch List