Breaking down the top ACC commits
Originally Published:
May 7, 2013
By
RecruitingNation
| ESPN.com
Here's a closer look at the top players committed to ACC programs. They are listed by their grade and overall player ranking.
Our scouts' work is not done. Every day they are adding more evaluations into the recruiting database, so keep checking back for more.
---
S Quin Blanding
Virginia Beach, Va./Bayside
College: Virginia
ESPN 150 rank: 11 | Position rank: 1 | Stars: 5 | Grade: 90
A two-way athlete with impressive skill sets at both receiver and safety, Blanding, we feel, will end up on the defensive side of the ball in college and will likely be an early contributor. He's versatile and doesn't have many limitations as a back-end defender. The game really comes easily to this player, as he often makes big, momentum-changing plays that appear effortless. He possesses a great blend of size, range, athleticism and ball skills as a high-point safety. What makes Blanding so attractive as a college prospect is his well-rounded skill set at the position and potential to be an interchangeable free or strong safety depending on need and scheme. He has ideal size, with a tall, muscular frame that should continue to fill out and could get above the 200-pound range in college while retaining his great range and athleticism.
Complete eval

---
QB-DT Deshaun Watson
Gainesville, Ga./Gainesville
College: Clemson
ESPN 150 rank: 13 | Position rank: 1 | Stars: 4 | Grade: 88
Watson is very reminiscent of Class of 2012 signal -caller Jameis Winston, who signed with FSU, both in stature and style. Watson has good height and is slender, with better-than-average efficient movements. He possesses average strength at this stage but with the upside to really bulk up. He is a very savvy and confident player with a nice feel for the game and a presence for what is going on around him. He's poised and calm.
Complete eval

| Highlights

---
RB Joseph Yearby
Miami/Miami Central
College: Miami
ESPN 150 rank: 18 | Position rank: 3 | Stars: 4 | Grade: 87
One of the more explosive and elusive backs this class has to offer, Yearby is a big play waiting to happen every time he touches the ball. Has gifted feet and body control. He's built low to the ground, with a compact, muscular build that is tightly wound and extremely fast-twitched, making him very difficult to wrap up cleanly. Explosive back who can turn even the smallest crease of daylight into a big gainer.
Complete eval

| Highlights

---
ILB Kain Daub
Jacksonville, Fla./Sandalwood
College: Florida State
ESPN 150 rank: 36 | Position rank: 2 | Stars: 4 | Grade: 85
Daub is a big, fast and physical inside linebacker who already looks the part of a major college ILB. Very active and productive football player -- not just an inside plugger. He's a heavy hitter who has big-play burst as well as sideline-to-sideline range, but his best attributes might be his downhill attack skills as both a run-filler and pass-rusher. He's a man among boys from a physical standpoint.
Complete eval

| Highlights

---
ATH J.C. Jackson
Immokalee, Fla./Immokalee
College: Florida State
ESPN 150 rank: 48 | Position rank: 4 | Stars: 4 | Grade: 84
This is one of the more speedy and explosive offensive perimeter players in this class. Jackson possesses above-average height on a frame that still needs to add mass and strength. Shows the ability to get behind the defense on vertical routes and eats up cushion rapidly off the line. Shows very good initial quickness, actually flashes downfield quickness in stride and shows a second gear burst he can hit to run under the football or split defenders.
Complete eval

---
OT Kc McDermott
Wellington, Fla./Palm Beach Central
College: Miami
ESPN 150 rank: 52 | Position rank: 6 | Stars: 4 | Grade: 84
McDermott is the third in the line of some good O-line prospects from his family in recent years, and the 2014 edition is the biggest and arguably the most promising of the group. His older brothers were interior guys, but Kc should find a home at tackle with very good height and a solid build, with room to still add more needed good mass with time in a college weight program. He has room to improve his playing strength but is a fairly strong, mauling run blocker.
Complete eval

| Highlights

---
ATH Ja'Von Harrison
Lakeland, Fla./Kathleen
College: Virginia Tech
ESPN 150 rank: 84 | Position rank: 11 | Stars: 4 | Grade: 84
When you consider Harrison's size, you really gain an appreciation for his agility, speed and overall movement skills. Has great height and good bulk with very good playing strength and competitive speed. He possesses explosive reactions and quickness, especially for a tall, young athlete. Plays as a safety/corner hybrid and wide receiver, where he has more experience and a natural feel for the offensive side of the ball. Tough, hard-nosed competitor on both sides of the ball.
Complete eval

---
OLB Delvin Purifoy
Pensacola, Fla./Pensacola Catholic
College: Florida State
ESPN 150 rank: 106 | Position rank: 6 | Stars: 4 | Grade: 83
Purifoy is an explosive, fast-pursuing linebacker prospect with a high ceiling when projecting for the college level. He could get recruited to play inside or outside depending on his continued physical development and improved coverage skills. Tall, long and rangy, he has a great frame to fill out. He has wiry strength but lacks a lot of power from his hips and lower body at this time. Runs very well with sideline-to-sideline range and short-area burst to make key inside-out stops between the tackles.
Complete eval

| Highlights

---
OT Trevor Darling
Miami/Miami Central
College: Miami
ESPN 150 rank: 130 | Position rank: 12 | Stars: 4 | Grade: 83
Darling is a high school offensive tackle who could transition to the next level at that position or could end up sliding inside to guard, but either way he possesses the tools to develop into a very good college O-lineman. He has good height, though a little less than ideal if he should remain at tackle, and carries a good deal of bulk on his frame. It looks like he could benefit from reworking his body composition some.
Complete eval

| Highlights

---
ATH JoJo Robinson
Miami/Miami Northwestern
College: Florida State
ESPN 150 rank: 131 | Position rank: 18 | Stars: 4 | Grade: 83
Robinson has the skill set you want and can be very productive. Could very well be a corner at the next level. On offense, he's an explosive, speedy threat both as a slot and outside player with a comfort level to play anywhere. Has a good feel for attacking coverage, is very quick in and out of his cuts and shows he can get separation. Gets into his routes quickly and shows outstanding burst in all his change-of-direction skills. Simply knows how to get open.
Complete eval

| Highlights

---
2014 Player Evaluations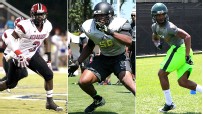 After watching countless hours of game tape, our scouts have already compiled hundreds of player evaluations, including well over 200 players who are on the ESPN Watch List.

Database | ESPN Watch List
MORE COLLEGE FOOTBALL HEADLINES
MOST SENT STORIES ON ESPN.COM