Commentary
Scars linger from devastating tornado
Updated:
April 24, 2013, 1:33 PM ET
By
Graham Hays
| espnW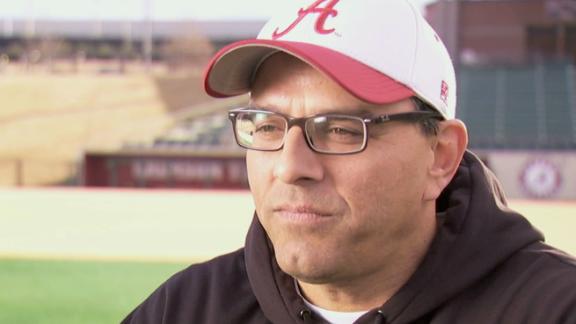 Alabama Total Access: Tornado Recovery
Alabama Total Access: Tornado Recovery
TUSCALOOSA, Ala. -- The sky above Tuscaloosa seems alive this April afternoon.
Traffic moves at its normal quick clip on McFarland Boulevard, a major thoroughfare that sits beyond the right-field fence at the University of Alabama's Rhoads Stadium. Southbound cars and trucks disappear around a bend that takes them first by a major hospital and then through the city's major commercial district. But even the vehicles can't keep up with the clouds on this particular afternoon.
Cast in every imaginable shade of gray, clouds whiz by above, the wind whipping infield dust up and over a fence near third base. It is all a function of the weather system that forecasters warned would come.
Alabama softball players, who had been running the stadium stairs, gather their equipment and head inside the team's indoor facility to watch film from the game the night before and hit in the cages. In a matter of minutes, the sky to the west of the stadium turns from gray to black. The first few drops of rain arrive, propelled almost sideways by the wind. Then the deluge comes.
The television in the players' lounge stops on the local weather, team managers and operations staff watching the on-screen radar glow with green, yellow and red to represent the storm moving through. But again and again, the voices that accompany the images make it clear that these colors aren't mixing together in a manner that will produce what they know their audience is thinking about. This isn't the map from two years ago.
[+] Enlarge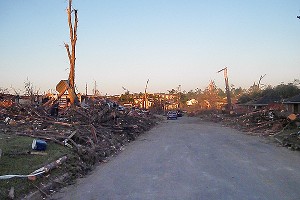 Graham Hays/ESPNThis stretch of Tuscaloosa's Forest Lake neighborhood lay in ruins after the tornado of April 27, 2011.
"Sometimes you just need to know you're OK," local meteorologist James Spaan reassures viewers at one point.
There will be no tornadoes this day, not here at least. It's just a thunderstorm. Practice completed indoors, Alabama players hurriedly shower and scatter into the diminishing downpour in search of food or a place to study or, as may be more likely, sleep. It is a far different scene from that which greeted Crimson Tide players, including the current juniors and seniors, when they emerged from nearby Coleman Coliseum on an April evening two years earlier.
None in this town will forget what they encountered the night of April 27, 2011, after an EF-4 tornado cut a mile-and-a-half-wide path through the city. More than 50 people died. Damage stretched into the billions of dollars.
"It's quiet and dark and you don't have any cell service," infielder Kaila Hunt recalled of walking into the aftermath. "And there's destruction everywhere."
That day two years ago, like the one above, began with warnings of potential severe weather throughout much of the South, including Tuscaloosa. That was hardly a rare development in that part of the world at this time of year. Storms, even ones spawning tornadoes, are simply a part of spring. So while some players were surprised that practice went on as scheduled, there wasn't much anxiety when coaches first told them to take shelter in the locker room, and, shortly thereafter, to pile into a few cars and make the roughly one-mile drive to Coleman, the large on-campus arena.
There had been a lot of false alarms and canceled classes in the preceding weeks.
"In the back of your mind, you're kind of like, 'Well, here we go again,'" said Hunt, a Georgian not unfamiliar with the wail of tornado sirens. "The kind of thing where nothing is really going to happen."
Alabama coach Patrick Murphy knew better, which is why the team made its dash to the larger building. As the weather took a turn for the worse, he received a text message from a friend in Starkville, Miss., about 80 miles to the west and an earlier target of the storm. The message was chillingly blunt. He and his players, it read, were in imminent danger.
Once inside Coleman, the team first found its way to the gymnastics lounge on what many, including Murphy, assumed was the lowest level of the building. There they watched the weather coverage on television, charged their cell phones and prepared to wait out the storm. Within minutes, the power failed. Someone came and shepherded them to a still-lower level, which Murphy said felt like the villain's lair in a James Bond movie, complete with a single unshaded lightbulb hanging from the ceiling. There they sat, mostly cut off from news of friends or relatives in the area, and from what was unfolding above them.
Nearly buried in the rubble
Nettie Blume heard the same warnings when that day began. She also heard the message that interrupted the legal seminar she attended that afternoon, the admonition that those on hand needed to either take shelter in the building or make their way elsewhere. But she had been through all the same false alarms in the preceding weeks, and too many more to count during the decades the Alabama alum and lifelong resident had spent in Tuscaloosa. On top of that, she had seen so many actual tornadoes hit the area that she knew the path they almost always took, one that put her safely out of harm's way.
So she went back to the law office in which she and her husband, Gary, were partners to get some work done.
If there is a bandwagon for Alabama softball in the wake of the program's first national championship, Gary and Nettie helped put the wheels on it. They were there in the program's earliest days, when the team played games not at Rhoads Stadium before thousands of fans but in front of family and friends at the same public parks where the couple's daughter played youth softball. Nettie was the first president of the program's booster club. She and Gary got to know the players as more than names -- she recently went to Orlando, Fla., to visit Jennifer Chapman, a starting outfielder in the program's first two seasons and someone with whom she remains close more than a decade later.
[+] Enlarge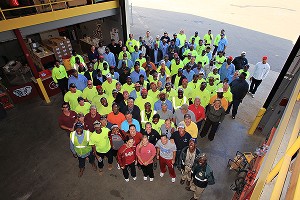 Kent Gidley/AlabamaAlabama players meet with workers involved in the relief effort. First row, left to right: Kayla Braud, Jazlyn Lunceford and Cassie Reilly-Boccia. Second row: Keima Davis, Kendall Dawson, Courtney Conley and Jordan Patterson.
"As the program has gotten as big as it is and as successful as it is, we don't know as many of the girls," Nettie said. "When you go from the park situation to the stadium situation, it's a little less cozy."
But they remain ardent fans and season-ticket holders, the kind who would have taken their seats in the front row, just a little to one side of the catcher, when Alabama opened a conference series against Kentucky on April 29, 2011.
Back in her office that evening, Nettie didn't pay much attention to the brewing storm until the power went off there, too. Following their own protocol, Gary went to turn off the computer servers and she went to get a battery-powered light to help him see. Nettie paused at the office's glass door, captivated by the rain racing by parallel to the ground. She called out to her husband to come look, whereupon, she noted, he "cussed" and told her to get away from the door.
"Right as I turned into that room to bring him the lantern, the building just exploded," Nettie said.
The Blumes' office sat squarely in the path of the tornado as it exited the commercial district along McFarland Boulevard, clipped the corner of the mall where many sought shelter, missed the hospital by about a block and headed northeast through the part of town known as Alberta City. Nettie ended up on the ground, largely unhurt but trapped by fallen metal shelves. Gary was similarly knocked to the ground, momentarily trapped by the rubble. She called out to ask if he was alive. He responded yes and asked if she could move her legs. They tried to dig out, the night sky now above them in places that had before been roof.
"Every time I moved something, it fell on him, and every time he moved something, it fell on me," Nettie said.
In the end, in a twist of fate such circumstances sometimes spawn, it was a local man both knew as a drug dealer who heard their calls and helped free the two attorneys from the rubble.
Familiar landscape turns alien
It was at about the same time that the Blumes finally made their way home -- first walking nearly a mile toward the hospital to seek treatment for a laceration on Nettie's hand until they were intercepted by a friend who provided first aid and a car -- that the Alabama players emerged from Coleman. Some couldn't reach their apartments, the buildings spared by a matter of blocks but nonetheless inaccessible across the commercial district and adjoining neighborhood that had been transformed into a no man's land of leveled structures and trees and power poles snapped like toothpicks. It wasn't until the following morning brought daylight that they got a full sense of the damage.
[+] Enlarge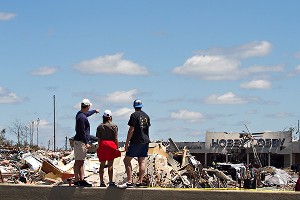 Jessica McGowan/Getty ImagesAfter the tornado passed, students walked out to find large swaths of the city left unrecognizable.
"It looked nothing like it did before," outfielder Kayla Braud said. "I didn't even know where I was. I was two and a half, three blocks away from my apartment, and I had no idea where I was standing. It was a really weird experience."
The players spent much of that first day after the tornado, Thursday, distributing bottles of water to those in affected areas, but were then sent home for the weekend. Instead of immediately resuming practice when they returned to campus the following week, they and their coaches drove as close as they could to Alberta City. They walked the final half mile through a wholly unfamiliar landscape.
Nettie was standing on one of the rises in the debris pile, she and Gary sifting through the detritus in hopes of at least recovering a computer hard drive, when she happened to look in the direction of a column of college kids approaching. They weren't players she knew, by and large, not like the players on those early Crimson Tide teams. But they were there to help, complete with new batting gloves ready to be ruined in the rubble.
"'Here comes the cavalry with their white gloves on,'" Nettie recalled thinking. "I just almost started crying. I probably did start crying, actually."
The emotions ran both ways.
"It was just a pile of bricks," Hunt recalled of what had been the law office. "You would never know it was a building. It's just sad to see people and how they lost everything in a matter of seconds."
Insurance helped the Blumes restart their law practice, even if zoning issues and bureaucratic wrangling meant they had to do so in another part of town. But there was no saving the pictures of her late father from his days with the University of Alabama law review, his old law licenses or any of the other mementos collected over more than three decades of professional life. The only option was to start over and carry on, all at the same time.
"You go back to doing everything that you did before," Nettie said. "You go back to walking together in the morning."
They also went back to Rhoads Stadium. The series against Kentucky was canceled in the wake of the tornado, but they were there as Alabama won a regional and a super regional to advance to the Women's College World Series.
"That was fun -- again, getting that back-to-normal kind of thing," Nettie said. "Going to ball games, which is relaxing because our child is not playing anymore. When your child is playing, softball ceases to become relaxing."
When the skies darken and the wind picks up, people remember and nerves still rattle. The scars of that day will be here even after the tornado's path can no longer be traced by the broken trees and vacant lots.
But when the sun comes out, the games will go on. That's what April afternoons are supposed to be about.
espnW.com
Graham Hays covers college sports for espnW, including softball and soccer. Hays began with ESPN in 1999.
SPONSORED HEADLINES
MORE COLLEGE SPORTS HEADLINES
MOST SENT STORIES ON ESPN.COM