Commentary
Maryland hands Creighton first loss
Maryland men's soccer coach Sasho Cirovski said going in that he didn't expect his team's showdown with Creighton on Friday to be a scoreless duel. But it almost was.
[+] Enlarge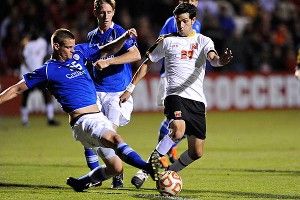 Maryland Athletic Media Relations No. 3 Maryland handed No. 2 Creighton its first loss of the season over the weekend.
However, for the first time this season, an opponent scored on the Bluejays. Not surprisingly, the guy to do it was Hermann Trophy candidate Casey Townsend, who's leading the Terps in goals. He got his 11th of the season in the 14th minute of Friday's game, which stood up for a 1-0 victory.
Creighton had started the year 8-0, serving up a shutout in every game. But the Bluejays got some of their own medicine from a Maryland team that stifled the Creighton attack most of the night in College Park, Md.
Terps goalkeeper Will Swaim had two saves. His counterpart, Brian Holt, also had two. But the goal came when Townsend was able to regain control of the ball on a run into the box after Holt came out to stop him. Then Townsend scored past Creighton defender Eric Miller.
Swaim is a redshirt senior who is from Maryland; Holt is a senior from Nebraska. Both are playing for teams in their home states and would love to meet again in another state: Alabama, for the College Cup in December.
Cirovski talked about Friday's match having that "Final Four" kind of atmosphere. Both teams, though, realistically look at this as just a good mid-season evaluator, because there are still plenty of big matches ahead.
Coming this week for Creighton are trips into Big Ten territory, as the Bluejays face Wisconsin on Wednesday and No. 6 Indiana on Sunday. Maryland is host to Rutgers on Tuesday, then travels to longtime ACC rival Virginia on Friday.
• Rivalry game: Unranked Duke entered its Friday matchup at No. 5 North Carolina at 5-4 on the season, while the Tar Heels were 8-1. But now both add a tie to their records, as the archrivals deadlocked 2-2. They are both 2-1-1 in the ACC, tied for second behind Maryland.
Capital One Cup

The Capital One Cup rewards the best Division I men's and women's programs in the country for their on-field performance throughout the year. For more information about the Cup, visit capitalonecup.com.
• Capital One Cup standings | Fan page
• Championship Central
• Huskies remain unbeaten: No. 1 UConn had perhaps its toughest test yet on Saturday, as the Huskies traveled to last year's NCAA runner-up, Louisville. But for the second game in a row, UConn won in two overtimes. The Huskies had defeated Yale at home on Sept. 27.
Stephane Diop scored his first goal of the season a little over a minute into the second OT on Saturday. It was the first time the Cardinals have lost in Louisville since the 2008 NCAA tournament, as the Huskies snapped their 27-game home unbeaten streak.
At 10-0, the Huskies are off to their best start since beginning the 1998 season 15-0.
• Rough week for Gauchos: UC Santa Barbara knows there will be plenty of challenges in the Big West, and the last week proved that. The Gauchos were No. 10 in the nation as of the last coaches' poll, on Sept. 27. But they lost 3-1 the next day to UC Riverside, then fell 2-0 Saturday to UC Irvine. The No. 7 Anteaters, incidentally, had been upset themselves earlier in the week by Cal Poly.
• Illini stay on top in volleyball: Huff Hall in Champaign, Ill., was jam-packed with over 4,000 fans Saturday night to watch No. 1 Illinois and No. 12 Purdue battle. When it was over, there was just one unbeaten team left in Division I volleyball: the Illini.
They won 3-1 over the Boilermakers in a tight match (26-24, 25-20, 23-25, 25-23) and moved to 15-0 on the season.
Next up is a huge road trip to test the top-ranked Illini: They play at Ohio State on Friday and at four-time defending national champion Penn State on Saturday.
Mechelle Voepel is a columnist for ESPN.com. She can be reached at mvoepel123@yahoo.com.
Follow ESPN.com's college sports coverage on Twitter @ESPN--College and on Facebook.
espnW.com
Mechelle Voepel joined ESPN.com in 1996 and covers women's college hoops, the WNBA, the LPGA, and additional collegiate sports for espnW.
MORE COLLEGE SPORTS HEADLINES
MOST SENT STORIES ON ESPN.COM