T-shirt has botched SEC locales
Updated:
April 18, 2012, 12:39 AM ET
ESPN.com news services
COLLEGE STATION, Texas -- Which way to the Southeastern Conference?
A Texas-based apparel company, Aggieland Outfitters, recalled a handful of T-shirts on Tuesday after they were ridiculed online for having some geographic mistakes.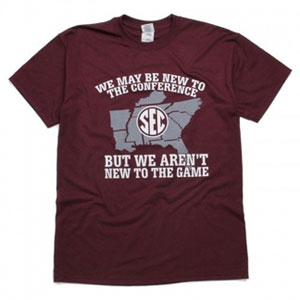 Courtesy of @JeffDLoweSEC fans were all atwitter over the omission of newest members Missouri and Texas A&M on a new T-shirt featuring an error-filled map of conference locales.
The maroon shirt has an "SEC" logo emblazoned on a United States section map, ostensibly representing members of the league.
But North Carolina, which is not in the conference, is on the map. Missouri and Texas, however, are not.
Missouri and Texas A&M are both leaving the Big 12 for the SEC this season.
The shirt was produced by Aggieland Outfitters, which has three outlets in College Station. A&M spokesman Jason Cook said the company is a private business and not affiliated with the school.
Aggieland Outfitters marketing director Dallas Shipp said only "a few dozen" shirts were printed and they've been taken off the shelves and the company's website.
He said the original shirt design did not include North Carolina, but when the artist drew the map, it was added by mistake.
"We would like to apologize for a T-shirt that has come under fire for its inaccuracies," the company said. "Many members of the media, especially those connected to other schools in Texas, have insinuated that Texas A&M made these shirts, and that Texas A&M doesn't know geography.
"That's simply not true. Aggieland Outfitters designed the shirt and simply made a mistake."
Information from The Associated Press was used in this report.

MORE FROM ESPN DALLAS

Check out ESPN Dallas, the place for your local Dallas sports coverage.