Felony charges in Florida A&M case
Updated:
May 3, 2012, 3:24 PM ET
Associated Press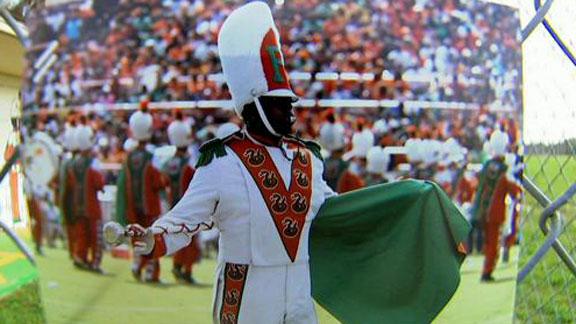 OTL - FAMU Hazing: Tradition And Tragedy
In a feature that originally aired in March 2012, "Outside The Lines" examines how the death of Florida A&M drum major Robert Champion has shed light on a culture of hazing within the Marching 100 band.
OTL - FAMU Hazing: Tradition And Tragedy
ORLANDO, Fla. -- A prosecutor says most of the 13 people charged in the death of Florida A&M university drum major will face a felony hazing charge.
More coverage

An "Outside the Lines" investigation by ESPN.com's Mike Fish found hazing continued within the Florida A&M University band despite years of warnings. Story
The prosecutor announced the charges at a news conference Wednesday. State Attorney Lawson Lamar says 11 of the 13 people charged will face the felony charge. The others will face a misdemeanor charge.
Lamar says a conviction for felony hazing could bring up to nearly six years in prison.
The charges come more than five months after 26-year-old Robert Champion died aboard a chartered bus parked outside an Orlando hotel.
Detectives say Champion was hazed by band members following a performance. Authorities say Champion had bruises to his chest, arms, shoulder and back. His internal bleeding caused him to go into shock, which killed him.

Copyright 2012 by The Associated Press