Florida A&M band members charged
Updated:
March 5, 2013, 1:09 PM ET
ESPN.com news services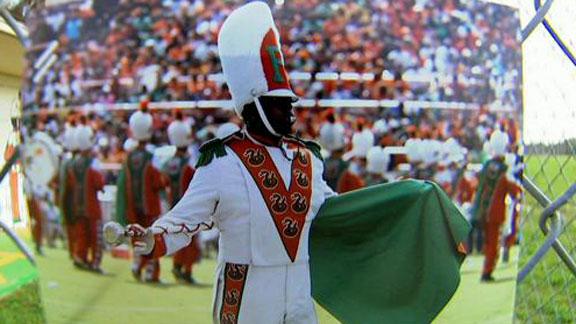 OTL - FAMU Hazing: Tradition And Tragedy
In a feature that originally aired in March 2012, "Outside The Lines" examines how the death of Florida A&M drum major Robert Champion has shed light on a culture of hazing within the Marching 100 band.
OTL - FAMU Hazing: Tradition And Tragedy
ORLANDO, Fla. -- Prosecutors are charging 12 former Florida A&M University band members with manslaughter in the 2011 hazing death of a drum major.
More from ESPN.com

Robert Champion died as a result of a hazing ritual, largely due to a culture that Florida A&M's administration and band leaders failed to end, writes Mike Fish. Story
Ten of the band members had been charged last May with felony hazing for the death of 26-year-old Robert Champion, but prosecutors said Monday they are raising the charges to manslaughter. They also have charged two additional defendants with manslaughter.
Champion died in Orlando in November of 2011 after he collapsed following what prosecutors say was a savage beating during a hazing ritual. The incident allegedly happened on a bus parked in a hotel parking lot after Florida A&M played Bethune-Cookman in their annual rivalry football game.
Authorities say Champion had bruises on his chest, arms, shoulder and back and died of internal bleeding. Witnesses told emergency dispatchers that the drum major was vomiting before he was found unresponsive aboard the bus.
Florida A&M hired alumnus Bryan F. Smith as its anti-hazing administrator this past January.
Smith, who most recently was executive director and co-founder of Destined for Success Educational Services in Decatur, Ga., said his goal will be to change a hazing culture on Florida A&M's Tallahassee campus.
Information from The Associated Press was used in this report.