Yale edges UMass Lowell in overtime
Updated:
April 11, 2013, 11:24 PM ET
Associated Press
PITTSBURGH -- The puck bounced to Andrew Miller's stick, and Yale coach Keith Allain had little doubt where his captain was heading.
The senior forward swooped past a couple of UMass Lowell defenders then slipped a backhand shot between the legs of Connor Hellebuyck 6:59 into overtime to lift the Bulldogs to a 3-2 win in the NCAA men's hockey semifinals on Thursday night.
"That's probably the biggest goal in the history of Yale hockey," Allain said.
[+] Enlarge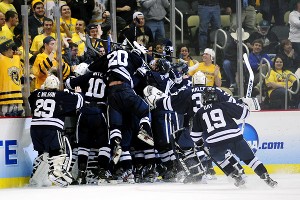 Jeanine Leech/Icon SMIAndrew Miller scored in overtime to lift Yale to a 3-2 victory in the NCAA men's hockey semifinals Thursday night.
One delivered by a player who has morphed from precocious talent into unquestioned leader.
"He's made a remarkable transformation," Allain said. "I couldn't ask for a better captain."
And Allain couldn't have asked for a better performance from his team. Yale (21-12-3) dominated for long stretches, monopolizing the puck and keeping Hellebuyck busy all night.
Lowell didn't even get a shot off in overtime and was outshot 47-18. Mitch Witek and Antoine Laganiere gave the Bulldogs an early two-goal lead but couldn't finish off the top-seeded River Hawks in regulation.
Riley Wetmore and Joseph Pendenza scored 14 seconds apart in the second period for Lowell (28-11-2) and Hellebuyck nearly made it stand up. He stopped 44 shots but had no answer when Miller zipped to the net.
"The guy drove wide and I went down when I probably shouldn't have," Hellebuyck said.
Jeff Malcolm made 16 saves for Yale but faced just three shots over the game's final 27 minutes and none in the extra period. Yale will face in-state rival Quinnipiac in the finals on Saturday.
Lowell saw its breakthrough season -- in which it rose above some of its league rivals like Boston University and Boston College -- end in frustrating fashion. The River Hawks failed in their bid to become the fifth Hockey East team to win the national title in the last six seasons. Instead, Yale, from the neighboring -- and often considered inferior -- ECAC, will try to win the league's first crown since 1989.
"They just kind of kept coming in waves," Pendenza said. "They did what we usually do to other teams. It was a taste of our own medicine I guess."
The Bulldogs took out perennial NCAA powers Minnesota and North Dakota on the program's way to its first Frozen Four appearance in 61 years. Yale is the only of the four participants to ever play in a national semifinal before this year, and is now one win away from a title.
The River Hawks had stormed to the Frozen Four behind a suffocating defense and the stellar goaltending of Hellebuyck. Lowell allowed all of six goals during a seven-game winning streak, and won the Hockey East regular season and tournament titles.
In 20 minutes, though, all that momentum disappeared.
The Bulldogs took the lead 12:45 into the first period when Witek scored his first goal of the season in the waning seconds of an otherwise ragged Yale power play. The Bulldogs were unable to sustain anything until a late rush ended up with Carson Cooper feeding Witek at the top of the right circle. The bouncing, skitter shot didn't have much on it but slid by Hellebuyck to put the River Hawks behind for the first time in the NCAA tournament.
Laganiere made it 2-0 with less than a minute to go in the first, jamming home a rebound off a Matt Killian shot for his 15th of the season.
The period ended with the River Hawks and Hellebuyck -- named Most Outstanding Player of the Northeast Regional after surrendering just one goal -- reeling while Yale continued its impressive run.
The road to the final appeared smooth deep into the second period, as well. Yale controlled play at both ends, outskating the bigger and slower River Hawks for long stretches. Pittsburgh native Jesse Root nearly pushed Yale's lead to 3-0 when a wrist shot found its way through traffic and clanged off the goalpost.
It was the reprieve Lowell needed to get back into it.
Wetmore gave the River Hawks life 14:38 into the second period, stopping Derek Arnold's shot from the point then flipping the puck to his backhand and into a wide open net.
Before the Bulldogs could catch their breath, it was tied. Lowell won the ensuing faceoff and A.J. White raced down the right side and slid a backhand pass to Pendenza at the top of the right circle. Malcolm fanned his glove at it but the puck was already by him, evening a seemingly one-sided game in the blink of an eye.
Yet the sudden spark failed to produce a real momentum shift. Yale kept attacking and didn't panic after all its hard work vanished.
"It was our gameplan going in to just take shots and get to rebounds and shoot through traffic," Laganiere said. "We did that the whole game and it ended up working out for us."
Hellebuyck sent the game to overtime almost by himself. Yale dominated the third period, outshooting the River Hawks 16-3. Each time, Hellebuyck was equal to the task. Perfectly positioned, he allowed the Bulldogs to continue firing pucks right at his chest.
Ultimately it wasn't enough. Lowell coach Norm Bazin hoped his team could steal one by counterpunching. Yale never let it happen.
"We've ended 3-4 teams' seasons in last few weeks," Bazin said. "Unfortunately, it's our turn."

Copyright 2013 by The Associated Press
MORE COLLEGE SPORTS HEADLINES
MOST SENT STORIES ON ESPN.COM