Jim Delany signed through 2018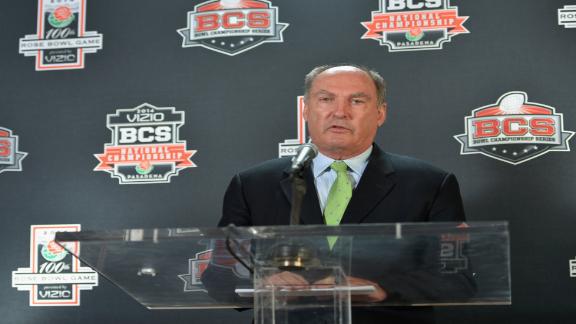 Delany Signed Through 2018
Adam Rittenberg discusses Big Ten commissioner Jim Delany's contract extension, which happened in 2011 and wasn't announced publicly.
Delany Signed Through 2018
Big Ten commissioner Jim Delany received a contract extension in 2011 that was never announced publicly, the league confirmed to ESPN.com on Monday.
Big Ten Blog
ESPN.com's Adam Rittenberg and Brian Bennett write about all things Big Ten in the conference blog.
• Blog network: College Football Nation
The league's Council of Presidents and Chancellors in 2011 approved a contract extension for Delany through June 30, 2018.
The Big Ten in 2008 announced an extension for Delany through June 30, 2013.
Delany, 65, has led the Big Ten since 1989 and recently became the league's longest-serving commissioner, surpassing Major John L. Griffith, who held the position from 1922 until his death in 1944.
Delany's contract extension ensures he'll guide the Big Ten through its next television rights negotiation. The Big Ten's current agreement expires after the 2016-17 athletic year.
College Football
ESPN.com Big Ten reporter.
Joined ESPN.com in 2008.
Graduate of Northwestern University.
MORE COLLEGE SPORTS HEADLINES

MOST SENT STORIES ON ESPN.COM