Discussion
Important numbers in U-M history
60-51: Denard engineers a comeback; Chris Perry carries the day
.article h3.number-big {display:inline; font-size: 24px; line-height: 24px; font-family:helvetica, arial, sans-serif; float: left; margin: 0 6px 0 0; padding: 0 4px 0 0;}
Over the coming weeks, WolverineNation staff writer Chantel Jennings will be examining some of the most important numbers in the history of Michigan athletics. Today, she takes a crack at Nos. 60 through 51.
60Yards -- Michigan looked like it was about to break against Illinois in 1981. The Wolverines trailed 21-0 ...

Read full story
IMPORTANT NUMBERS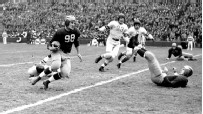 WolverineNation's Chantel Jennings combed through the Michigan record books in all sports to arrived at a countdown of 100 important numbers in the school's athletic history.
Harmon leads way
•
100-91
Big plays take spotlight
•
90-81
Arenas, legends and great linemen
•
80-71
A WCWS title
•
70-61
C-Webb, hockey penalties and Chris Perry
•
60-51
The Snow Bowl and Gerald Ford
•
50-41
The winged helmet
•
40-31
That Heisman pose
•
30-21
Barry Larkin, Denard Robinson
•
20-11
Year War, Fab Five & 1
•
10-1
MORE COLLEGE FOOTBALL HEADLINES