Discussion
Important numbers in U-M history
50-41: Rudy T, Glen Rice lit up scoreboards throughout the Big Ten
.article h3.number-big {display:inline; font-size: 24px; line-height: 24px; font-family:helvetica, arial, sans-serif; float: left; margin: 0 6px 0 0; padding: 0 4px 0 0;}
Over the coming weeks, WolverineNation staff writer Chantel Jennings will be examining some of the most important numbers in the history of Michigan athletics. Today, she takes a crack at Nos. 50 through 41.
50Year -- One of the biggest Michigan/Ohio State rivalry games was the 1950 matchup, which has come to be ...

Read full story
IMPORTANT NUMBERS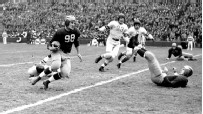 WolverineNation's Chantel Jennings combed through the Michigan record books in all sports to arrived at a countdown of 100 important numbers in the school's athletic history.
Harmon leads way
•
100-91
Big plays take spotlight
•
90-81
Arenas, legends and great linemen
•
80-71
A WCWS title
•
70-61
C-Webb, hockey penalties and Chris Perry
•
60-51
The Snow Bowl and Gerald Ford
•
50-41
The winged helmet
•
40-31
That Heisman pose
•
30-21
Barry Larkin, Denard Robinson
•
20-11
Year War, Fab Five & 1
•
10-1
MORE COLLEGE FOOTBALL HEADLINES