The 1,000-yard club
List shows just how shocking, inexplicable FSU's rushing drought truly is
Updated:
October 30, 2012, 4:21 PM ET
By
Bob McClellan
| NoleNation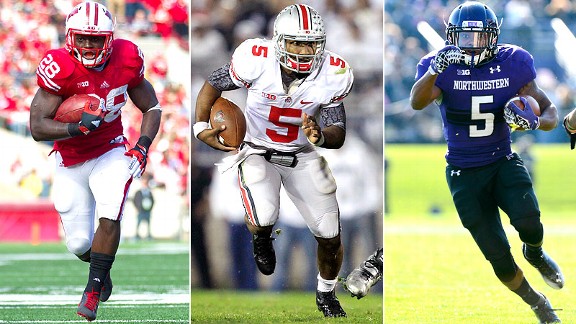 US Presswire, AP Photo, US PresswireThe Big Ten has four 1,000-yard rushers this season; the ACC has four teams without one since 2005.
The enormity of FSU's 16-year drought without a 1,000-yard rusher hits home when one examines the list of every FBS school and its last 1,000-yard rusher.
Sixty-eight of the 120 schools have produced a player who has reached the mark since 2010.
Interestingly, FSU is joined by three other ACC schools among the 10 teams with the longest droughts. NC State has the fourth-longest active streak, Duke is tied for fifth, and Virginia is tied for seventh. And, like the Seminoles, it appears highly unlikely any of them will end their droughts this season.
THE 1,000-YARD CLUB
Florida State has the longest drought without a 1,000-yard rusher among FBS schools. Only Texas Tech is even in the vicinity, and the Red Raiders were a heavy passing team under former coach Mike Leach (2000-09).
| School | Player | Year | Yards |
| --- | --- | --- | --- |
| Air Force | Asher Clark | 2011 | 1,110 |
| Akron | Dennis Kennedy | 2008 | 1,321 |
| Alabama | Trent Richardson | 2011 | 1,679 |
| Arizona | Nic Grigsby | 2008 | 1,153 |
| Arizona State | Cameron Marshall | 2011 | 1,050 |
| Arkansas | Knile Davis | 2010 | 1,322 |
| Arkansas State | Reggie Arnold | 2008 | 1,074 |
| Army | Raymond Maples | 2011 | 1,066 |
| Auburn | Michael Dyer | 2011 | 1,242 |
| Ball State | MiQuale Lewis | 2008 | 1,736 |
| Baylor | Terrance Ganaway | 2011 | 1,547 |
| Boise State | Doug Martin | 2011 | 1,299 |
| Boston College | Montel Harris | 2010 | 1,243 |
| Bowling Green | P.J. Pope | 2004 | 1,098 |
| Buffalo | Branden Oliver | 2011 | 1,395 |
| BYU | Harvey Unga | 2009 | 1,087 |
| California | Isi Sofele | 2011 | 1,322 |
| Central Michigan | Dan LeFevour | 2007 | 1,122 |
| Cincinnati | Isaiah Pead | 2011 | 1,259 |
| Clemson | Andre Ellington | 2011 | 1,178 |
| Colorado | Rodney Stewart | 2010 | 1,318 |
| Colorado State | Chris Nwoke | 2011 | 1,130 |
| Connecticut | Lyle McCombs | 2011 | 1,151 |
| Duke | Chris Douglas | 2003 | 1,138 |
| Eastern Michigan | Anthony Sherrell | 2003 | 1,531 |
| East Carolina | Dominique Lindsay | 2009 | 1,180 |
| Florida | Ciatrick Fason | 2004 | 1,267 |
| Florida Atlantic | Alfred Morris | 2011 | 1,186 |
| Florida International | Kedrick Rhodes | 2011 | 1,149 |
| Florida State | Warrick Dunn | 1996 | 1,180 |
| Fresno State | Robbie Rouse | 2011 | 1,549 |
| Georgia | Knowshon Moreno | 2008 | 1,400 |
| Georgia Tech | Anthony Allen | 2010 | 1,316 |
| Hawaii | Alex Green | 2010 | 1,199 |
| Houston | Bryce Beall | 2008 | 1,247 |
| Idaho | Deonte Jackson | 2007 | 1,175 |
| Illinois | Mikel Leshoure | 2010 | 1,697 |
| Indiana | Levron Williams | 2001 | 1,401 |
| Iowa | Marcus Coker | 2011 | 1,384 |
| Iowa State | Alexander Robinson | 2009 | 1,195 |
| Kansas | Brandon McAnderson | 2007 | 1,125 |
| Kansas State | Collin Klein | 2011 | 1,141 |
| Kent | Julian Edelman | 2008 | 1,370 |
| Kentucky | Rafael Little | 2007 | 1,013 |
| Louisiana Tech | Lennon Creer | 2010 | 1,181 |
| Louisiana-Lafayette | T. Fenroy/M. Desormeaux | 2008 | 1,375/1,035 |
| Louisiana-Monroe | Frank Goodin | 2009 | 1,126 |
| Louisville | Bilal Powell | 2010 | 1,405 |
| LSU | Stevan Ridley | 2010 | 1,147 |
| Marshall | Darius Marshall | 2009 | 1,131 |
| Maryland | Da'Rel Scott | 2008 | 1,133 |
| Memphis | Curtis Steele | 2009 | 1,239 |
| Miami | Lamar Miller | 2011 | 1,272 |
| Miami (Ohio) | Brandon Murphy | 2005 | 1,070 |
| Michigan | D. Robinson/F. Toussaint | 2011 | 1,176/1,041 |
| Michigan State | Le'Veon Bell | 2012 | 1,061 |
| Middle Tennessee | Dwight Dasher | 2009 | 1,154 |
| Minnesota | L. Maroney/G. Russell | 2005 | 1,464/1,130 |
| Mississippi State | Vick Ballard | 2011 | 1,189 |
| Missouri | Henry Josey | 2011 | 1,168 |
| Navy | Ricky Dobbs | 2009 | 1,192 |
| NC State | T.A. McClendon | 2002 | 1,101 |
| Nebraska | Rex Burkhead | 2011 | 1,357 |
| Nevada | Stefphon Jefferson | 2012 | 1,341 |
| New Mexico | Kasey Carrier | 2012 | 1,104 |
| New Mexico State | Kenny Turner | 2011 | 1,074 |
| North Carolina | Giovani Bernard | 2011 | 1,253 |
| North Texas | Lance Dunbar | 2011 | 1,115 |
| Northern Illinois | Jordan Lynch | 2012 | 1,185 |
| Northwestern | Venric Mark | 2012 | 1,077 |
| Notre Dame | Cierre Wood | 2011 | 1,102 |
| Ohio | Beau Blankenship | 2012 | 1,025 |
| Ohio State | Braxton Miller | 2012 | 1,093 |
| Oklahoma | Demarco Murray | 2010 | 1,214 |
| Oklahoma State | Joseph Randle | 2011 | 1,216 |
| Ole Miss | Dexter McCluster | 2009 | 1,169 |
| Oregon | LaMichael James | 2011 | 1,805 |
| Oregon State | Jacquizz Rodgers | 2010 | 1,184 |
| Penn State | Silas Redd | 2011 | 1,241 |
| Pittsburgh | Dion Lewis | 2010 | 1,061 |
| Purdue | Kory Sheets | 2008 | 1,131 |
| Rice | Quinton Smith | 2006 | 1,096 |
| Rutgers | Ray Rice | 2007 | 2,012 |
| San Diego State | Ronnie Hillman | 2011 | 1,711 |
| San Jose State | Yonus Davis | 2006 | 1,007 |
| SMU | Zach Line | 2011 | 1,224 |
| South Carolina | Marcus Lattimore | 2010 | 1,197 |
| South Florida | Andre Hall | 2005 | 1,374 |
| Southern Miss | Damion Fletcher | 2009 | 1,015 |
| Stanford | Stepfan Taylor | 2011 | 1,330 |
| Syracuse | Antwon Bailey | 2011 | 1,051 |
| TCU | Ed Wesley | 2010 | 1,078 |
| Temple | Bernard Pierce | 2011 | 1,481 |
| Tennessee | Tauren Poole | 2010 | 1,034 |
| Texas | Jamaal Charles | 2007 | 1,619 |
| Texas A&M | Cyrus Gray | 2011 | 1,045 |
| Texas Tech | Ricky Williams | 1998 | 1,582 |
| Toledo | David Fluellen | 2012 | 1,181 |
| Troy | DuJuan Harris | 2008 | 1,077 |
| Tulane | Andre Anderson | 2009 | 1,016 |
| Tulsa | Tarrion Adams | 2008 | 1,523 |
| UAB | Joe Webb | 2009 | 1,427 |
| UCF | Brynn Harvey | 2009 | 1,109 |
| UCLA | Johnathan Franklin | 2012 | 1,042 |
| UNLV | Dominique Dorsey | 2004 | 1,260 |
| USC | Curtis McNeal | 2011 | 1,005 |
| Utah | John White | 2011 | 1,519 |
| Utah State | Robert Turbin | 2011 | 1,517 |
| UTEP | Donald Buckram | 2009 | 1,594 |
| Vanderbilt | Zac Stacy | 2011 | 1,193 |
| Virginia | Alvin Pearman | 2004 | 1,037 |
| Virginia Tech | David Wilson | 2011 | 1,709 |
| Wake Forest | Chris Barclay | 2005 | 1,127 |
| Washington | Chris Polk | 2011 | 1,488 |
| Washington State | Jerome Harrison | 2005 | 1,900 |
| West Virginia | Noel Devine | 2009 | 1,465 |
| Western Kentucky | Bobby Rainey | 2011 | 1,695 |
| Western Michigan | Brandon West | 2009 | 1,164 |
| Wisconsin | Montee Ball | 2012 | 1,028 |
| Wyoming | Devine Moore | 2008 | 1,301 |
EDITORS' PICKS
ESPN Jr. 300 QB K.J. Costello commits to Stanford.
Story »

Is Georgia now producing the most talent?
Hamilton

Auburn rising with Peach State recruits.
Atlanta trends »
MORE COLLEGE FOOTBALL HEADLINES
Baden Florida State Seminoles 2013 Bcs National Champions Full-sized Football Shop »
MOST SENT STORIES ON ESPN.COM