Early in his career, Mark Richt finally seemed to have solved Georgia's Neyland Stadium problems, but the home teams are back to dominating in the series.

Richt's Bulldogs (3-2, 2-1 SEC) get a chance to reverse their struggles at Tennessee (3-1, 0-1) on Saturday night when they return to the stadium where they lost 35-14 and 45-19 in their last two visits.

"It's a very tough place to win -- at least it has been for us the last two times we were there," Richt said. "We pretty much got drubbed there. We didn't put up much of a fight the last two times we were in their house, so we need to try to hopefully change that."

Until Richt's first season at Georgia, the Bulldogs had not won in Knoxville since 1980, when Herschel Walker flattened Bill Bates near the goal line in sparking a 16-15 comeback win. In 2001, the Bulldogs rallied in the closing seconds and scored the winning touchdown with six seconds remaining on a pass from David Greene to Verron Haynes.

The P-44 Haynes play might be the most famous play in Richt's Georgia tenure, thanks to play-by-play man Larry Munson's legendary call, in which he exclaimed that the Bulldogs "stepped on their face with a hobnail boot and broke their nose."

Richt won handily in his second and third visits to Neyland Stadium, as well, and the Vols won when they visited Athens in 2004 and 2006.

But the home teams are back in command.

Georgia won easily when the Vols came to town in 2008 and last year, when they handed first-year coach Derek Dooley's club a 41-14 loss, while 2007 and 2009 resulted in Tennessee's aforementioned home routs.

Now Dooley's club gets the chance to return serve -- but don't tell the Tennessee coach it's an opportunity to exact revenge. That's a misuse of emotion, he said.

"My experience has been that I've never been one of those kind of guys where you want revenge," Dooley said. "You shouldn't ever put yourself in a position to be wanting that, and we didn't play well last year, and they played really well. Let's don't forget that. They played well and we didn't.

"My biggest thing is how are we gonna play, and we shouldn't have to have last year as motivation to play well. We only get 12 days a year that we get measured on."
Three storylines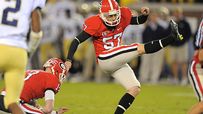 1. Third-down battle: Tennessee's offense leads the nation in third-down conversion percentage at 62 percent. Meanwhile, Georgia is second in the nation at third-down defense, allowing opponents to convert only 25 percent. One side must give. Tennessee quarterback Tyler Bray's ability to withstand Georgia's pass rush will be the deciding factor.

2. Special teams messes: Both Georgia and Tennessee have had more than their share of special teams disasters this season. Whoever plays cleaner football in the kicking game -- Georgia place-kicker Blair Walsh, in particular, needs to rebound from his recent slump -- and on kick coverage could gain a significant advantage.

3. Defending Crowell: Tennessee's defense has not defended the run successfully, allowing an average of 4.5 yards per carry, so the Volunteers might have their hands full with Georgia freshman tailback Isaiah Crowell. In each of the Bulldogs' three SEC games, Crowell has rushed for more than 100 yards, including a season-high 30 carries for 147 yards against Ole Miss.
Dawgs to watch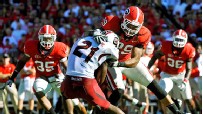 OLB Jarvis Jones. With fellow starting outside linebacker and pass rush specialist Cornelius Washington suspended for the next two games, the Bulldogs will rely on Jones even more heavily to apply pressure on Bray.
QB Aaron Murray. Richt described Murray's play of late as "hot and cold," but the Bulldogs need Murray to avoid the costly turnovers he has produced at points this season. Murray threw three interceptions last week against Mississippi State, one of which was returned 72 yards for a touchdown, doubling his season interception total to six.
CB Brandon Boykin. Georgia's senior cornerback and kick returner was shaken up last week against Mississippi State, but the Bulldogs need him to fill his typical versatile role in pass coverage and on special teams against Tennessee. If he adds some razzle-dazzle in his normal handful of offensive plays, that will be icing on the cake.
Vols to watch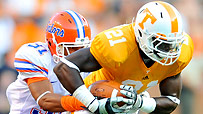 Bray. Bray might be the most important player on either side. The sophomore has been superb against the lightweight opponents who provided Tennessee's first three wins. He didn't move the offense as expertly in a loss to Florida until the game was out of reach. If the Vols are to beat Georgia, Bray must give a standout performance.
WR Da'Rick Rogers. The one-time Georgia commitment emerged as Tennessee's top receiving target after teammate Justin Hunter went down with a season-ending injury. Rogers has been nothing short of dynamic in the featured role, catching a touchdown pass in all four games and posting at least 100 receiving yards in three of the four games.
DT Malik Jackson. Tennessee will face a physical challenge up front as Georgia wants to pound the run. The Bulldogs' 221 rushing attempts are the most in the SEC, so it will be up to preseason All-SEC pick Jackson and the Vols' big men up front to slow down Georgia's running game.
Key matchup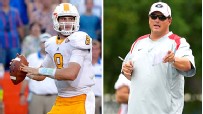 Georgia's pass rushers
vs. Tennessee's offensive line
Without question, Georgia defensive coordinator Todd Grantham plans to send blitzing pass rushers at Bray, hoping to confuse and frustrate a player making his 10th career start. Watch Grantham diagram one of his favorite blitzes here. If the Vols' pass protection holds up and gives Bray time to throw, the talented sophomore has the skills to make the Bulldogs pay.
By the numbers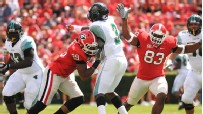 20.8: The Tennessee-Georgia game often has been a blowout in recent years. Over the last five years, the victor won by an average of 20.8 points, with the widest margin of victory being Georgia's 27-point win last year in Athens. Tennessee, however, is 3-2 in that stretch.

7-1: Bray has made a major impact since claiming the starting job midway through last season. The sophomore is 7-1 in regular-season starts, including 3-1 in SEC games -- with wins against Ole Miss, Vanderbilt and Kentucky and a loss to Florida -- and 5-0 at Neyland Stadium.

10: Before facing Ole Miss two weeks ago, Georgia was getting pressure on opposing quarterbacks but had recorded only one sack. That changed in a big way over the last two weeks, with the Bulldogs sacking Ole Miss quarterbacks four times and Mississippi State quarterbacks five times last week. Now with 10 sacks, the Bulldogs are tied for third in the SEC.

David Ching covers University of Georgia sports for DawgNation. He can be reached at davidchingespn@gmail.com.