Juco transfers find right fit
While not easy, process of moving up to FBS program helps some players excel
Updated:
August 22, 2012, 12:44 PM ET
By
David Ching
| DawgNation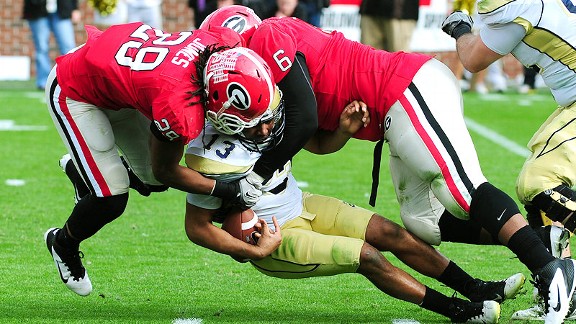 Scott Cunningham/Getty ImagesAt times after his transfer from junior college, 2012 preseason All-SEC D-lineman John Jenkins (right) wasn't certain that he'd made the right decision.

ATHENS, Ga. -- John Jenkins and Mark Beard know they are among a small group of junior college players who earned the opportunity to play for Georgia and coach Mark Richt. The last thing they want to do is damage a future player's opportunity.
That means it's up to them to perform satisfactorily in the classroom and on the playing field.
"You don't want to mess it up," said Beard, a sophomore offensive lineman who transferred from Coffeyville (Kan.) Community College in January. "You always want to make the future brighter for somebody else."
Richt's recruiting success with juco players at Georgia has been a mixed bag, but the sample size is fairly small. The Bulldogs have signed only 11 juco players in Richt's 12 recruiting classes thus far -- four of whom came in 2007, when Georgia signed juco prospects for the first time in six years.
Three players in that group -- defensive tackle Corvey Irvin, offensive lineman Vince Vance and defensive end Jarius Wynn -- eventually became regulars in Georgia's starting lineup and earned opportunities to play in the NFL. Wynn even won a Super Bowl ring two seasons ago with the Green Bay Packers. But other signees like offensive lineman Scott Haverkamp (2007) and Jakar Hamilton (2010) didn't pan out and left Georgia without exhausting their eligibility.
Jenkins, a second-team preseason All-SEC selection, is shaping up as one of the success stories, but even he had a rocky go of it at first. The Connecticut native struggled in the Georgia heat last August and faced defensive line coach Rodney Garner's wrath for not picking up his responsibilities quickly enough in the Bulldogs' defensive scheme.
"There were times where I was like, 'This is not for me,' but deep down in my heart, I knew it was for me," Jenkins said. "I just had to find a way to overcome it."
Making the transition from a two-year school to the more rigorous environment at Georgia didn't help. But Jenkins believes he was hungrier to experience success after having made it through a juco environment in which many talented players have slipped through the cracks.
"You have to have a development period, and I'm glad I went juco," Jenkins said. "It showed me if I would have come here and all this stuff is given to me -- nice clothes, all Nike gear, new pairs of shoes all the time -- some things you can take for granted and you can overlook the picture and the reason why you're here."
Players wind up at two-year schools for any number of reasons, including discipline issues, academic problems or simply not receiving a scholarship offer from a four-year school.
Because of the stigma that recruiting too many juco players generally creates, some schools avoid them altogether -- and Georgia typically leans more toward that way of thinking than SEC counterparts like Mississippi State, Ole Miss and Auburn.
"I know a lot of people told me that Georgia wasn't big on getting juco guys," Beard said.
And yet, the Bulldogs have signed one in each of the last four signing classes and already have four -- safety Shaquille Fluker, cornerback Steven Nelson, offensive lineman Trenton Brown and defensive lineman Chris Mayes -- committed for 2013, with the possibility of adding a couple more to that group.
Richt explained that because the Bulldogs plan to sign a big class in February -- the number of signees is expected to be in the low 30s -- adding some juco players to the mix makes sense because it will prevent the roster from becoming bottom-heavy with freshmen.
More on Georgia

Inside scoop from a UGA juco transfer: Q&A with John Jenkins.
More:
• More DawgNation
• ESPN.com's SEC blog
"If you've got to sign a relatively large class, I think you'd like to have some age difference," Richt said. "If every single guy you bring in is a freshman, that's a lot of freshmen to have in in one class, so you do want to break it up with some junior college guys so you don't have too many guys at one position in the same class."
It also helps that some of the potential signees could help immediately at positions of need. Georgia's secondary depth chart will look somewhat bare next spring when cornerbacks Branden Smith and Sanders Commings and safeties Shawn Williams and Bacarri Rambo have all left the program.
"Sometimes you need some help and you need some help from a mature guy, physically and football-wise, that might be able to come in and play for you right away," Richt said. "And then every once in a while if there's just a superior talent at a certain position, if he can upgrade you immediately, you go for him."
Georgia is poised to add that large group of juco prospects less than a year after the university added new language to Richt's contract concerning that very subject. The second page of Richt's new contract, released in June, contains a stipulation that "It is expected that the recruitment of junior college student-athletes will be kept to a minimum as determined by Richt and the Athletic Director."
Athletic director Greg McGarity said that line exists to serve as a reminder for himself and Richt to engage in regular discussions about how many juco players they pursue and whether those players best suit Georgia's needs.
"I think -- and Mark would agree to this wholeheartedly -- that you can't really build your program around junior college student-athletes," McGarity said. "There are a number of them that can certainly add value to your program, but it's sort of a constant reminder that we just need to have a discussion about that when we go in that direction."
That doesn't mean that signing six juco players in 2013 would be too many, however. Because of roster attrition over the last two seasons, Georgia is in a unique position where it could use a few more mature bodies in its upper classes -- and McGarity realizes the gravity of the situation as well as anybody.
"That's why [the contract clause] doesn't say a number, it's just that we discuss it," he said. "And we do that on every situation of every person that we want to make an offer to, that we basically are all in the loop on that and make sure that we give it a full review in really every area."
This recruiting season is simply different for Georgia and does not signify any philosophical changes, Richt said. The Bulldogs will continue to build the vast majority of their classes around high schoolers, with the occasional juco prospect sprinkled in to address a need.
The 2013 class will probably be a major departure from the norm for Richt's staff on the recruiting trail, however.
"I think if you looked at all the years I've been at Georgia, we haven't done that a lot," Richt said of signing juco players. "I don't know really for sure why [the contract clause] was in there because I don't think there was any history of us doing that a lot. But this year in particular, we have a lot of kids that we're going to bring in, so I think it is good to break it up with some age differences."
UGA JUCO HISTORY WITH MARK RICHT
Georgia has signed just 11 junior college players since Mark Richt became head coach in 2001, but the Bulldogs are poised to add a number of juco players in their 2013 signing class.
| | |
| --- | --- |
| 2012 | OL Mark Beard/Coffeyville (Kan.) CC/Reserve offensive lineman who has worked at both guard and tackle since enrolling in January. |
| 2011 | NG John Jenkins/Mississippi Gulf Coast CC/Preseason All-SEC selection in 2012 after starting seven of 14 games in first season and solidifying defensive line. |
| 2010 | S Jakar Hamilton/Georgia Military College/Played in 13 games, starting five, in 2010. Transferred to South Carolina State after leaving Bulldogs in Sept. 2011. |
| 2009 | K Brandon Bogotay/Grossmont (Calif.) CC/Backed up Blair Walsh throughout three seasons at UGA. Went 7-for-7 on PATs and 1-for-3 on field goals and handled 29 kickoffs. |
| 2007 | OL Scott Haverkamp/Butler (Kan.) County CC/Appeared in seven games, including three starts, in 2007. Left program during season. • DT Corvey Irvin/Georgia Military College/Played in all 13 games in 2007 and in 2008 and started 11 games as a senior. Third-round NFL pick by Carolina Panthers. Now with Jacksonville Jaguars. • OL Vince Vance/Georgia Military College/Played in 30 games and started 15 between 2007-09. Cut by Chicago Bears in first preseason camp. • DE Jarius Wynn/Georgia Military College/Played in all 13 games in 2007 and started eight of 13 games in 2008. Sixth-round NFL pick by Green Bay Packers. Entering his fourth year with team. |
| 2001 | DL Nic Clemons/Georgia Military College/Played in seven games between 2001-02. Spent three seasons in the NFL with Denver Broncos and Washington Redskins. • CB Brandon Williams/Mississippi Gulf Coast CC/Appeared in 18 games between 2001 and 2002. • OL Kareem Marshall/Mississippi Gulf Coast Community College/Started 19 games in 2001-02. |
LSU/SEC reporter
Covers LSU and SEC.
Joined ESPN in 2011.
Graduate of Auburn University.
SPONSORED HEADLINES
MORE COLLEGE FOOTBALL HEADLINES
MOST SENT STORIES ON ESPN.COM
Georgia Bulldogs 2012 Preseason
Follow DawgNation on social media:
Twitter
Series
Photo galleries
Features
Daily practice notes