Eastern promises
After stumbling against UK, are the Bulldogs ready for the Gators?
Updated:
October 21, 2012, 1:11 AM ET
By
David Ching
| DawgNation
LEXINGTON, Ky. -- Perhaps it is wishful thinking, but Georgia's Jordan Jenkins credits a higher power for the Bulldogs returning to SEC East contention.
The dominoes tumbled exactly the way the Bulldogs hoped on Saturday with Georgia beating hapless Kentucky 29-24 and Florida hammering South Carolina 44-11, meaning the winner of next weekend's Georgia-Florida game will be the outright leader in the Eastern Division race.
"I'm just glad to have this game over with and game plan against Florida," Jenkins said. "It seems like God wants us to win because after first South Carolina losing and them then losing again, it just seems like everything's falling like it's supposed to."
More on Georgia
For full coverage of the Dawgs, check out the Georgia blog, part of ESPN's College Football Nation. Blog
More:
• Georgia's clubhouse page
• ESPN.com's SEC blog
After the freshman linebacker's Bulldogs absorbed a humiliating 35-7 loss to South Carolina two weeks ago, Georgia needed the Gamecocks to lose twice to be able to have a chance to defend their division title. And that's what happened when South Carolina dropped each of the games since that decisive victory -- first a week ago at LSU and then in Saturday's defeat against Florida.
However, anyone who watched No. 2 Florida and No. 11 Georgia's respective wins on Saturday likely believes divine intervention is the only way the Bulldogs will leave Jacksonville, Fla., victorious next week.
Kentucky (1-7, 0-5 SEC), a team that had scored a total of three first-quarter points this season and hadn't scored a first-quarter offensive touchdown in 20 games, drove 84 yards for a touchdown on its very first possession against a Georgia (6-1, 4-1) defense that has clearly lost its way. Many more rocky moments followed as the Bulldogs were on the ropes throughout the narrow victory over a Kentucky team that came in as a four-touchdown underdog.
Granted, the Bulldogs were without All-American outside linebacker Jarvis Jones, who missed the game with a sprained ankle, and senior defensive end Abry Jones, who re-aggravated a sprained ankle on the game's third play and did not return. But that's hardly a valid excuse against an injury-riddled Kentucky team which hadn't mustered more than 243 yards or 17 points in SEC play before Saturday night's 24 points and 329 yards against Todd Grantham's struggling defense.
"We've got plenty of good players at Georgia, and I definitely wouldn't sit there and say because Jarvis wasn't there that we didn't play a certain way on defense," Georgia coach Mark Richt said. "We've got to play good regardless of if he was in there."
Georgia's chances against Florida -- against whom Jarvis Jones totaled four sacks in last season's win -- obviously improve if their All-America pass rusher returns to the lineup next weekend. But Richt was unsure that he will be available by time for kickoff against Florida.
"Could he have played today? No. Will he be able to practice Monday? I hope so," Richt said. "I'm not even sure of that."
The offense was not particularly consistent, either, as the Bulldogs' running game mustered just 77 yards and 2.4 yards per carry against a previously porous Kentucky run defense. But Aaron Murray and Georgia's aerial attack more than made up for those deficiencies.
Murray set single-game school records for completions and completion percentage in a game with at least 30 pass attempts, going 30-for-38 for a career-high 427 yards and four touchdowns. He also passed David Greene's school record of 72 passing touchdowns, with a fourth-quarter touchdown pass to Arthur Lynch giving Murray 75 in his career.
[+] Enlarge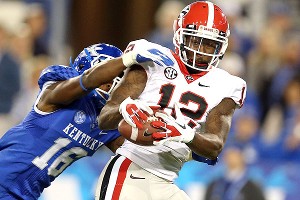 Andy Lyons/Getty ImagesGeorgia wide receiver Tavarres King (12) catches a pass while defended by Kentucky's Cody Quinn.
All of that came just one game after Murray went for a career-low 109 yards in the loss to South Carolina.
"Our offense is happy to bounce back," Murray said. "It was a great day offensively. We know we have a lot of talent. We know two weeks ago was not our best showing, and we knew we needed a big day to get back out there and show to ourselves that we could still make plays and put points on the board."
They'll have to do a lot more than that in a week against Florida, however, and every Bulldog who spoke to reporters afterward understood that certainty.
Florida has history on its side both in the rivalry -- the Gators have won 18 of the last 22 against Georgia -- and in the knowledge that the Bulldogs have rolled over in nearly every big game they have played in the last few seasons.
"We know what lies ahead and we're very excited about it," said senior receiver Tavarres King, who finished with nine catches for 188 yards and two touchdowns against Kentucky. "We're very excited about the opportunity that we have and just going to try to take it to Florida in Jacksonville and do what we do. That's first downs and touchdowns on offense."
The mood in Georgia's locker room after the Kentucky game mostly seemed to be one of relief.
The Bulldogs were far from perfect coming off a bye week after the South Carolina loss, but they are still in the position they desired when the game started. Not that it will be particularly fun to review what happened in the 60 minutes of regulation against the Wildcats.
"It's really hard for us because Monday we have to look at the film and see all the stuff we messed up," Jenkins said. "But after we get done getting cussed out and getting built back up, it gets pretty easy because we know we have to get that out of our mind and not have no bad memories and always get down and depressed when you're game planning for next week, because you can't have that at this level.
"It just goes to show that any team can win it and any team can lose it, as we learned closely today. We almost lost it."
SEC reporter
Covers the SEC
Joined ESPN in 2011
Graduate of Auburn University
SPONSORED HEADLINES
MORE COLLEGE FOOTBALL HEADLINES
MOST SENT STORIES ON ESPN.COM
EDITORS' PICKS
UA Game matchups to watch.
Story

Bold Under Armour Game predictions
Crabtree

31 days for Malik Jefferson's decision.
Story