An historic debut
Todd Gurley's freshman season compares favorably to UGA, SEC greats
Updated:
November 21, 2012, 12:51 PM ET
By
David Ching
| DawgNation
ATHENS, Ga. -- Fortunately for Todd Gurley, Georgia's standout tailback says he doesn't care much about setting records and winning awards.
[+] Enlarge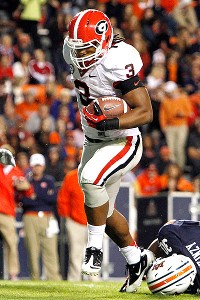 AP Photo/Butch DillTodd Gurley is looking to be the third freshman RB since 1987 to be named first-team all-SEC.
"I think awards are mainly for when you get older and you can look back on that stuff," Gurley said. "It don't mean nothing if you look at it now and not do the same thing next year."
That attitude is refreshing because it is somewhat unusual. But it will also be useful for Gurley because -- despite his being in the middle of one of the best rushing seasons by a freshman tailback in SEC history -- he is unlikely to win Freshman of the Year honors within his own conference.
Not when Texas A&M quarterback Johnny Manziel is not only leading the SEC in rushing and total offense, but also ranking as the frontrunner to become the first freshman ever to win the Heisman Trophy.
"I doubt that happens," Gurley said of his prospects of catching Manziel as the SEC rushing leader. "That guy, he's a good one, man. He's just a baller. He's out there balling every week, so maybe, but he kind of controls his own. He can pass the ball and if it's not there, [run]. So maybe, but he's just going to keep doing what he's doing, so congratulate him with that."
With 4,161 yards of total offense this season (1,114 rushing and 3,047 passing) Manziel is second in the nation and first in the SEC. And he also leads the conference with an average of 101.3 rushing yards per game, just ahead of Gurley's pace of 94.6 ypg.
But Gurley remains on pace for certain postseason recognition within the conference and likely as a Freshman All-American. He is a surefire choice to become a first-team All-SEC pick, which would make him just the third true freshman running back since Florida's Emmitt Smith in 1987 to win such recognition, joining South Carolina's Marcus Lattimore (2010) and Arkansas' Darren McFadden (2005).
A year after Georgia's Isaiah Crowell was named SEC Freshman of the Year after rushing for 850 yards, Gurley and fellow Bulldogs tailback Keith Marshall just happened to come along in a season that was particularly strong for freshmen.
"You've got to look at it like the different players," Gurley said. "I know this year, we have a lot like me, Keith, Johnny Football [Manziel], [Alabama's T.J.] Yeldon. It's a lot of freshmen -- and you've got the freshman at Alabama, the receiver [Amari Cooper] -- so I think this year it's a lot more people, especially offensive-wise."
But even if he won't bring home all of the hardware he might otherwise have claimed in a normal season, Gurley's impact on Georgia's offense certainly has not gone unnoticed.
By surpassing the 1,000-yard mark last Saturday against Georgia Southern (he now has 1,041), Gurley became just the second Bulldogs true freshman ever to run for 1,000 yards. The other was Herschel Walker, who rushed for an NCAA freshman-record 1,616 yards in 1980 when Georgia last won the national championship.
"He's definitely had a big, big impact on our offense because of the yards that he's getting and his physicality in the offense," Georgia offensive coordinator Mike Bobo said. "I think he brings a physical toughness to our offense and those linemen like seeing when a guy breaks to the second level, gets a big run or runs over somebody.
"It gets those big guys excited a way you can't do sometimes when you're completing a pass or throwing it around, throwing screens. You sometimes feel like more of a man when a running back breaks through there and your line feels more like they've accomplished something."
Gurley will most likely not match Walker's totals from 1980, which is arguably the best freshman campaign in NCAA history. He'd have to rush for 191.6 yards per game the rest of the way to get there. But he can surpass Knowshon Moreno (who rushed for 1,334 yards as a redshirt freshman in 2007) for second place among UGA freshmen by averaging 97.6 yards per game in the Bulldogs' final three games.
No Georgia freshman will ever duplicate Walker's impact, but Bobo actually sees several similarities between Gurley's ability to keep the offense moving forward and the same quality in Moreno.
"There's no question in this league and the style of offense that we run, you've got to have a guy that can hammer it up in there," Bobo said. "Is every run going to be pretty, where you block it perfect and you get it into the second level? No. There are going to be runs where there are going to be guys in the hole. There's going to be runs where we've got to get a tough two or three and he's been able to do that.
"Knowshon Moreno was a little bit like that. He was not the same style, but he could turn a 2-yard run into a 5-yard run. He could turn a badly blocked play into getting it back to the line of scrimmage or a plus-1. That's what a great back will do."
More on Georgia
For full coverage of the Dawgs, check out the Georgia blog, part of ESPN's College Football Nation. Blog
More:
• Georgia's clubhouse page
• ESPN.com's SEC blog
A year after Crowell seemed to wear out down the stretch, Bobo and running backs coach Bryan McClendon have been successful in keeping their backs fresh by rotating Gurley and Marshall and sprinkling in
Ken Malcome
intermittently. That probably hurt Gurley's pursuit of a history-making rushing total -- with an average of 14.9 carries per game, he is well behind the averages for Moreno in 2007 (19.1) and Walker in 1980 (24.9) -- but he is also still running with the same power that made him effective early in the season.
That could serve the third-ranked Bulldogs (10-1) well as they attempt to close the regular season with a win against Georgia Tech on Saturday and then use the SEC championship game as a launching point to the BCS championship game.
That team goal is where McClendon wants Gurley to keep his focus for now -- not his place in Georgia's all-time rushing list.
"We've got to ... focus and make sure that we're good this week. That's the mentality that we've been taking and that's the mentality that I think has helped him -- and not just him, but everybody on the team," McClendon said.
"There's still so much work left undone that it's hard to look at the big picture right now. I definitely am pleased with what he's done up to this point, but we've still got a lot of work left out there on the table."
COMPARING FRESHMAN SEASONS
| Herschel Walker, 1980 | Knowshon Moreno, 2007 | Todd Gurley, 2012 |
| --- | --- | --- |
| Tennessee: 84 yards, 2 TD | Oklahoma St.: 70 yards, 0 TD | Buffalo: 100 yards, 2 TD |
| Texas A&M: 145 yards, 3 TD | S. Carolina: 104 yards, 0 TD | Missouri: 65 yards, 1 TD |
| Clemson: 121 yards, 0 TD | W. Carolina: 94 yards, 1 TD | Fla. Atlantic: 111 yards, 1 TD |
| TCU: 69 yards, 0 TD | Alabama: 74 yards, 1 TD | Vanderbilt: 130 yards, 2 TD |
| Ole Miss: 44 yards, 0 TD | Ole Miss: 90 yards, 1 TD | Tennessee: 130 yards, 3 TD |
| Vanderbilt: 283 yards, 3 TD | Tennessee: 30 yards, 0 TD | S. Carolina: 39 yards, 0 TD |
| Kentucky: 131 yards, 1 TD | Vanderbilt: 157 yards, 0 TD | Kentucky: 47 yards, 0 TD |
| S. Carolina: 219 yards, 1 TD | Florida: 188 yards, 3 TD | Florida: 118 yards, 1 TD |
| Florida: 238 yards, 1 TD | Troy: 196 yards, 3 TD | Ole Miss: 117 yards, 0 TD |
| Auburn: 77 yards, 1 TD | Auburn: 101 yards, 2 TD | Auburn: 116 yards, 1 TD |
| Ga. Tech: 205 yards, 3 TD | Kentucky: 124 yards, 1 TD | Ga. Southern: 68 yards, 1 TD |
| | Ga. Tech: 45 yards, 0 TD | |
| | Hawaii: 61 yards, 2 TD | |
| 11 gm.: 1,616 yds., 15 TD | 13 gm.: 1,334 yds., 14 TD | Through 11 gm.: 1,041 yds., 12 TD |
Note: Bowl games did not count toward official stats in 1980.
SEC reporter
Covers the SEC
Joined ESPN in 2011
Graduate of Auburn University
EDITORS' PICKS
it's hard not to notice the influence of Penn State on the trail.
Early Offer

Best of this weekend's recruiting visits.
Story »

What makes Deondre Francois special?
Watch