May, 17, 2013
May 17
12:15
PM ET
ANN ARBOR, Mich. --
Devin Gardner
has spent some time over the past few weeks working with a private quarterbacks coach, George Whitfield Jr.
As long as he doesn't come back with any poor habits, Michigan offensive coordinator Al Borges is fine with that.
"I don't really encourage it or discourage it," Borges said. "I don't want too much of it. Once they are here, we want them coached by the guys who are going to coach them.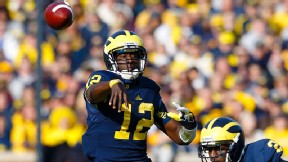 Rick Osentoski/USA TODAY SportsDevin Gardner is working with private quarterbacks coach George Whitfield Jr.
"But guys are using that in the offseason because we can't coach them."
Borges knows Whitfield -- although he has not talked to him about Gardner -- and that has made him more comfortable with his starting quarterback staying fresh by working with an off-site guru.
Part of why Borges is fine with Gardner working with someone else comes from the fact that Borges can't work with him at all right now because of NCAA rules. Meanwhile, Gardner wants to stay sharp as he enters his first full season as a starter.
Hence the trip to work with Whitfield.
"I don't blame him," Borges said. "His ambition is exciting."
Borges has much to be excited about these days. He gets his second healthy scholarship quarterback on campus next week in freshman
Shane Morris
. The Warren, Mich., native has had the playbook for a while and has been to many Michigan practices since his commitment almost two years ago.
He has also worked with Borges at various camps over the past two seasons, which has given Morris a sliver of an idea of how he'll be coached at Michigan.
"He's not a complete neophyte," Borges said. "But by the same token, he has not played college football and there will be some growing pains with that."
But will Michigan find a third scholarship quarterback? The Wolverines are still looking but it appears to be less likely than before.
Borges, speaking after an hour-long stint on the Mott Hospital Takeover on WTKA-AM in Ann Arbor, Mich. on Friday, had a laundry list of things any sort of quarterback transfer would have to do to even reach Michigan. Graduation. Fitting in chemistry-wise. Having played in a similar system -- even if verbiage is different -- is also paramount.
There aren't many quarterbacks who can fit that description, especially ones who must understand the chances of them starting is minimal.
"At the end of the day," Borges said, "that likelihood isn't that great."
May, 17, 2013
May 17
10:50
AM ET
The Wolverines have climbed the ESPN class rankings all the way to the No. 1 spot. The 2014 class for Michigan is off to a stellar start, but a lot will need to happen for the maize and blue to keep their position atop the rankings.
Here is a look at a timeline of the ascent to the top and what the coaching staff will need to do to stay there.
Michigan class rankings
To continue reading this article you must be an Insider
May, 16, 2013
May 16
4:00
PM ET
The
Big Ten released its 2014 league schedule
earlier Thursday, completing what its architect Mark Rudner called a "long, arduous process" of crafting a slate with two new teams, two new divisions and a second open week.
ESPN.com caught up with Rudner, the Big Ten's senior associate commissioner for television administration, to discuss how the 2014 schedule came together.
It's important to note the Big Ten compiled the 2014 slate based upon principles green-lighted by its athletic directors.
They are:
Nonconference games that had been previously contracted were protected. For example, Northwestern visits Notre Dame on Nov. 15, 2014, so the Big Ten made sure not to schedule the Wildcats on that day. Also, Penn State and Rutgers had a previously scheduled non-league game for Sept. 13, 2014, which became a conference game with Rutgers joining the Big Ten. The date wasn't changed.
No more than two consecutive road games
Each team must play two home games and two road games in each half of the season
It's not as if athletic directors ask the league not to schedule multiple rivalry games on the road every year.
"Once you do that," Rudner said, "you're at risk of never having a schedule."
There has been some reaction to Michigan facing in-state rival Michigan State in road games in consecutive seasons (2013, 2014) and Purdue visiting Indiana for the Bucket game the same two years. The Wolverines
never have played the Spartans in East Lansing in back-to-back years
and haven't hosted MSU in consecutive years since 1967-68.
Although it'll be new for Michigan, such back-to-backs are fairly common when a scheduling model changes. Between 2010-11, there were 13 instances of back-to-back matchups, including rivalry games like Iowa-Minnesota (both games in Minneapolis) and Penn State-Ohio State (both games in Columbus) and other good matchups like Wisconsin-Michigan State (both games in East Lansing).
"It's unavoidable," Rudner said. "It happened five times in 2008-2009. So it's not foreign, it's not ideal, but it's unavoidable. When you're introducing new institutions and you dole out home and road games, it just happens."
Big Ten commissioner
Jim Delany has said "parity-based scheduling,"
where teams will face one another more often in crossovers based on historical success,will begin in 2016, will begin once the league goes to a nine-game conference schedule. Rudner said the league asked the ADs if they wanted to start the nine-game schedules in 2014 but they couldn't because of so many signed contracts for non-conference games. If they had, the 2014 would have incorporated parity scheduling.
The 2014 slate ultimately features none of it, as the traditional powers in each division -- Ohio State, Michigan and Penn State in the East, and Nebraska, Wisconsin and Iowa in the West -- don't play at all.
"I don't think it's going to hurt us," Rudner said. "Brand is strong enough. There are enough games that are strong that'll drive television interest. Short of a full round-robin, which nobody in our conference wanted to do, you're going to have these sort of issues."
A few other schedule notes:
Rudner and his staff didn't have a directive to schedule mostly division games in November, but it worked out that way as most teams will play exclusively in their division or play only one crossover in the season's decisive month. "Ideally, that's what we would like to do," Rudner said. "It makes a lot of sense to play division games late in the season, toward a championship."
The Big Ten doesn't look at long-term trends of how often teams open league play on the road when crafting schedules. Athletic directors haven't asked it to a be a principle of building schedules. "It's never been important to them," Rudner said. "What they want to avoid is long road trips and making sure there's balance, home and away, in each half of the season. The rest of it, they can live with. Not everybody plays the same kind of schedule, but they do it based on those principles. They look at it and say, 'That's fair. Let's do it.'" Penn State, by the way, will open league play on the road for the fifth straight year and for the ninth time in the past 11 seasons.
That new members Maryland and Rutgers host traditional powers Ohio State and Michigan on the same day (Oct. 4) was pure coincidence, Rudner said.
The 2015 Big Ten schedule, which should be released by the end of the month, will feature the same matchups at the opposite locations. The league has to maneuver around some previously scheduled non-league games before finalizing the slate.
May, 16, 2013
May 16
12:51
PM ET
By RecruitingNation | ESPN.com
May, 16, 2013
May 16
12:06
PM ET
Michigan should be pretty pleased by what it saw Thursday, when the Big Ten released the 2014 conference football schedule.
The Wolverines knew before the schedule was released they would be in the tougher division with Ohio State, Michigan State and Penn State. They likely knew they would be going on the road against Ohio State because that was what was due in the league's top rivalry.
But as far as the rest of the schedule, Michigan can rejoice. No Wisconsin. No Nebraska. And for at least another season, the Brown Jug rivalry against Minnesota will endure.
Sure, there are three difficult road games -- Ohio State along with Michigan State and Northwestern -- but those games are all spaced out fairly well.
Michigan has a bye before Michigan State on Oct. 25. It has a break of a home game against Indiana between the Spartans and Northwestern on Nov. 8. And it then has a bye and Maryland before the finale against the Buckeyes on Nov. 29.
Yes, Michigan's road slate is stronger than its home one -- add the last Notre Dame game for a while in the non-conference -- but it is manageable. There are not back-to-back weeks with rivalry games. There is not a single situation where Michigan will play two weeks in a row on the road.

Complete 2014 Michigan schedule
Aug. 30: Appalachian State
Sept. 6: at Notre Dame
Sept. 13: Miami (Ohio)
Sept. 20: Utah
Sept. 27: Minnesota
Oct. 4: at Rutgers
Oct. 11: Penn State
Oct. 18: Idle
Oct. 25: at Michigan State
Nov. 1: Indiana
Nov. 8: at Northwestern
Nov. 15: Idle
Nov. 22: Maryland
Nov. 29: at Ohio State
Dec. 6: Big Ten title game