Commentary
Exit interview: Zack Novak
Michigan's all-time minutes-played leader enjoys looking back at his career
Exit Interview is a feature at WolverineNation where we chat with departing seniors from the football and basketball programs about their time at Michigan and what's next for them.
ANN ARBOR, Mich. -- Zack Novak leaves the Michigan basketball team as one of the most significant players to come through the program in the last decade. He finished his career as the all-time leader in career minutes played (4,357), though he is second in career games played, to fellow captain Stu Douglass.
In his senior year he was a finalist for the Lowe's Senior CLASS Award and All-Big Ten honorable mention (media). Through his four-year career he averaged eight points and five rebounds per game.
[+] Enlarge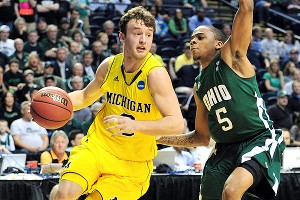 Don McPeak/US PresswireZack Novak said making the NCAA tournament his freshman season was one of his fondest memories.
Recently, Novak discussed his Michigan career, what's next and whether he would change anything about his four years.
WolverineNation: What is your favorite moment at Michigan?
Zack Novak: It's probably a three-way tie. The first win at Michigan State. The first Selection Sunday. Winning the Big Ten this year.
WN: Why the MSU game?
ZN: Just because it had been so long, and it was just a win that really saved the season and kind of really started to make it a rivalry again. We hadn't won it in forever against them, and I remember seeing the kids with the 1,000 or however many days, painted on their chests, so it was just nice to kind of shut them up.
WN: Do you normally see stuff like that in the stands? The fans or the signs?
ZN: During warmups sometimes, not during the games though.
WN: And the first Selection Show, during your freshman year, why that moment?
ZN: Again, because it had been so long. Coach [John Beilein] told us when we got here we were going to get Michigan back to the tournament, so to do it the first year was special. It was even better because we were the last team put up, so everyone was like, 'You've got to be kidding me, I thought we did enough to get in,' and then when our name went up, it was really cool.
WN: Were you ever worried during that show, with everyone in Crisler Arena, that your name wouldn't show up?
ZN: I didn't know what to think, because I had never been through it. It would've been super awkward. That would've been terrible actually.
WN: And, it seems pretty obvious, but, the Big Ten title this year?
ZN: Again, because it had been so long. And the way that it happened. We had to win six of our last seven in the league, and it was special.
WN: OK, now what about your toughest moment at Michigan?
ZN: After we played Northwestern at Northwestern last year -- that was probably the low point. That sucked. That was a long week. It looked like our season, that we were going to be awful, and that wouldn't have been good. Coming off a bad year [sophomore year], we needed to have a good year. So that was probably the low point. We were like, 'OK, this isn't going to be what we wanted if we can't pick this up.'
WN: What happened that game? John Shurna kind of exploded for 24 points on a sprained ankle against you guys?
ZN: I don't even know. We weren't clicking at all as a team. It wasn't a fun practice after that game. We had a game after that, because Beilein had his "bad" clips, and if you were in the bad clip you had to watch everyone else run. I was watching people run. I'd rather run than have to do that. That was really bad.
WN: So what's next then?
ZN: Right now I'm planning on subletting a place in the summer here with Louie Caporusso from the hockey team. We're just going to work out in Ann Arbor. I'll probably run a camp or something back home, then just work out and get ready to go overseas.
WN: What are the preparations like for going overseas?
ZN: I have to get an agent pretty soon. And then, I think they send a bunch of tapes and highlight films out to teams when they hear they have a need. I don't know ... that's pretty much it. You try to get some workouts with some teams.
WN: One big hole Michigan will have to fill is your leadership. Who do you see taking over that for you?
"

With what I thought I'd be able to accomplish, I just so grossly passed that. What can I complain about?

"

-- Wolverines guard Zack Novak
ZN: Josh Bartelstein, I think he'll bring the senior leadership. [Author's note: Here, Zack insisted that his name be written as 'Josh, a.k.a. J-Bartle.'] Then, obviously Trey [Burke]. He'll be the best player and probably the best natural leader, too. That's a no brainer. But it'll be interesting to see. There are some guys I'd like to see step up, but they have to grow. You know, Jordan Morgan, Tim Hardaway Jr., they're upperclassmen now. I think if they want to do it, they can, but they really have to want to do it.
WN: If you had a do-over, is there anything you would've done differently?
ZN: Probably would've made more shots and won more games. Specifically, I don't know. I can't really look back on one thing and say, 'Dang, I wish I had that back.' All in all, in four years, personally with what I thought I'd be able to accomplish, I just so grossly passed that. What can I complain about?
WN: So now that your season is over, what are your final thoughts on your career?
ZN: It was a good four years. I was privileged to play with a lot of good people and some friends that I'll always stay in contact with. It was the four most winning years Michigan has had in a long time, and we did some pretty special things, so, all in all, it was a success. Hopefully they can just keep building on it and do better than we did.
Pac-12 reporter
Covers the Pac-12
Joined ESPN in 2011
Graduate of the University of Michigan