ANN ARBOR, Mich. -- Michigan goes on the road for the first time this season -- and leaves the state for the only time until November -- when it travels to Northwestern on Saturday.

The No. 12 Wolverines will encounter a Northwestern team that is somewhat of an enigma. Its unquestioned leader, quarterback Dan Persa, missed the first three games and alternated between looking rusty and playing ridiculously well in a 38-35 loss to Illinois.

The Wildcats' defense is another story -- but this week will start to answer questions about whether Michigan is a home tiger or a legitimately good team in the Big Ten. These are the Wolverines' four biggest keys to victory Saturday.
Rothstein's Front Four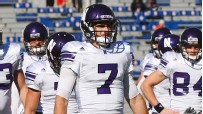 1. Contain Dan Persa
Michigan's biggest defensive problem will be keeping an eye on Persa, the senior quarterback and one of the best players in the Big Ten. In theory, this shouldn't be too big of an issue, considering the Wolverines spend practices chasing Denard Robinson around, but Persa is a different player.

While Persa isn't as fast as Robinson, he does throw a very good medium-to-deep ball and has the ability to elude defenders easily. He also has chemistry with receiver Jeremy Ebert and finds him through traffic and as he rolls out. Michigan's best option -- trust the cornerbacks and keep Persa hemmed in between the tackles. That is easier written than accomplished.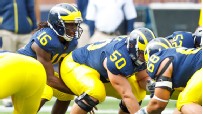 2. Keep Denard comfortable
Northwestern's defense is not good. It struggled against Army and Illinois this season -- particularly with the pass against the Illini and the run against the Cadets. The Wildcats actually did a pretty good job keeping Illinois quarterback Nathan Scheelhaase -- the closest the Big Ten has to another Robinson -- contained on the ground a week ago.

So instead, he found open spots in the Northwestern zone and picked the Wildcats apart. If Robinson is as accurate Saturday as he was against Minnesota last week, it could open running lanes in the second half.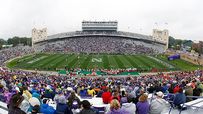 3. Stay composed
In reality, this might be the best possible road debut for Brady Hoke and his team. Ryan Field usually is quite populated with Michigan fans when the Wolverines come to town, and Saturday should be no different there. Wouldn't surprise me if there was a 60-40 or 70-30 split -- which is a large traveling contingent for road games.

Pat Fitzgerald, Northwestern's coach, likes to call the Wildcats' Chicago's Big Ten team. Well, this is one of the problems with that. Of all the cities and towns in the league, Chicago is the most cosmopolitan and has the most diverse fan base -- so expect a lot of Michigan fans to show up in Evanston, Ill., to create a friendlier-than-normal road atmosphere.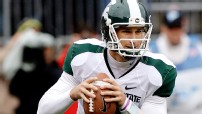 4. Don't look ahead
Northwestern isn't the bottom feeder it used to be, and this could very much be a trap game for Michigan. Michigan State looms next week, and that'll be a bellwether game, as the Spartans have won three in a row against the Wolverines.

And that countdown clock inside Schembechler Hall -- now under 10 days -- provides a reminder of what looms ahead. Michigan needs to make sure it doesn't get caught up in that, because Northwestern, losses to Army and Illinois aside, can be a very dangerous team now that Persa -- once thought to be a fringe Heisman Trophy candidate -- has returned.

Michael Rothstein covers University of Michigan sports for WolverineNation. He can be reached at michaelrothsteinespn@gmail.com or on Twitter @mikerothstein.