ANN ARBOR, Mich. -- What used to be just another game on Michigan's Big Ten schedule turned into a rivalry of sorts during the past three years.

Former Michigan coach Rich Rodriguez seemed to run into controversy at almost every turn:

Former Boilermakers coach Joe Tiller launched into the now infamous "guy in a wizard hat selling snake oil" comment after wide receiver Roy Roundtree switched commitments from Purdue to Michigan in 2008.

Purdue coach Danny Hope brought offensive lineman Zach Reckman to midfield with him for the postgame handshake after the Boilermakers 2009' victory over Michigan because Hope felt Rodriguez was responsible for Reckman being suspended for a game earlier in the season.

Now, Rodriguez is gone, new coach Brady Hoke says he has no issues with Purdue and it becomes more about what might happen on the field -- even though Michigan ended up plucking freshman quarterback Russell Bellomy from the Boilermakers in January.

And with that, here are the four keys to victory this week for Michigan:
Rothstein's Front Four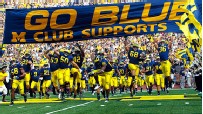 1. Whether Michigan can rebound. br>
Much has been made about how Michigan will bounce back from its first loss of the season, and with good reason. Through the last two years, with many of these same players, the first loss has led to a second loss, third loss and so on, and a tumble from the Top 25 to Big Ten mediocrity.

The Wolverines have talked a good game thus far, saying they won't allow a collapse for a third straight year because they believe in themselves this time and they are tougher and more focused. This is something they've said before. Saturday against Purdue, Michigan has a chance to prove it.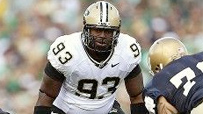 2. Can Michigan's offensive line handle Purdue's front? br>
A month ago, this question would have been answered with an emphatic "Yes." Now, though, it is more debatable. Michigan's offensive line was exposed by an extremely talented Michigan State front four. Purdue, while not as talented, is formidable. Plus, the Boilermakers -- led by defensive tackle Kawann Short -- are coming off a dominant defensive performance up front against Illinois. They harangued Illinois quarterback Nathan Scheelhaase all day, until they stopped pressuring the Illinois in the fourth quarter.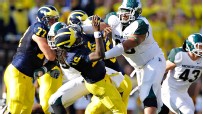 3. A calm Denard Robinson. br>
Robinson's season has been anything but consistent -- not only from game to game but from half to half. As Michigan hits its final five-game stretch, the Wolverines need shades of consistency from Robinson in throwing the ball. This is paramount this week, as Purdue has an emerging star in cornerback Ricardo Allen, as well as the No. 38 pass defense nationally. Opponents have completed just 55.75 percent of passes against Purdue this season.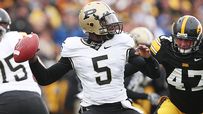 4. Keep track of who is where, when. br>
Confused? Better hope Michigan isn't, come Saturday. Part of Purdue's success comes from the way it uses offensive formations and personnel. Where this helps Michigan is offensive coordinator Al Borges does this in somewhat similar ways -- the Wolverines have moved guys around into different positions all season, looking for advantages -- so they practice against it. But Purdue does this equally as well, bouncing quarterback-turned-receiver Justin Siller into a Wildcat-type package now and then. The Wolverines need to recognize who is on the field and where -- and fast -- because a handful of mistakes in positioning could lead to big plays for Purdue.

Michael Rothstein covers University of Michigan sports for WolverineNation. He can be reached at michaelrothsteinespn@gmail.com or on Twitter @mikerothstein.