ANN ARBOR, Mich. -- Michigan's media day is Sunday, the one time throughout the season where the majority of the Wolverines' assistant coaches and players -- sorry, no freshmen -- will be able to chat about their season, their scholarship and themselves.

Still, many of the storylines will be familiar with second-year coach Brady Hoke and his team. Michigan, coming off an 11-2 season which rejuvenated the program, has issues at many spots on the field.

Here are five things you should expect to hear something about or will almost definitively be asked during media day Sunday.
Five likely storylines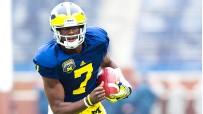 1. Devin Gardnerwill finally speak about playing WR
Easily the most interesting storyline of the early part of Michigan's preseason practice, Hoke's acknowledgement that Gardner will work at wide receiver and quarterback this fall has created consistent conversation. None, though, from Gardner himself.

That will change Sunday, when Gardner is made available to the media for the first time since there was open locker room access following last season's Allstate Sugar Bowl. Gardner will be asked how long he contemplated looking into playing receiver and whether he would ever consider making the switch full time.

On a team still hunting for reliable options at wide receiver, Gardner's 6-foot-4, 203-pound frame makes him an intriguing possibility.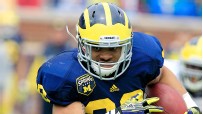 2. Can Thomas Rawls carry the load?
MR: I might end up being very, very wrong here but I'm going to say ... no. Rawls has been a main storyline since Fitzgerald Toussaint's arrest on suspicion of drunken driving last month. Now that offensive coordinator Al Borges indicated Rawls would be the next man in during Toussaint's suspension, it means the Wolverines could go into Sept. 1 against defending national champion Alabama with an inexperienced running back.

Rawls has impressed teammates and coaches -- he's universally described as a player who is difficult to tackle and a hard runner -- but has little experience after 12 carries for 77 yards as a freshman. Should Toussaint not be available against the Crimson Tide, he could have that many carries in the first half.

Can he deal with that?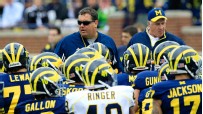 3. Brady Hoke and the players repeatedly will say the goal is the Big Ten title
Ever since Hoke arrived in Ann Arbor, the message has been exactly the same -- Big Ten title or bust. Rose Bowl or bust. Otherwise, Hoke has said publicly, he feels like he and his staff didn't do enough as coaches. That is a message that has permeated to the Michigan players, who at least say publicly they were not satisfied with an 11-2 season and Sugar Bowl win over Virginia Tech because they didn't win a Big Ten title.

Hoke will almost assuredly be asked about his expectations for his second season at some point Sunday. And that answer will almost assuredly be the same, consistent thought process he has had since he arrived -- win the Big Ten championship.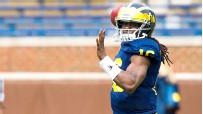 4. How much can Denard Robinson improve?
While Robinson is much beloved by the majority of people surrounding the Michigan program, the senior quarterback still has a bunch to prove on the field. His accuracy has long been an issue, and while he won't be throwing any passes Sunday in front of the media -- practices throughout fall camp have been and will be closed -- he'll certainly discuss his improved accuracy. So, too, will his receivers, the same ones who often were put in unenviable situations last season by some of Robinson's errant passes. Robinson has also focused on improving his vocal leadership, something that has already been on display.

One thing Robinson knows will be there -- his rushing ability. Robinson is in 13th place among quarterbacks with 3,229 rushing yards. He is 1,251 yards behind the all-time leader, former West Virginia quarterback Pat White.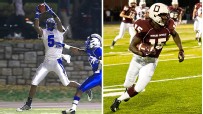 5. A bunch of questions about freshmen
They are the new group in town and since none of them is available, it's a lock almost every player who is interviewed will be asked about someone in the freshman class in some capacity. Considering a multitude of freshmen have a chance to play this season -- including some in prominent roles -- there is a lot of natural curiosity.

Among the most intriguing rookies are wide receivers Amara Darboh and Jehu Chesson, linebacker Joe Bolden, safety Jarrod Wilson, offensive lineman Kyle Kalis, defensive end Mario Ojemudia and defensive tackle Ondre Pipkins.